With one day to go until the start of SailGP Season 3, which commences with the Bermuda Sail Grand Prix presented by Hamilton Princess May 14/15, the Great Britain SailGP Team, led by the world's most successful Olympic sailors Ben Ainslie and Hannah Mills, has unveiled two new performance partnerships that will drive climate positive change and behaviours alongside supporting the team's ambition to win the SailGP Championship.
At the final event of Season 2 in San Francisco, the British team launched its new-look F50 race boat focussed around 'Protect Our Future' and declared an ambition to use its sporting platform to play their part in the vital action needed to tackle the climate emergency. Today British performance clothing brand Henri-Lloyd and marine industry specialist Spinlock both announced team partnerships that meet that ambition by creating their most sustainable product ranges ever, all whilst meeting the highest performance demands required to win SailGP.
Henri-Lloyd becomes the team's Official Technical Clothing Partner and will supply performance and onshore clothing covering twenty-three all new products, 95% of which are produced with organic, zero waste or recycled materials, including the use of Gore-Tex® Pro products that incorporate a recycled face fabric, all without compromising performance or durability.

Ben Ainslie, co-owner and Driver of the Great Britain SailGP Team, commented on the responsible performance partnership with Henri Lloyd:
"I've been hugely proud to be a brand ambassador for Henri Lloyd, they have supported my entire professional sailing career and I have seen first-hand how they strive to deliver the best performance wear on and off the water.
We are incredibly excited to join them as they enter a new chapter of delivering performance with responsibility across their design, manufacturing, and business operations.
This weekend we will be racing in high-performance kit that has been produced using organic, recycled or zero waste material, which is an outstanding achievement by Henri Lloyd and an exciting step forward for sailing."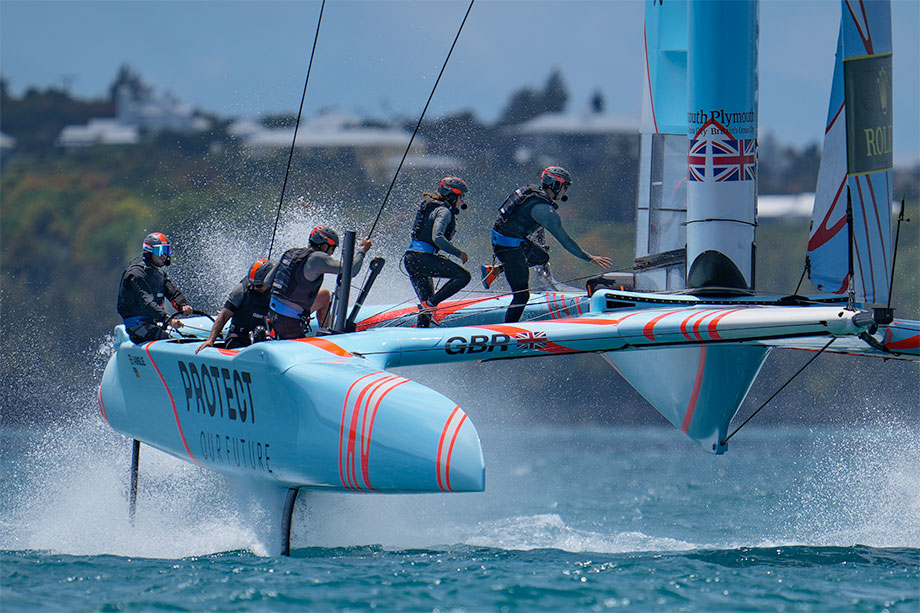 Meanwhile, Spinlock joins the Team as the Official Personal Flotation Device Supplier and has met the team's challenge to create their most sustainable lifejacket ever. In a collaborative partnership the all-new 'Great Britain SailGP Pro' jacket, has been exclusively designed and produced using a UK based only supply network. The team also chose fabrics which Spinlock already owned, whilst the foam flotation uses a unique inert nitrogen that removes many of the chemicals that are associated with more regular buoyancy foams. This innovative collaboration has resulted in a lifejacket made with cleaner, greener and lighter materials.
Speaking about this new partnership, Great Britain SailGP Team Flight Controller Luke Parkinson added:
"I have been sailing with Spinlock lifejackets for multiple years now with the America's Cup, and over that time it's been brilliant to see first-hand the innovation and development that has been going into their products, not only to achieve the best possible performance, but also to be as sustainable as possible. I'm really proud of this latest sustainability focussed iteration and partnership."
Both companies are the latest to join the British team's new partner programme, COLAB, which brings together different industry sectors to drive positive change and behaviours. This supports the team's ambition to win the Impact League, SailGP's podium for the planet that rewards the teams' positive environmental and social actions.
Back on the racetrack, the team heads into the season opener in renewed spirits after a second placed finish last time out in San Francisco. For Season 3 their F50 catamaran will once again be driven by  the world's most successful Olympic sailor, Sir Ben Ainslie (GBR). Joining him is fellow Olympic gold medallist Iain Jensen (AUS), who returns as Wing Trimmer, and Flight Controller Luke Parkinson (GBR / AUS). The grinder roles, meanwhile, are filled by Olympic gold winning rower Matt Gotrel (GBR), and the Isle of Arran's Neil Hunter (GBR), known to many as truck and trailer.
Joining the team for SailGP Season 3, are two new recruits. Firstly,  Nikki Boniface (GBR) joins via SailGP's Women's Pathway Program, after working her way up through youth championships and Olympic campaigns. Nick Hutton (GBR), meanwhile, comes in as trimmer/ grinder bringing a wealth of F50 expertise with him and fresh from helping Australia to victory in Season 2.  Finally, current world sailor of the year Hannah Mills OBE (GBR) completes the squad line up for her second Season with the team in the strategist role, but will not compete in Bermuda.
Season 3 features an expanded calendar that spans 2022-23 and combines previous SailGP venues such as Bermuda, Plymouth, Saint-Tropez, Cádiz and San Francisco with new destinations including Chicago, Copenhagen, Dubai, Singapore and New Zealand. One final venue is expected to be announced in the coming weeks, to make up an 11-event season. The ten national teams will battle in short, intense races at iconic stadium-style venues across the globe, building to the grand final – and sailing's top prize of US$1 million.