Great Britain ruled the waves in the Olympic Games with three gold among their five medals, followed by Netherlands, France and Germany with three medals apiece, while Australia, Spain and China each claimed two medals.
A gold medal on the final day of Olympic racing saw the Team GB sailors top the Tokyo 2020 Olympic sailing medal table with three golds, one silver and one bronze. Great Britain remains the most successful national Olympic sailing team of all time.
It had been a week of mixed conditions, but there were light winds again for the final day of racing at Enoshima, with 7-9 knots from the south/south-west for the men's and women's 470 medal races.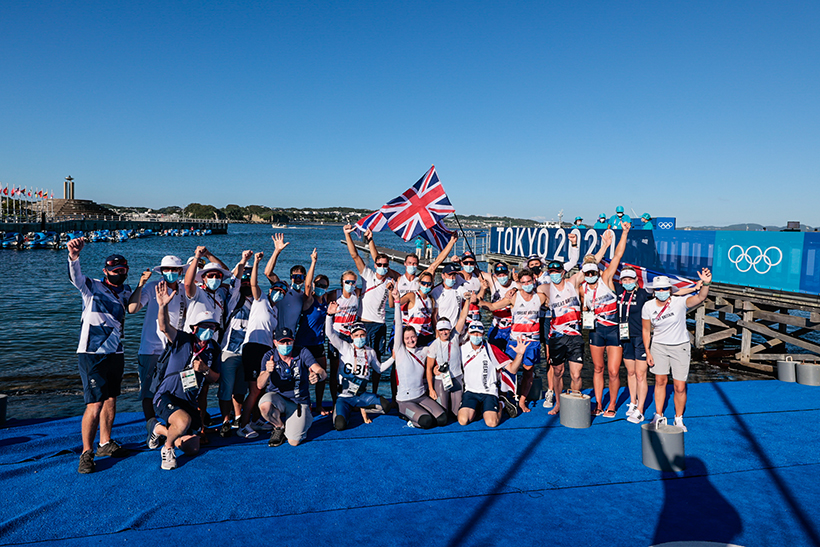 Hannah Mills and Eilidh McIntyre took gold in the women's 470 final race of Tokyo 2020, making Hannah the most successful female Olympic sailor in history with two golds and one silver to her name.
The 33-year-old said: "I mean it's been one of the hardest weeks of my life and I'm sure for Eilidh as well. Just every day, feeling sick, not being able to eat, just nerves building up and yeah, the emotion. But we've done it, we've done what we came here to do and it's amazing."
Eilidh McIntyre emulates her Olympic champion father, Michael McIntyre, who won gold at Seoul 1988 in the Star class.
She said: "To be honest, I can't believe this has happened. To think that I've dreamt of this through my entire life. It's an amazing feeling and I just can't wait to have the gold around my neck. I'd like to thank my Dad for everything, for being my inspiration and for being at the end of the phone whenever I've wanted to talk."
British sailors have won 64 Olympic medals – including 31 golds – since sailing made its debut at the inaugural Olympic Games in 1896, plus many more accolades from top-level international competition.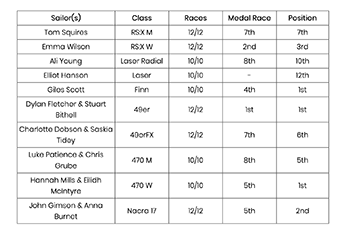 Here are the final results:
Gold: Mills & McIntyre (470), Giles Scott (Finn), Dylan Fletcher and Stu Bithell (49er)
Silver: John Gimson and Anna Burnet (Nacra 17)
Bronze: Emma Wilson (RS:X)
Men's One Person Dinghy – ILCA 7
1. Australia – Matt Wearn, 53
2. Croatia – Tonci Stipanovic, 82
3. Norway – Hermann Tomasgaard, 85
Women's One Person Dinghy – ILCA 6
1. Denmark – Anne-Marie Rindom, 78
2. Sweden – Josefin Olsson, 81
3. Netherlands – Marit Bouwmeester, 83
Men's Two Person Dinghy – 470
1. Australia – Mathew Belcher/ Will Ryan, 23
2. Sweden – Anton Dahlberg/ Fredrik Bergstrom, 45
3. Spain – Jordi Xammar/ Nicolas Rodriguez Garcia-Paz, 55
Women's Two Person Dinghy – 470
1. Great Britain – Hannah Mills/ Eilidh McIntyre, 38
2. Poland – Agnieszka Skrzypulec/ Jolanta Ogar, 54
3. France – Camille Lecointre/ Aloise Retornaz, 54
Men's Skiff – 49er
1. Great Britain – Dylan Fletcher/ Stuart Bithell, 58
2. New Zealand – Peter Burling/ Blair Tuke, 58
3. Germany – Erik Heil/ Thomas Ploessel, 70
Women's Skiff – 49erFx
1. Brazil – Martine Grael/ Kahena Kunze, 76
2. Germany – Tina Lutz/ Susann Beucke, 83
3. Netherlands – Annemiek Bekkering/ Annette Duetz, 88
Men's One Person Dinghy Heavy – Finn
1. Great Britain – Giles Scott, 36
2. Hungary – Zsombor Berecz, 39
3. Spain – Joan Cardona Mendez, 51
Men's Windsurfing – RS:X
1. Netherlands – Kiran Badloe, 37
2. France – Thomas Goyard, 74
3. China – Kun Bi, 75
Women's Windsurfing – RS:X
1. China – Yunxiu Lu, 36
2. France – Charline Picon, 38
3. Great Britain – Emma Wilson, 38
Mixed Multihull – Nacra 17
1. Italy – Ruggero Tita/ Caterina Banti, 35
2. Great Britain – John Gimson/ Anna Burnet, 45
3. Germany – Paul Kohlhoff/ Alica Stuhlemmer, 63