Being old-fashioned is back in fashion – if the numbers are anything to go by! At 1300hr, 10 September, 14 Ocean Globe Race yachts will set sail from the Royal Yacht Squadron start line, Cowes. Onboard, 31 under 24-year-olds step back in time, forsaking modern technology in favour of sextants, paper charts, 'real books' and cassette recorders.
And it is not just the youngsters who are embracing this new revolution. For the 218 adventurers embarking on the OGR, it is proving to be way more than just a 'round-the-world' race. It is a recognition of sailing history, celebrating the 50th anniversary of the 1973 Whitbread. It is a unique opportunity to race simple traditional yachts, a nod to seafarers' past. The OGR sailors, hailing from 23 different countries are a rare breed, ranging in age from 17 to 73 years, united by a passion to live a life less ordinary.
This eight months' adventure, split into four legs, sailing around the three great Capes, Africa's Cape of Good Hope, Australia's Cape Leeuwin, and South America's notorious Cape Horn, has attracted an eclectic mix of dedicated sailors, befitting such an adventure.

Where do the OGR sailors come from?
France: 96
USA: 18
UK: 18
Finland: 31
Italy: 11
Spain: 7
South Africa: 6
Turkey: 4
Australia: 4
India: 3
Uruguay: 3
Germany: 3
Ireland: 2
Belgium: 2
New Zealand: 2
Afghanistan: 1
Antigua: 1
Czechoslovakia: 1
Sweden: 1
Argentina: 1
Brazil: 1
Canada: 1
Japan: 1
Genders: 65 – Women, 153 – Men
"The OGR is all about the stories and these statistics tell a very interesting one. Super happy to see 30% are women! Even our seniors are surely passing down a wealth of experience to a new, younger generation and that story is going to reach a lot of countries. These opportunities are the start of something big for the future of around the world racing via the great capes, something so many dreams about." Don McIntyre OGR Founder and race director.
It is no accident there is such a large youth participation in the OGR. As part of the Notice of Race, all yachts must have at least one under 24-year-old on board. The youngest sailor is 17 years old Ryder Ellis. He's sailing on Australian entrant Explorer AU (28) from Cape Town home to New Zealand. He is one of the four young people who'll sail on the Swan 57 as part of the McIntyre Adventure Youth Opportunity Scheme, sponsored by race organiser, and Explorer owner, Don McIntyre.
India Syms (23) from the UK is sailing around the world on the second Australian entrant, Outlaw AU (08). Earlier this year she qualified as Deck Officer in the Merchant Navy and has spent many hours practising celestial navigation.
"When I heard about the OGR I thought what better way to put all of my hard work into practice? My friends and family all think I'm utterly crazy. Most are amazed that I can just look at the sun and stars and figure out where we are. There's a little bit more to it than that, but the principle is there, and I suppose it is a pretty cool skill to have!"
Twenty-one-year-old Mathias Lestienne (FR) has just graduated with a first-class honours degree in Yacht and Power craft Design from Solent University in the UK. He is taking on legs one, two, and four onboard L'Esprit d'Équipe FR (85). He says he is extremely proud to have the opportunity to sail onboard the iconic yacht, winner of the 1985 Whitbread.
"I've been passionate about sailing since I was a child. This is a magical experience for me. We are not just sailing for the adventure; we are there to win. It's a privilege for me to be able to do this."
Grégoire Roubertie (23), sailing on Evrika FR (07), a stunning Swan 65, would encourage other young people to take on challenges like the OGR.
"I believe that an adventure, no matter how crazy, is worthwhile if it's taken on together, with a crew with whom you'd consider going to the end of the world with. Alone we go faster, together we go further." he said.
"For me the biggest challenge will be avoiding overthinking and the urge to know everything immediately as we're so used to do due to technology. The first days I'll have to cope with not having technology at all, but it's not something that scares me, it'll be replaced with something better and special and I'll get used to that." said Sophie Fontanesi, Translated 9.
Meanwhile, the oldest entrant, 73-year-old Australian skipper Campbell Mackie of Outlaw says he doesn't have time to think about age too much.
"I feel fortunate. Many in my cohort couldn't do it even if they wanted to. It's not something I think about often, my mind is fully occupied with doing the race."
Maiden UK (03), was honoured today when London's Tower Bridge was opened for her to pass.
"We have an amazing young skipper and crew, they have come together as an awesome team and are all set for an experience of a lifetime, just as we had all those years ago. Their aim is not to just take part in the OGR, but to be the first all-female crew to win an around-the-world race." said Tracy Edwards MBE, who skippered the first all-female crew onboard Maiden in the 1989 Whitbread.
Maiden's all-women crew and the only UK entrant, received a special dispensation from the mixed-gender crew rule of the OGR.
With race start just 24 days away, frantic preparations continue across the fleet, no different to the 1973 Whitbread, when boats were still being built as they crossed the start line in Portsmouth.
The crew of Explorer continues to work around the clock preparing for their departure from Les Sables d'Olonne for Southampton at the weekend. They experienced firsthand the challenge of finding qualified electricians in France over the summer months when their scheduled contractor cancelled at the last minute. They've just managed to get the work completed thanks to many helping hands.
"We installed 21-plus items over a three-week period. The challenge with an existing installation is the amount of extra bits to install and old stuff that's obsolete. I'm very proud of what we've achieved and Explorer is a better boat because of it." explained crew electrician Peter De Laet.
Five of the 14-strong fleet are now in the UK, the remaining en route to arrive for the opening of MDL Race Village, Ocean Village, Southampton on 29th August.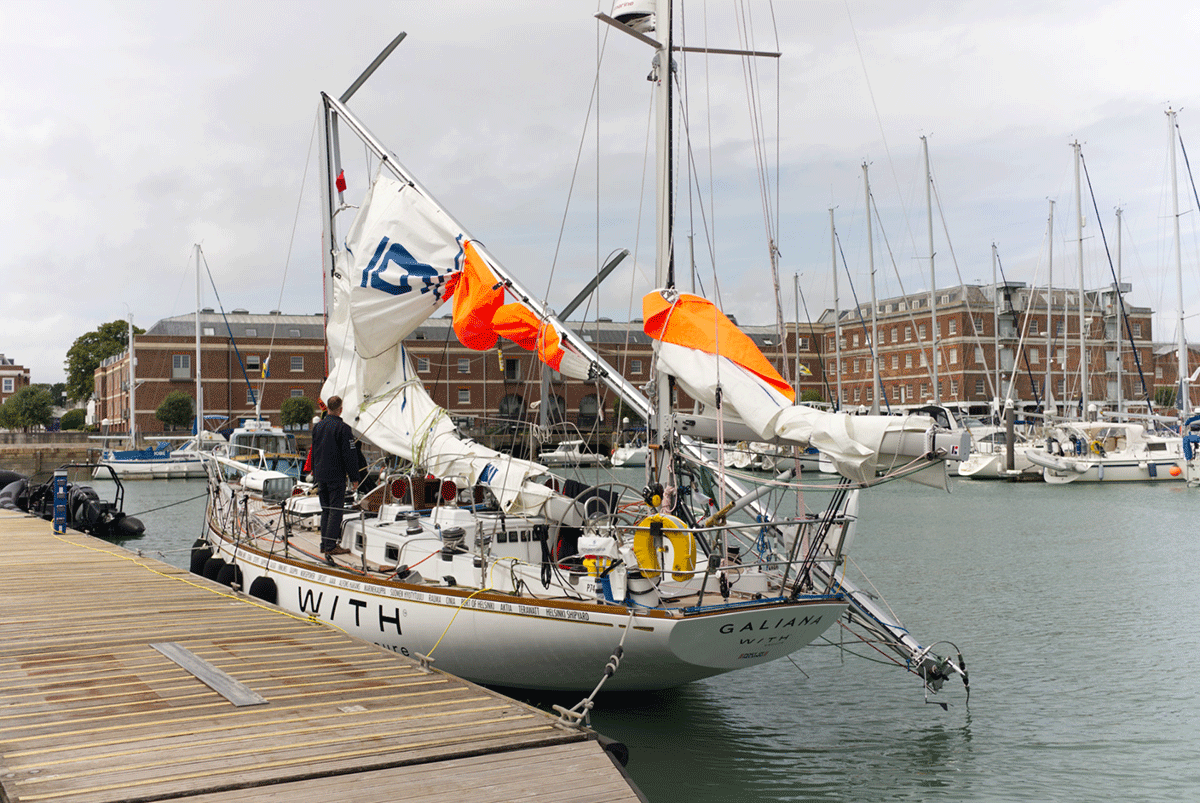 Work also continues on Galiana WithSecure FI (06), dismasted during the Fastnet Race.
"The spreader tip of the port/windward lower spreader had broken. Likewise, the upper, swaged wire ending of the starboard lower shroud was bent and broken. The shell/coquille fitting of the starboard upper diagonal was almost pulled out of the mast profile with a bulge and crack next to the opening in the profile. The mast was broken at the lower spreaders and the upper part was bent at the upper spreaders."said Skipper Tapio Lehtinen.
"We decided to use the upper, undamaged part of the mast from one meter above the upper spreaders as well as the lower, undamaged part of the mast from one meter below the lower spreaders. The rebuilding kit arrived last Friday so now Marine Rigging Services and Will Jackson can start putting the new mast together in Gosport.
"I am very confident that with some luck Galiana WithSecure will again be sailing by the end of next week, the rig stronger than ever and fit to sail safely through any weather thrown at us during the OGR."
Race Village schedule of events includes:
Tuesday 29th August, 11:00 hrs – Official Ribbon Cutting
Friday 1st September, 13:30 hrs – A Welcome from the City of Southampton
Friday 1st September, 18:30 hrs – MDL Captain's Dinner and Charity Auction
Tuesday 5th September, 17:30 hrs – Whitbread Veterans Reunion
Thursday 7th September, 10 hrs  – OGR Final Press Conference
Friday 8th September, 18:00 hrs – MDL Whitbread 50th Anniversary Farewell Hog Roast Party
Saturday 9th September, 14:00 hrs – OGR Teams' Public Farewell presentation
Sunday 10th September, 09:00 hrs – Full Teams parade of honour from MDL Race Village to their yachts
13:00 hrs – RACE START – Royal Yacht Squadron start line, Cowes, UK. Viewing of the start line can be seen off the beaches in Gurnard, Isle of Wight or Leepe Beach in the new Forrest.
MDL Race Village, Ocean Village, Southampton
You're welcome to visit the MDL Race Village from Tuesday, August 29th. Daily events will include OGR WebTV, Astro Navigation demonstrations and the chance to mingle with the OGR crews and see the 14 yachts preparing to sail around the world.
There is also a bar and food stalls available.
OGR WebTV, 10:30 hrs daily – Race Village Stage
Astro Navigation demonstrations, 12.45 hrs – Race Village
MDL Race Village in Ocean Village, Southampton, UK opens Tuesday 29th August. Details and FREE tickets from HERE