Lucie Matthews has been announced winner of the national Musto competition to design the official 2024 t-shirt for the Ellen MacArthur Cancer Trust, the charity that supported her following cancer treatment.
Lucie, 24, was diagnosed with synovial sarcoma – a type of bone tumour – in her left leg in 2018, and was treated at Bristol Haematology and Oncology Centre. She had been 'incredibly sporty' beforehand, and says the diagnosis changed her identity by 'ripping the entire sporty side away from me'.
The Ellen MacArthur Cancer Trust takes young people aged 8-24 on sailing and outdoor adventures to inspire them to believe in a brighter future living through and beyond cancer. Having sailed with the Trust from East Cowes on the Isle of Wight in 2022, which she said gave her more resilience to try new things and helped her realise she can adapt to new situations, she returned for more sailing this summer, during which time she entered the competition to design the official t-shirt for 2024.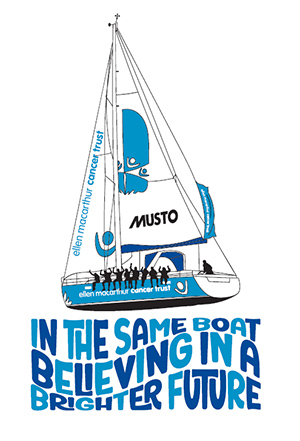 About her winning design, she said: "I wanted to incorporate the values of the Trust as I feel they're such an important part of the whole experience. The idea of the words becoming the water came from the way the Trust has kept many people afloat and given them the opportunity to thrive after cancer."
Both of her trips so far have inspired her to feel more optimistic about the future, and more equipped to take on what life throws at her.
She said: "The difference the Trust has made to me as an individual is immense. Each time I return from a trip, my friends and family notice a positive change in me. I'm more confident, have a more positive outlook on life, and find it easier to handle the 'harder stuff'.
"Picking one favourite part feels like an impossible task, there have been so many, like the water fights between boats. One of the best is the way the charity helps young people, like myself, rebuild themselves and gives them the confidence that they really can do anything, even after a diagnosis like cancer. Everyone there just 'gets it' which puts my mind at ease."
For many young people simply picking up where they left off before their diagnosis just isn't possible. That is why when treatment ends, the Trust's work begins. Through the Trust's sailing and outdoor adventures, young people laugh, gain a new sense of purpose and self-worth, and feel optimism for the future. They start to re-establish their place in the world and believe in a brighter future.
Dame Ellen MacArthur, the Trust's founder and patron, concludes: "We hear it a lot, that for many young people what happens after treatment can be as difficult as, if not even more so, than the treatment itself. Receiving funding from People's Postcode Lottery has been a game changer in enabling us to reach and have a positive impact on the lives of many hundreds of these young people over the past decade.
"We know the impact the Trust has on the mental wellbeing of young people living through and beyond cancer. Thanks to players of People's Postcode Lottery, more and more will get the support they need to believe in a brighter future."
Musto have been supplying the Ellen MacArthur Cancer Trust with clothing since the charity was founded in 2003, enabling young people to stay safe and enjoy themselves in every element. Since 2019, the long-sleeved tee young people receive at the start of a trip, which has in-built protection from the sun, has been designed by a young person summing up what the Trust means to them.
---
The Ellen MacArthur Cancer Trust is there for anyone looking for support, no matter how long off treatment they are. Visit ellenmacarthurcancertrust.org or follow @emctrust on social media.