Enhanced performance and a thrilling user experience are in store for watersports enthusiasts as Yamaha Motor UK releases its 2024 WaveRunner range, with revamped aesthetics, a power boost and enhanced technical features characterising the new line-up.
Leaving just two of the 11 models in its market leading personal watercraft range untouched, this latest product launch sees innovation across nine of Yamaha's WaveRunners, including a new HO engine, which takes the already powerful engine from 1,812cc to a bold 1,898cc. Plus an easier, more intuitive ride experience is guaranteed through the new Enhanced Drive Control modes.
"The new WaveRunner launch marks a significant milestone in Yamaha Motor's commitment to innovation and excellence in the marine industry," said Fabrice Lacoume, Marine Director at Yamaha Motor Europe.

"With its pristine design, unparalleled performance, and new advanced features, the WaveRunner range embodies the spirit of adventure, pushing the boundaries of what is possible on the water. We are excited to unveil the outstanding 2024 WaveRunner line-up and empower more riders to create new unforgettable experiences."
Yamaha's new WaveRunners are structured into three distinct segments reflecting user motivations, making it easy to navigate the range. Each product is uniquely designed for various riding styles and preferences, embodying the reliability and technical innovation expected from Yamaha.
Cruising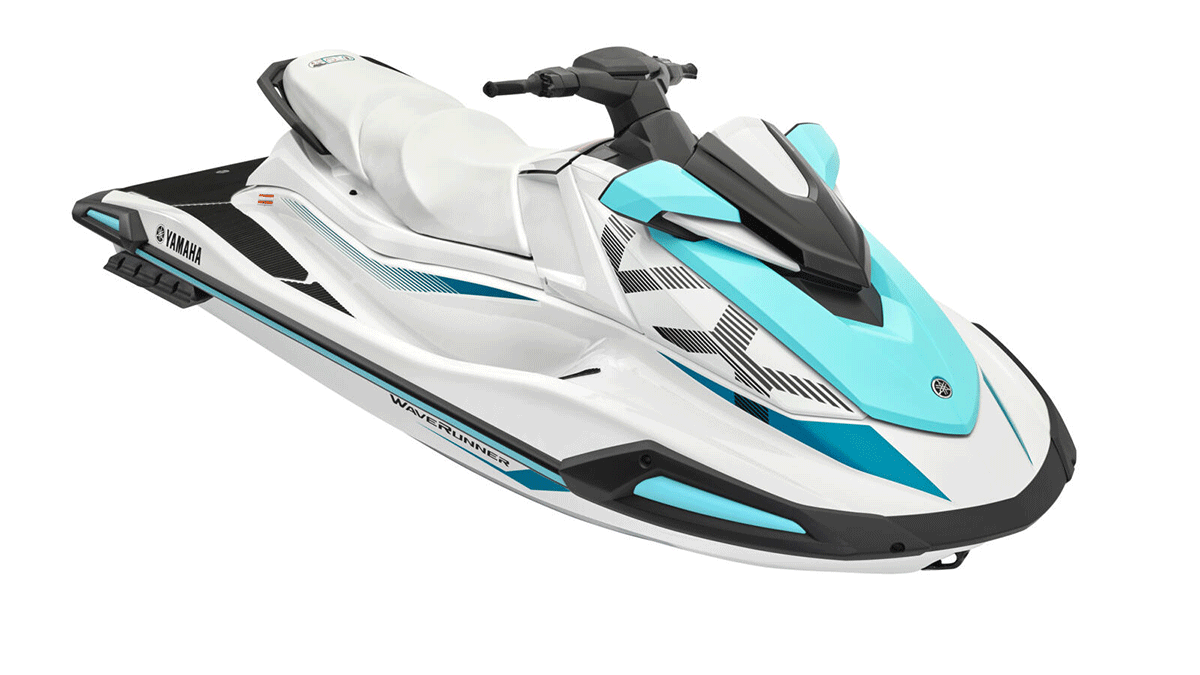 For exploration and adventure, the Cruising range is available in colours and aesthetics to suit a variety of tastes, from the elegant shades of the new FX Cruiser SVHO in Dusty Navy to its Limited Edition in Black Solid with fresh new dark orange matte details.
Alternatively, customers can choose the striking FX SVHO, the sporty FX Cruiser HO in Light Grey Metallic or the FX HO and VX models in a stunning Pure White Solid.
Enhancements include the increased engine displacement for all HO models and the new Connext® seven-inch colour touch screen with Enhanced Drive Modes across all FX models.
Optimising user experience and usability on the water, the steering tilt adjustment provides an extra level of comfort while riding seated or standing.
Sport
Focused on high-end performance, the Sport range is designed for race-inspired riders looking for an acceleration induced adrenaline rush.
Featuring new dynamic colour schemes, including the vibrant GP SVHO in Deep Purplish Blue Metallic and the sleek GP HO in Black Solid with Torch Red Metallic hull and Matte Bluish White details, the performance look of this personal watercraft range is completed with racing-inspired graphics, details, and seats.
The popular SuperJet model continues unchanged as a thrilling staple of the Sport segment, combining power, agility, and exhilarating performance for watersports enthusiasts.
Recreation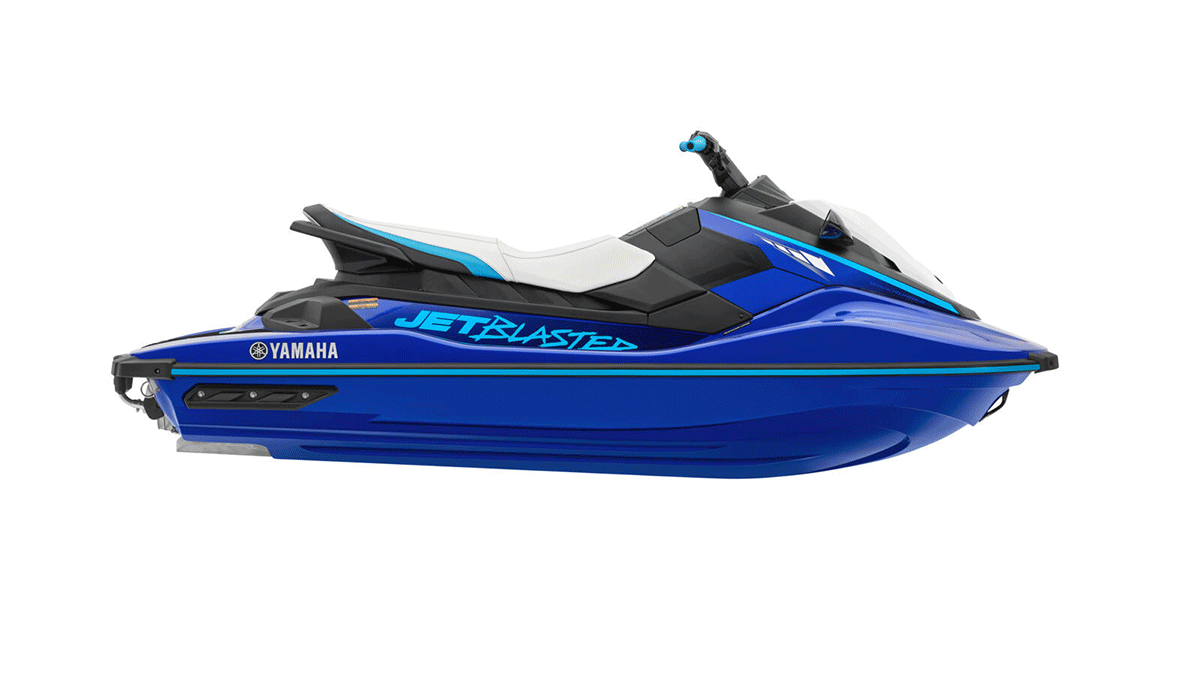 For a relaxed, fun and enjoyable experience, the Recreation segment delivers every time.
The JetBlaster has been restyled with a brand new Deep Purplish Blue Metallic look with exquisite white details sharing the same performance colour trend as the GP SVHO.
With foot chocks enabling near-instant mastery of tricks, flicks and stunts, enhanced electric trim for ease of control, nimble handling with the RiDE® technology, a TR-1® High Output engine and excellent power-to-weight performance, this is the perfect partner for some serious fun on the water.
Next generation High Output (HO) engine
Power and performance are at the heart of the 2024 WaveRunner line-up and to take the on-water lifestyle to new heights, Yamaha has developed a new 1.9L naturally aspirated 195hp HO engine, superseding its predecessor by 25hp.
The HO engine delivers awe-inspiring power and industry-leading top speeds, allowing riders to experience the ultimate adrenaline rush on the water.
A quieter more efficient engine, higher in power and offering more torque, it will result in quicker and smoother acceleration on the water. It is found on the 2024 GP HO, FX Cruiser HO, FX HO and VX Cruiser HO.
Upgrades to the Connext® Touch Screen Display
All the new FX models now feature the brand-new seven-inch touch screen Connext® display with Security and Enhanced Drive Control Modes, including Economy, Towing, Performance, Comfort and Customisable Drive Modes.
This interactive hub offers seamless access to navigation, entertainment, and vital watercraft information, enhancing convenience and connectivity during every ride. In addition, the restyled user interface shows the predefined intuitive drive mode features in a fresh colour scheme and provides information about the WaveRunner's behaviour, such as the adaptive auto trim or acceleration sensitivity.
The RiDE® Dual Throttle Control System
Yamaha's proprietary award-winning RiDE® system continues to deliver exciting riding experiences, and comes as standard across the line-up, excluding the SuperJet.
It provides intuitive and effortless control of the watercraft. With forward and reverse functionality at their fingertips, riders can easily manoeuvre and navigate through tight spaces for trouble-free docking and beaching.
Run the Water
Yamaha's 2024 WaveRunner range aligns with its new 'Run the Water' concept, designed to encourage riders to explore a different side of being on the water and go beyond the ordinary to experience something new, while capturing the WaveRunner community's pride of ownership.
---
To find out more about Yamaha's full range of WaveRunners and accessories visit: https://www.yamaha-motor.eu/gb/en/products/waverunners/