There's an impressive number of boats powered by Yamaha outboards on show at this year's Southampton International Boat Show (SIBS), 15 – 24 September, as Yamaha's boat partners and dealers come out in force, both ashore and on the water.
The vast number of tenders, RIBs, day cruisers, weekenders and large motorboats on display at the 10-day show, which have chosen Yamaha outboards and boat control systems for their craft, demonstrates the depth of Yamaha's design innovation and engineering excellence.
The company's 60-years of experience enables it to develop engines and marine technology to complement a boat's design and capability, ensuring the most thrilling of journeys underpinned by confidence and reliability – truly enhancing an owner's on water lifestyle.

Ballistic RIBs
Launched earlier this year and designed with adventure and exploration in mind, Yamaha boat partner Ballistic RIBs is presenting its XP80 paired with twin Yamaha 200hp outboards. A dynamic blend of advanced power and precise control, the twin rig set up incorporates Integrated Electro-Hydraulic Steering and the exclusive Helm Master EX Autopilot and Joystick system, delivering unparalleled boat control.
"The XP80's inaugural tour concludes at the Southampton Boat Show, where we proudly partner with Yamaha to demonstrate the ultimate fusion of power and innovation," says Tom Sanderson, Sales Director.
"At Ballistic RIBs, we choose Yamaha outboards to power our boats because we believe in the perfect synergy of performance, reliability, and innovation. Yamaha's cutting-edge technology and unwavering commitment to quality align seamlessly with our mission to provide our customers with the ultimate boating experience.
"With Yamaha outboards, our boats are n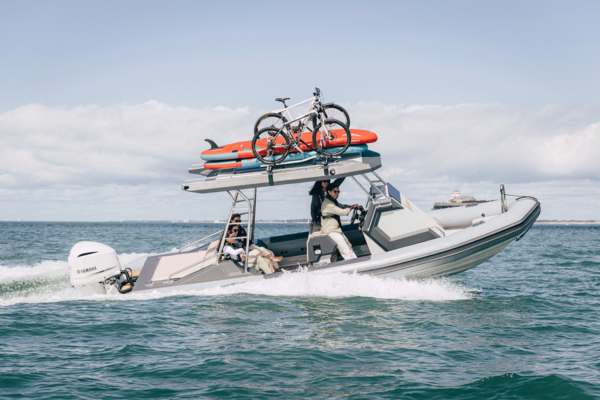 ot just vessels; they're a testament to the pursuit of excellence and the thrill of adventure on the water."
With Yamaha's new Helm Master EX onboard the Ballistic XP80, visitors to the show will be able to experience the next generation of this integrated boat control system from marina berth M035 as the team conduct demonstrations throughout the event.
Alongside on berth M036 will be the Ballistic LS68, while the Ballistic LS60 will be on display on the Trafalgar Boat Club and Drystack stand E061B.
Ryds Boats
Having just become the exclusive UK dealer for Scandinavian boat builder and Yamaha boat partner Ryds, boatpoint is introducing the brand to the UK market at this year's SIBS on stand E039.
Six distinctive models between four and eight metres will be presented at the show, including the 490VI Sport, 550VI Sport, 630VI Mid C, 650VI DC, 650VI BR and 735VI.
Each model in this diverse range of family sports boats is powered by a Yamaha outboard, ranging from 40hp – 250hp, ensuring that every boat is optimised for a variety of on-water activities from fishing and water sports to family outings and overnight stays.
Jonny Twelvetrees, Marine Sales Manager at Yamaha, comments: "We're delighted that boatpoint will be representing Yamaha boat partner, Ryds, in the UK market. Powered by our Mid and High Power outboards, Ryds' range of family sports boats is the perfect choice for those new to boating or looking to purchase for the first time.
"boatpoint is already achieving great things as the exclusive UK distributor for our award-winning boat partner, Quarken Boats, so we know that Ryds is in good hands."
Quarken Boats 
As UK exclusive dealer for Quarken Boats, boatpoint will also be showcasing the Quarken 27 T Top V2 Onyx, powered by a Yamaha 300hp V6 outboard.
Winner of Motorboat of the Year Award in the Sportsboats & RIBs category, this elegant little cruiser will be presented alongside the versatile Quarken 27 Cabin in the show's marina on berth M351.
Windy Boats
Presented by Poole based Yamaha dealer Saltwater Solutions, the sporty Windy SR28 CC with its distinctive, retro-inspired hull will be making its show debut on marina berths M400-M402.
Powered by a stunning white 300hp V6 Yamaha outboard this spacious 28ft boat from Yamaha boat partner Windy Boats balances a luxurious and sporty aesthetic with true premium performance.
White Shark
Newly appointed UK distributor of White Shark Boats, Yeoward Boatyards will be showcasing two exiting models from this innovative and sporty premium day boat manufacturer.
Boasting a Yamaha 300hp Steer-by-Wire (SBW) outboard, the White Shark 240 Evo Sport Cabin is incredibly versatile and designed to cater to various activities on the water, making it a perfect choice for cruising, fishing, diving, and water skiing.
An eye-catching teal green, the White Shark 280 CC Evo is powered by Yamaha's next generation XTO 400hp V8 outboard with joystick piloting and integrated Digital Electric Steering (DES) delivering a smoother, more intuitive helming experience.
Yeowards Boatyards' Sales Manager, Chris Embleton says they've chosen to work with Yamaha outboards as they are the "most reliable, easiest to service, and best built. The larger capacity engine makes for effortless power while the build quality shines through thanks to the superior materials used in production."
The White Shark 240 Evo Sport Cabin and White Shark 280 CC Evo can be viewed on marina berths M038 and M037 respectively.
Jeanneau
A long-term Yamaha boat partner, Jeanneau will have multiple models powered by Yamaha on display at SIBS (M620 – M756), presented by various UK boat dealers.
BHG Marine will be showing the Merry Fisher 795 Marlin and the Cap Camarat 7.5 WA (Walkaround) both with Yamaha 250hp SBW outboards.
Chichester based Blackrock Yachting will be presenting the Cap Camarat 9.0 CC (Centre Console), complete with twin Yamaha 250hp SBW outboards and Yamaha's Helm Master EX integrated boat control system.
The Merry Fisher 795 will on display with Cambrian Boat Centre. Rigged with a Yamaha 250hp outboard, this chic weekender is perfectly adapted to family coastal cruising.
Making its first appearance in the UK, the Merry Fisher 1295 powered by triple Yamaha 300hp outboards will be introduced by L H Morgan and Sons (Marine). This new model in Jeanneau's range takes relaxed cruising to a whole new level, with spacious accommodation and Yamaha's latest boat control technology for ease of handling.  The Merry Fisher 895, powered twin 250hp Yamaha engines will also be on show with the Essex based dealer.
Last but not least, Sea Ventures will be showcasing the Merry Fisher 1095 with twin 300hp SBW Yamaha outboards coupled with joystick control.
GRAND RIBs
UK distributor for GRAND RIBs, Wills Marine is presenting a wide range of models from the Ukrainian RIB manufacturer.
Each of the eight premium RIBs on stand F005 comes complete with a Yamaha outboard, with Wills Marine's Sales and Operations Manager, Dan Arscott, saying "the engines are durable and reliable, and the modern and contemporary styling really suits the GRAND RIBs. We're very happy to continue our strong relationship with Yamaha and be able to exhibit almost all the larger horsepower categories on our stand at this year's Southampton Boat Show."
The GRAND Golden Line 850, 750, 580, 500, 420 and 340 will be powered by the Yamaha 300hp, 250hp, 130hp, 100hp, High Thrust 60hp, and 25hp respectively. The Drive D600 Lux will feature the 150hp, and the Silver Line 330 a 20hp.
In addition, a new and exclusive GRAND model will be launching at the show, powered by the new and improved version of Yamaha's popular 200hp 2.8 litre, 4-cylinder High Power outboard.
Swallow Yachts
Combining classic looks with modern performance, Swallow Yachts will be displaying both power and sailing boats powered by Yamaha outboards at this year's SIBS.
Offering superb performance under sail, the lightweight BayCruiser 23 uses a 6hp Portable Yamaha outboard instead of a heavier inboard engine.
"Our sailing boats are trailerable, and when designing a boat to be trailered, you're always concerned about the overall weight," says Swallow Yachts' boat builder, Matt Newland.
"Increased weight also impacts on performance. Outboard engines have a better power to weight ratio than inboard engines, meaning you can go the same speed under engine but for a lot less weight. There are many options available, but we've chosen Yamaha outboards for our models because of their quality and reliability – which is very important when out on the water."
Designed for a more sustainable motor boating, the 30ft Whisper 300 needs just two 70hp Yamaha outboards to achieve speeds of 26 knots while burning far less fuel than a comparable craft.
Both these versatile and innovative craft can be viewed in the show marina on berth M013.
Finnmaster
Idealboat will be presenting a selection of sporty cruisers from Finnmaster on marina berths M052 – M059. Powered by Yamaha outboards ranging from 70hp to the 300hp V6, the models on display from the Finnish manufacturer combines a sporty look and feel with comfortable cruising – ideal for a weekend away.
AB Inflatables
On stand E065, Yamaha dealer BHG Marine will have a selection of AB Inflatables' RIBs, dinghies and tenders partnered with Yamaha Versatile (8hp-25hp) outboards, including the Lammina 10 AL Console (Yamaha 20hp), Alumina 9.5 ALX (Yamaha 20hp), Alumina 12 ALX (Yamaha 25hp) and AB Rider (Yamaha 25hp).
Linder Aluminium Boats and Rigiflex Boats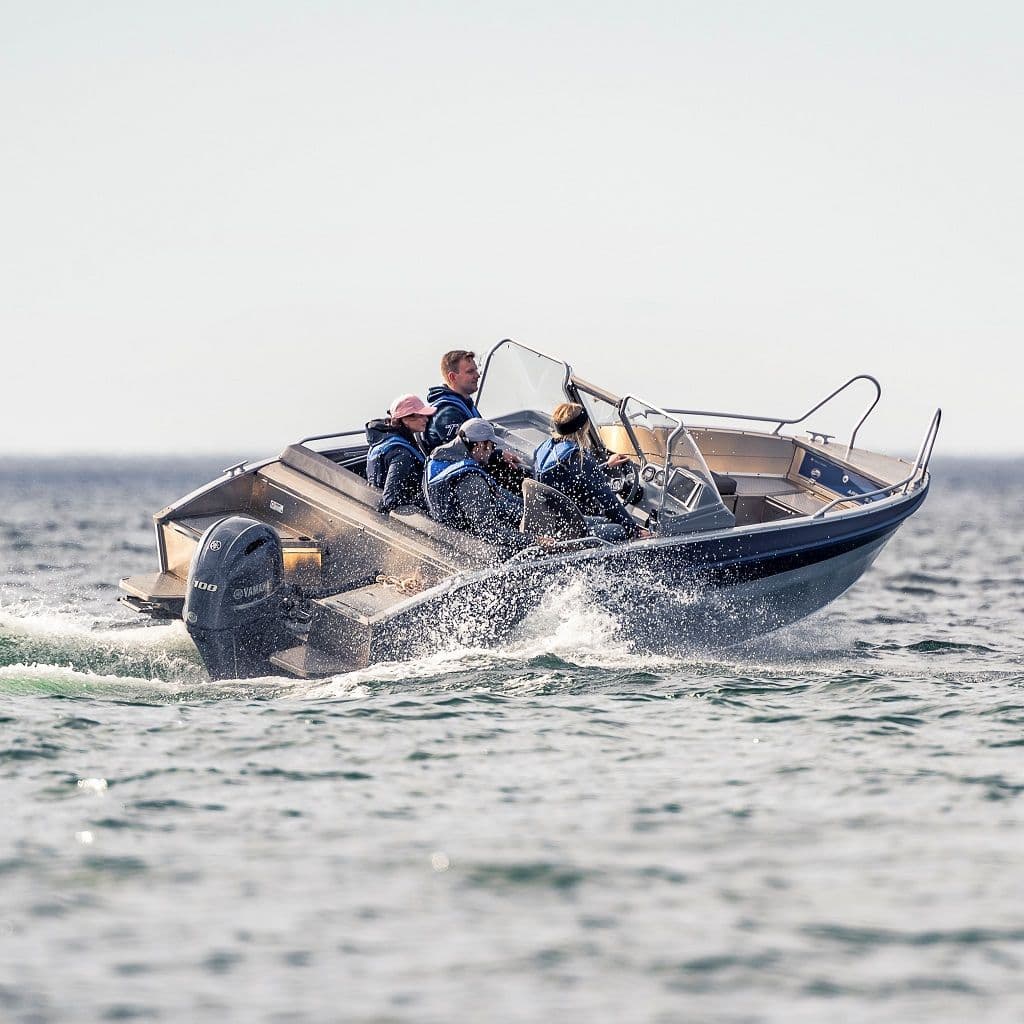 BHG Marine will also be presenting an extensive range of craft from Swedish boat builder Linder Aluminium Boats, all sporting Yamaha outboards from Yamaha's Versatile and Mid Power (30hp – 80hp), and High Power (90hp – 200hp) ranges.
"Yamaha's outboard range gives us terrific flexibility to deliver legendary dependability, performance, and the latest technologies simultaneously," says Craig Neilson, General Manager at BHG Marine.
"Innovative technologies help simplify operation, enhance efficiency, and add flexibility. These impressive features bring a new era of integration options, performance, and peace of mind from just 20hp upwards, making them the ideal partner for all our craft."
Used by sailing schools, harbour masters and fire brigades, three models from Rigiflex Boats will complete BHG Marine's show line up with the New Matic 360 powered by Yamaha 15hp, New Matic 370 powered by Yamaha 25hp and the Aquapeche powered by a 6hp outboard from Yamaha's Portable (2.5hp – 6hp) range.
Wellcraft
Reaching speeds of over 50 knots with a trio of Yamaha 300hp V6 outboards on the back, the Wellcraft 355 allows boaters to combine the thrill of piloting at high speed with the ability to explore in comfort.
Confident close quarters manoeuvring is afforded by Yamaha's Helm Master EX integrated boat control system, with joystick steering, smoother shifting, and single function buttons for ease of operation.
On show with Sea Ventures (M237-M241), the Wellcraft 355 will be displayed with the smaller Wellcraft 262 and 242 Fisherman, designed by fishermen for fishermen and powered by twin Yamaha 200hp and single Yamaha 300hp respectively.
SUR Marine
On stand E073, Hamble based MCC Marine will be displaying a selection of lightweight tenders for yachts, sports boats, and motorboats from SUR Marine.
Designed to be powered with a 4-stroke outboard engine, this exciting range pairs perfectly with outboards from Yamaha's Versatile and Mid Power ranges. The tenders on show include the SUR Marine Prestige ST400 fitted with a Yamaha 40hp, and the SUR Marine ST290 and SUR Marine ST30 from the ever-popular Classic range, fitted with a Yamaha 15hp and 20hp respectively.
---
To find out more about Yamaha and its full product range visit: https://www.yamaha-motor.eu/gb/en/marine/#/