Sailors of all ages and abilities pledged their support for the para racing community, as the RYA launched a brand-new support network, aimed at increasing racing opportunities for disabled people in the UK.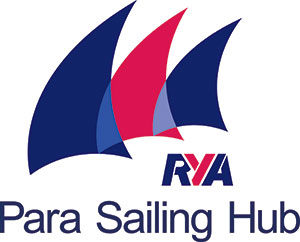 The RYA Para Sailing Hub offers sailors, volunteers, coaches, and supporters a place to come together as a community and grow the opportunities available. Officially launched at the RYA Dinghy & Watersports Show, the hub is packed with resources, training opportunities and advice.

RYA Sailability Manager Joff McGill said: "Para sailing is one of the most inclusive sports globally offering disabled sailors a level playing field on the water. It's great to be officially launching the new RYA Para Sailing Hub.
"We have had 50 people already signed up to hub. We're building a community of sailors who love racing, organisations, and the sailing community to find out what we can all do to increase opportunities for disabled people. From young sailors and children through to Sail GP and British Sailing Team sailors, the support for the campaign has been brilliant."
Sailing was featured in the Paralympic Games for 16 years between Sydney 2000 and Rio 2016 but was dropped from the programme in 2015. Visitors at the show also demonstrated their united support for World Sailing's #BackTheBid campaign #SailtoLA by writing their personal messages of support on the pledge wall.
Jazz Turner who races in a 2.4mR said: "Sailing is a freedom that I literally cannot get anywhere else. When I am in the boat I compete against able-bodied people, and no one can tell I have got a wheelchair and it is just amazing."
Lucy Hodges, six-time Blind Sailing World Champion added: "You jump into a boat, fold your cane up, leave you guide dog on the shore, use all your other senses and you can get that boat around the racetrack."
The Para Sailing hub is championed by the RYA Sailability and builds upon the success of the #MoreThanSailing campaign, which launched in 2018 and aimed to break down perceived barriers to participation and provide more opportunities for disabled people to get on the water.
---
To sign up and find more information visit the  RYA Para Sailing Hub