The 54th Southampton International Boat Show drew to a close yesterday and in spite of the weather causing havoc mid-week, with high winds and driving rain, organisers, exhibitors, sponsors and visitors alike have heralded the show a success.
Covering 70,000+ square metres, the show welcomed over 650 craft, with over 350 boats berthed in the marina alone, an increase of 17% year on year. These ranged from the impressive Sunseeker 100 Yacht and the elegant Spirit 75 to the electric hydro-foiling Candela C-8 and craft of all shapes and sizes. The show also welcomed 86 new companies and hosted 78 World and UK debuts.
"There has been a great atmosphere at this year's show.  We have been delighted to welcome over 92,000 people over the past 10 days and we had been well on track to hit our target of over 100,000 visitors this year, until the bad weather hit", commented Lesley Robinson, CEO, British Marine. "This year marks our first full show after bouncing back from Covid and since last year's closure out of respect of the Queen's passing and the feedback from exhibitors from across the industry has been positive, with many indicating strong sales", Lesley added.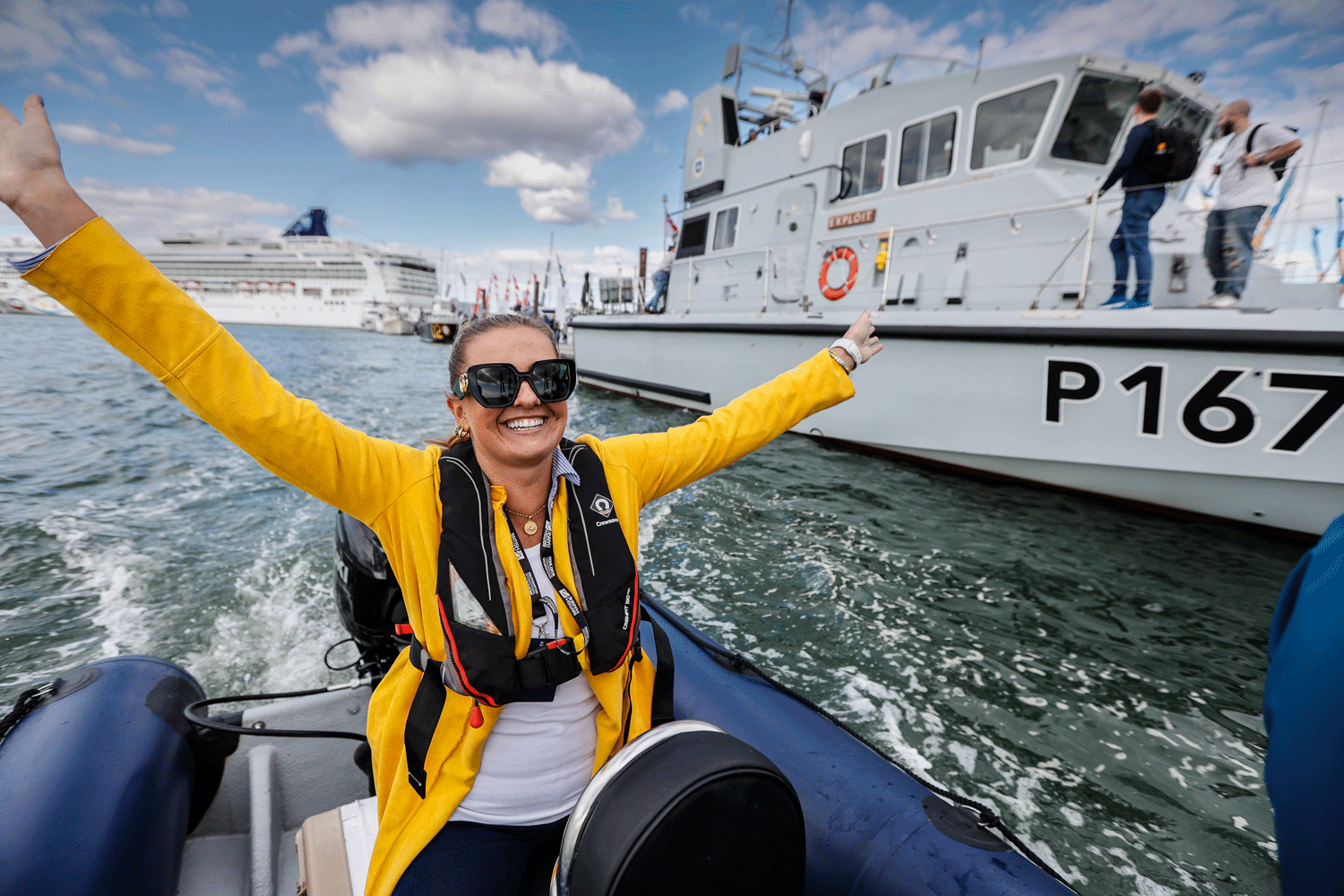 Rain or shine the show has put a real smile on everyone's face with a fantastic mix of products, talks, entertainment and refreshments.  The brand-new shipyard, with its live music and DJ sets proved a real crowd pleaser, the red arrows fly past impressed, whilst celebrity guests including 'Captain Sandy' from TV Show Below Deck Mediterranean, and Daisy Kelliher from Below Deck Sailing Yacht brought the showbiz feel to the show.
Hundreds of people joined Captain Sandy on the Foredeck Stage as she spoke about her career and life at the helm. Following a full revamp, the show's VIP Quayside Club, providing guests with an added touch of luxury to their boat show experience, was a tremendous success and completely sold out.
"Due to lightening on the first Sunday and to the exceptionally high winds on Tuesday and Wednesday, a decision was made to close all of the show's water activities for the safety of our visitors and exhibitors. Despite this we still managed to host over 9,000 visitors on the water, who were able to try everything from dinghy sailing, paddleboarding and kayaking to RIB rides, yacht cruising and motorboating. 
"The fantastic new Beach Haven & Watersports Lake, brought to you by Haven Knox-Johnston was a massive hit with visitors as they enjoyed kayaking and paddleboarding, model boating and even SUP yoga.  Plus, visitors were also able to get out on the water onboard a selection of incredible and historic craft including the majestic tall ship Thalassa, an F8 landing craft, the motor gun boat 81, the high-speed launch 102 and even a mini cruise ship!
"I would like to offer my thanks to Rockley Waterports, Flexisail, Portsmouth Historic Dockyard and Andark for making the on (and under) water experiences such a huge success", Lesley added.
"With the feedback we receive from visitors and exhibitors our thoughts now turn to planning for next year and we look forward to welcoming everyone back in 2024", concluded Lesley.