Three members of the Great Britain SailGP Team that will compete in next weekend's Great Britain Sail Grand Prix in Plymouth (July 30 and 31) will travel by bicycle to the event in a bid to support SailGP's commitment to making the Grand Prix in Plymouth one of the most sustainable races it has ever staged.
The three team members, Neil Hunter, Matt Gotrel and Luke Parkinson, will clock-up a combined total of more than 450 miles over two days, arriving on Plymouth Hoe at lunchtime on Tuesday (26 July), as they aim to ensure the team keeps its carbon footprint for the event as low as possible.
Hunter and Parkinson will each travel 148 miles from Portsmouth to Plymouth.  Gotrel will undertake a massive 170 mile journey from his home in Gloucester. The trio will be joined by America's Cup sailor Ben Cornish, who will cycle with Hunter and Parkinson from Portsmouth to Plymouth.
The athletes' decision to rely solely on pedal power to reach the event is a sign the Great Britain team's commitment, alongside its charity partner 'Protect our Future', to use its platform to inspire the next generation to better understand the climate emergency and give them the tools to take positive action.
Protect our Future was launched on the back of research amongst 11–16-year-olds commissioned by environmental charity Hubbub that revealed that more than half of children (51 per cent) are worried about what the planet will be like in the future and only 17 per cent feel climate change is something they can fix. This was highlighted last weekend by a group of young students who delivered the first student-written bill for Parliament. The paper calls for the Education Act to change and include climate change in more depth and across all subjects, currently it's only included in GCSE geography and science.
The cycling challenge also reflects SailGP's ambition to be the world's most sustainable and purpose-driven global sport & the work of their Impact League, which was established 12 months ago to encourage and reward actions by its participants promote carbon reduction, sustainability and inclusivity.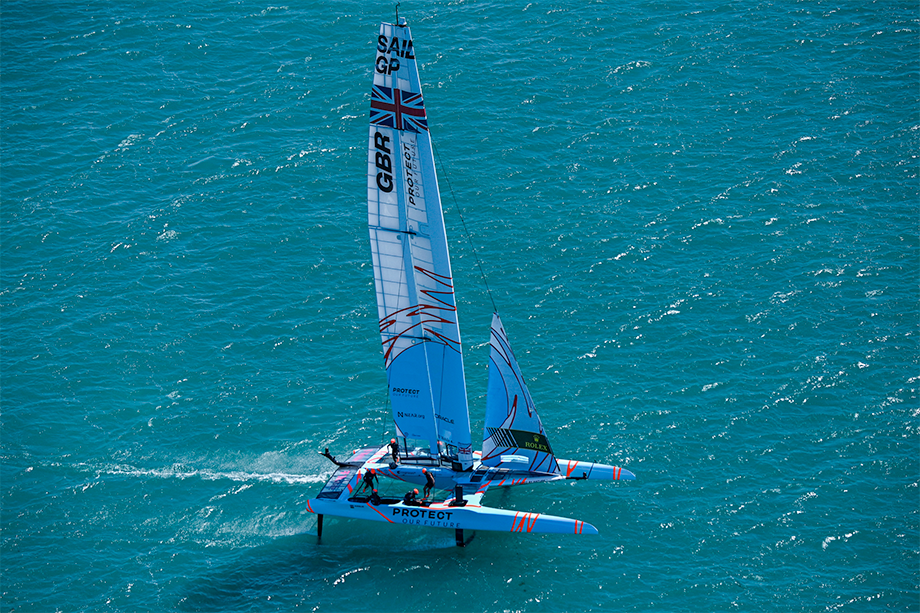 The Impact League runs as a separate championship alongside the Season's Racing Championship and awards team's points for positive actions on a range of sustainability criteria.  Activities are externally audited and at the end of the season the winner of the Impact League is crowned alongside the Season Champion.
The efforts of Hunter, Parkinson and Gotrel will help the Great Britain team secure Impact League points as it looks to improve on its current standing of 4th place after two races.
Olympic gold medalist rower and Great Britain SailGP Team grinder, Matt Gotrel, said: "Having a positive impact on the people and places where we compete is central to everything, we do at SailGP GBR.  Our decision to cycle to the event is an illustration of the determination of our team to do as much as we can to act in a way that supports sustainability and clean energy and use our platform to promote this cause."
Great Britain SailGP Team grinder, Neil Hunter looked back at a year of the Impact League: "As athletes, we are all competitive people, so the Impact League is a great way of encouraging the SailGP Teams to think about different ways in which we can be reduce our carbon footprint whilst also making it competitive and engaging. Cycling to Plymouth is a reflection of this as we can use sport to provide a positive contribution to the performance of our team in the Impact League alongside reducing our climate impact."
On 31 July the Great Britain SailGP Team will welcome The Duchess of Cambridge, Royal Patron of the 1851 Trust, who will visit Plymouth and join a group of young people taking part in the Protect Our Future program. Her Royal Highness will then get a taste of the incredible speed and skill involved in SailGP when she boards Ben Ainslie's British F50 and takes part in a friendly Commonwealth race against UN Patron of the Oceans, Lewis Pugh, who will race with Peter Burling and Blair Tuke's New Zealand SailGP Team. The race will take place ahead of the three SailGP races on the final day of the Great Britain Sail Grand Prix.
The Great Britain Sail Grand Prix takes place in Plymouth – Britain's Ocean City – on 30 and 31 July  and will feature nine teams battling in short, intense races in identical hydro foiling F50 catamarans at speeds approaching 100 km/h.
The British boat will be driven by Sir Ben Ainslie, who will be competing in the UK for the first time since the Portsmouth America's Cup World Series in 2016.  Tickets are on sale at SailGP.com/GreatBritain.