HRH Prince William joined local businesses yesterday in Bournemouth, Dorset to promote Homewards, an ambitious five-year locally led programme launched in June by The Royal Foundation.
The project's aim is to demonstrate that by working together, it is possible to end homelessness; making it rare, brief and unrepeated. Homewards is working with six flagship locations across the UK, including Bournemouth, Christchurch and Poole (BCP), the home of Sunseeker.
It will use findings from each location to create a tried and tested model that can be adopted by other areas of the UK and internationally. The programme will also focus on improving understanding around the issue of homelessness and boosting optimism that it can be ended.

During a round table meeting with local business leaders including Sian Dodds, Sunseeker International's Executive Director for HR, His Royal Highness highlighted the vital role the business sector can play in preventing and tackling homelessness. He spoke passionately about the many ways in which the business sector can help tackle the societal issue of homelessness, and the support they can offer their local community through the Homewards programme.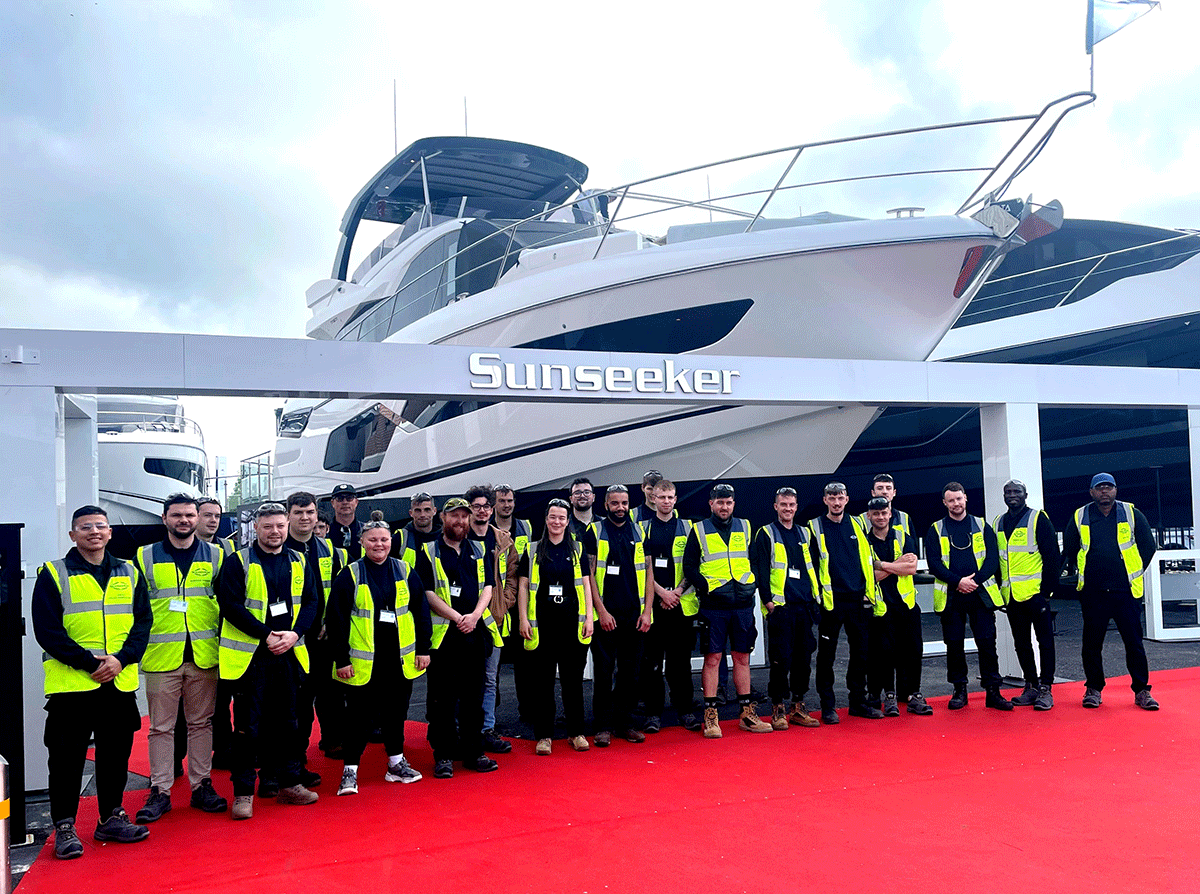 Sunseeker is proud to be already working with organisations locally to support training and employment of individuals who might not otherwise feel they could apply to work with the company. This has been helped by the recent launch of the Sunseeker Skills Academy, in partnership with Bournemouth and Poole College.  The Academy provides those seeking to learn a new skill, an opportunity to undertake boat building training courses, whilst being fully paid.
So far this year, 90 people have been enrolled on to the company's boat building course, where individuals learn trade skills across five boat building specialisms, comprising; Carpentry, Plumbing, Composite bonding, Engineering and Electrical installations. Following this intensive training programme, candidates will join colleagues at the Sunseeker Shipyards in Poole to further develop competencies and achieve a nationally recognised qualification over 12 months. In 2024, Sunseeker plans to roll out further courses through the Skills Academy, particularly focusing on Laminating Glass Reinforced Plastic (GRP) manufacturing.
Sian Dodds, commented: "As a business, we have been presented with a unique opportunity to support the Homewards programme through our new Skills Academy.  We are delighted to play our part in helping to end homelessness by providing support, training and employment opportunities. By partnering with Bournemouth and Poole College, we are able to establish training pathways that are tailored to teach the skills needed to start a career in boatbuilding.  Working with the Homewards programme partners and a further education college, we can ensure these pathways are accessible to those that are ready to pursue them."
---
For further information on Homewards, please visit The Royal Foundation of the Prince and Princess of Wales –www.royalfoundation.com