Brand new for 2023 – enjoy watersports experiences and the city centre's only sandy beach.
Be one of the first to experience The Beach Haven & Watersports Lake, brought to you by Haven Knox-Johnston, a dynamic new addition to this year's show, where visitors can anticipate a blend of action and relaxation.
For the first time ever, The Beach Haven & Watersports Lake, will provide visitors with the perfect location to try their hand at a whole host of different watersports as well as chill out on the city centre's only sandy beach.

Situated front and centre at the show's entrance, The Beach Haven & Watersports Lake can be found within the dedicated Watersports Zone, crammed full of all the latest entry-level watersports gear and equipment.
The expansive Watersports lake offers visitors fantastic opportunities to try out our extensive itinerary of watersports experiences available across the ten days.  Enjoy a gentle paddle across the lake on a paddleboard or an exhilarating canoe race against an Olympian. Try your hand at model boating or find your inner zen at sundown with a paddleboard yoga session!
While over on the city centre's only sandy beach, find your happy place with the sand between your toes.
With buckets and spades available for kids of all ages, have fun building a sandcastle or enjoy a picnic under the palm trees.  Make sure you're Insta ready and grab a snap at the photo op display.  You can even take part in a beach yoga session or simply sit back and enjoy the action on the big screens which will include two mighty clashes from the Rugby World Cup (Saturday 16 September (16.45) watch Wales take on Portugal, Saturday 23 September (16.45) watch as England takes on Chile).  With food outlets, a bar and ample seating, it's a great place to start your day planning your itinerary, for a lunchtime pit stop or to chill out at the end of an action-packed visit to the show.
Plus, look out for some exciting Beach Haven & Watersports Lake competitions – keep an eye out of details coming soon!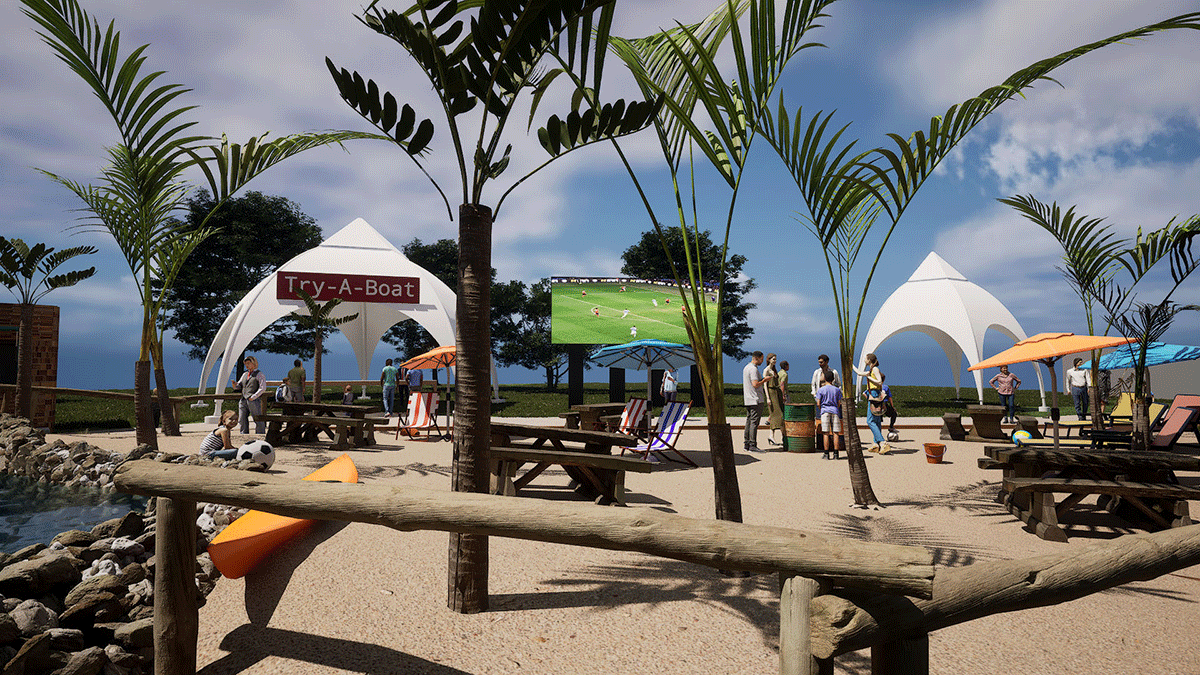 "Haven Knox-Johnston is proud to be collaborating with the Southampton International Boat Show to introduce The Beach Haven & Watersports Lake. With the new additions of Haven-Knox Johnston Commercial and Haven Knox-Johnston Specialist brands, it felt like the perfect opportunity to bring all the new members of our family together and introduce them to the whole marine community and celebrate what we all love most; being out on the water. We may have expanded our product range, but we are always going to still enjoy the sand beneath our feet, even in the city centre," commented Paul Knox-Johnston of Haven Knox-Johnston.
British Marine CEO, Lesley Robinson added: "We are always looking to enhance the experiences for our attendees at the show and we are delighted to be working with Haven Knox-Johnston on this great new attraction.
"This addition exemplifies our commitment to celebrating all things marine and providing opportunities for people to give it a go, alongside a great place to get together and relax and soak up the show atmosphere."
---
All on water activities, on the Watersports Lake, are included in the price of your show ticket, visit the booking area in the Watersports Zone to book your activities.  A full schedule of what's on when will be available on the website in the coming days – www.southamptonboatshow.com
Get your ticket
Tickets for the Boat Show can be purchased online at www.southamptonboatshow.com/visitor-information/tickets/
Upgrade your visit and check out our exclusive VIP packages – https://www.southamptonboatshow.com/vip/
The show is open from 10am – 6pm daily except the final Sunday when the show will close at 5pm.