Five people who will be participating in the London Marathon this Sunday have shared why they are fundraising for the RNLI.
Surfer Jonathan Davies is running the London Marathon to thank the RNLI for saving his life – and signing up his wife! Jonathan was rescued by volunteers from RNLI St Agnes in May last year after he was spotted face down in the water. He was given lifesaving first aid by the lifeboat crew before a Coastguard helicopter transported him to hospital, where he was placed in an induced coma, with doctors giving him a 50/50 chance of pulling through. But after 10 days in hospital, he was able to return home to his family and has since made a full recovery. Wife Vicky was so inspired by his rescue, she joined the lifeboat crew that saved her husband's life.
Jonathan said: "Running the London Marathon is my very small way of doing something to give back to everyone who played a part in my rescue last year. I simply would not be here without all the people who did such an incredible job rescuing me that day and the RNLI were an important part of that."

Vicky added: "I joined the RNLI this summer as it was something that I'd been thinking about for a while. St Agnes played a crucial part in Jonathan's rescue and I can't even bear to think what might have happened if the response hadn't been as amazing as it was.
"The accident made me realise how important the incredible commitment that the RNLI volunteers offer is, and when I saw the recruitment ad I just felt applying was the natural thing to do – and I'm so glad I did. The team at St Agnes are a bunch of lovely people and I feel really fortunate to be part of their team."
Jonathan has already surpassed his fundraising goal of £2,300 for the lifesaving charity. You can read more about his fundraising efforts and support him on his JustGiving page.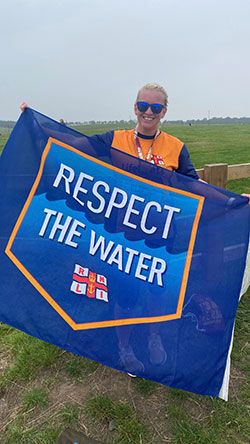 Joining him in raising money for the RNLI is Largs Lifeboat Press Officer Claire McRae. By day, Claire is a computing lecturer, but in her spare time, besides her volunteer role at the lifeboat station, she has been putting in the miles in training and ran the Berlin Marathon last weekend.
In 2008, Claire's father was involved in a scuba diving accident off the coast of the Isle of Cumbrae in Scotland. An experienced diver with the correct equipment, things took a bad turn when he suffered the bends. The quick actions of RNLI volunteers and the Coastguard that day led to his life being saved.
Claire said: "I felt I wanted to give something back and fundraising is a fantastic way to do this. No one ever imagines they will be in a situation where they need to be rescued but seeing that big orange boat coming to their aid must be such a relief. I have recently been appointed as a Lifeboat Press Officer at Largs, who were tasked during my dad's rescue, so I have always felt a connection with this team and I am delighted to now be a part of it. I hope that by running for the charity, raising essential funds, and in my voluntary role I can help the RNLI continue to save lives at sea."
To donate to Claire's fundraising efforts and keep up to date with her running events, you can visit her JustGiving page.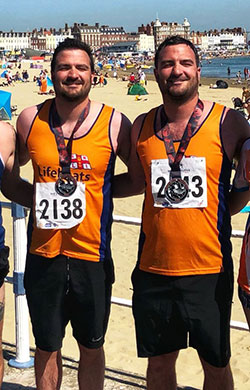 A volunteer crew member at Swanage Lifeboat Station in Dorset and engineer in the Royal Navy, Fergus Holland will be running the marathon alongside his identical twin Tom. The brothers have had a passion for the sea and watersports from a young age and spend most of their spare time on boats or in the water. Tom has even been rescued by the RNLI when bad weather and equipment failure left him needing help.
Fergus said: "I have seen how conditions can change so quickly and have had a few close calls myself. As a maritime professional and part of a RNLI crew, it shows how even the most experienced people can get into trouble so easily. Tom and I have first-hand experience of the danger the water can pose, out at sea or at the water's edge. That's why we believe the work the RNLI do is so important and the brave men and women who volunteer their time should have the best possible equipment and support when helping those in peril."
Fergus and Tom hope to raise £5,000. To help the duo reach their goal, donations can be made on their JustGiving page.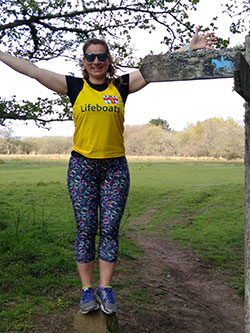 Like Fergus, Nikki Peace is also volunteer crew in Dorset, but at Poole Lifeboat Station. She has chosen to run this year's London Marathon as a personal challenge, whilst fundraising for a cause she is passionate about.
Nikki, who is a teacher when she's not sporting yellow wellies, said: "I love being a volunteer crew member, but to be able to fulfil the role we rely heavily on the public's generosity and donations. All the equipment, clothing and boats cost money, however it's that investment that keeps us safe when we're out at sea. We have complete trust in the equipment and training we receive, however, none of it would be possible without the donations. I promise to do my best on Sunday, and when I'm out on a training exercise or a shout, all I ask is if you can donate, please do."
To support Nikki please visit her JustGiving page.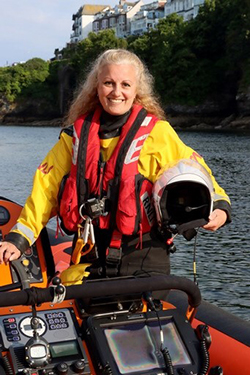 Further along the coast to the south west, Looe Lifeboat Station volunteer Vicky Thomas will also be running for the RNLI, with the hope of raising money towards a new D class lifeboat. This is the third time Vicky has run the London Marathon for the RNLI.
Vicky said: "I'm honoured to be crew in Looe and part of such an amazing organisation that does truly incredible things daily. Being able to run the marathon whilst being 'loud and proud' to raise money and the profile of the RNLI is something I am honoured to do. This year I will be running in an 'RNLI inspired' costume to grab the crowd's attention among the many runners and fly the RNLI flag."
Vicky has been keeping her running outfit for the marathon a secret, ready for a big reveal this Sunday. Vicky has also surpassed her fundraising goal but is eager to continue to raise as much as possible. More about Vicky can be found on her Virgin Money Giving page.
All those participating in the marathon this weekend will run past the RNLI's busiest lifeboat station in the UK – Tower, which is on Victoria Embankment next to Waterloo Bridge, just two miles from the finish line. Tower has a crew on standby 24/7 and since it was opened in 2002, almost 2,000 people have been rescued and 334 lives saved.
The current station, which floats on the River Thames, is old and cramped and lacks the facilities that the crew need to give the best possible care to casualties which is why the RNLI is running an appeal to help build a new lifeboat station that is fit for the future.
For more information or to donate to the Tower Appeal, please visit RNLI.org/towerstation
---
For more information on how to volunteer for the RNLI, go to RNLI.org/support-us/volunteer
To donate to the RNLI, go to RNLI.org/GoDonate