Wessex Archaeology and Portsmouth & Gosport History Week are hosting a special series of free marine archaeology events.
Taking place from the 1 – 7 August, at venues across the region, archaeological experts will lead an exploration of the hidden, murky, and sometime quirky history of the area, as revealed through their archaeological investigation, research and expertise. From photography tours to film screenings, specialist talks, and hands-on family activities, there is a range of events to suit all interests.
To see the full event programme and to book, please visit the Portsmouth & Gosport History Week website.
Event highlights include:
Historic shipwrecks: major new discoveries in the Solent region, Saturday 6 August, 5pm,
For more information and to book head to Eventbrite
Dive Superintendent, Graham Scott, joins forces with the National Museum of the Royal Navy to host a talk on two new and nationally significant historic shipwreck discoveries in the Solent. These rare and important wrecks were designated by Historic England under the Protection of Wrecks Act only this week (20 July). Discovered off the infamous Shingles Bank in Needles Channel, Isle of Wight, in a collaboration between Wessex Archaeology, the Maritime Archaeology Trust and finders Martin Pritchard and Dave Fox. Wreck NW96 has potential links to a 16th century African diver. Jacques Francis, from Guinea on the West African coast, gave evidence to court in 1548 testifying that goods reportedly salvaged from a Venetian ship were in fact from wreck NW96 near the Needles. The wrecks sunk in rough storms, leaving precious cargo of cannons, a large anchor, and at least 50 lead ingots. The ship is thought to have been associated with the Battle of Portland in 1653, when the fleet of the Commonwealth of England was attacked by the Dutch Republic during the First Anglo-Dutch War. Given the Netherland's monopoly on maritime trade in this era, the wreck is key to progressing our understanding of 17th century seafaring.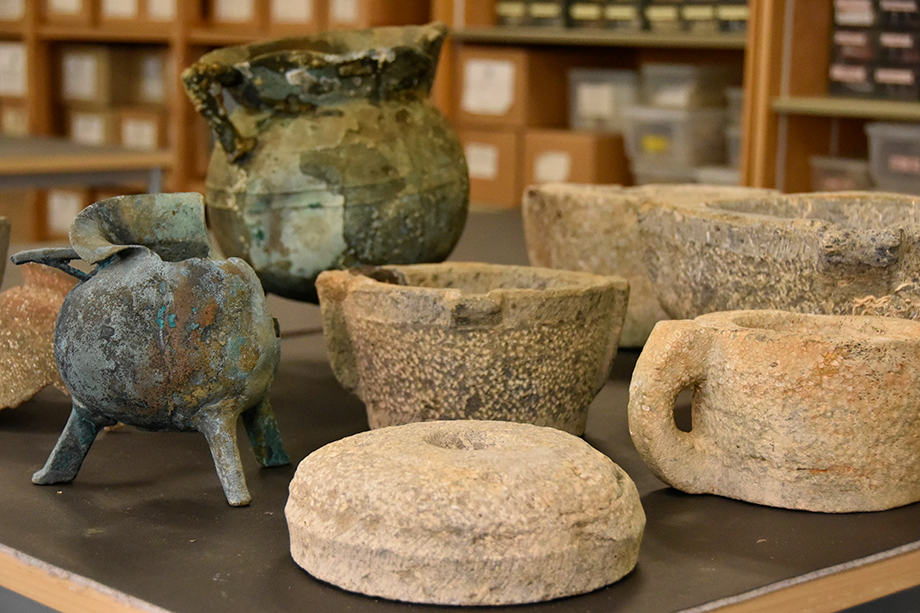 ---
Screenings of 'USS Chesapeake: Don't give up the ship!', Monday 1 August, 5pm and Wednesday 3 August, 9pm
For more information and to book head to Eventbrite
Wessex Archaeology is premiering 'USS Chesapeake: Don't give up the ship!'. Join Marine Archaeologist, Lowri Roberts, as she uncovers the history of the USS Chesapeake and unravels the heavy frigate's troubled past – from clashing personalities to geopolitical posturing in the Age of Sail.
Commissioned by US Congress in 1796 to protect trade routes during the war with Algiers, North Africa, the USS Chesapeake began capturing British soldiers during the War of 1812.  British Royal Navy Captain Philip Broke determined to discover why the frigate was so successful. USS Chesapeake and Broke's ship, HMS Shannon, came to blows in Boston Harbour on the morning of 1 June 1813 in what was one of the most devastating naval actions of the Age of Sail. Captain Lawrence of the USS Chesapeake was mortally wounded during his ship's capture and died proclaiming "Don't give up the ship!".
---
Wessex Archaeology's Portsmouth & Gosport History Week events will take place between 1 – 7 August – visit Wessex Archaeology on Facebook for full event listings
Monday 1 August – 5pm – Premiere of 'USS Chesapeake: Don't give up the ship!' at The Old Custom House – Gunwharf Quays, Portsmouth, PO1 3TZ
Monday 1 August – 7pm – QEC Capital Dredge Project: Archaeological Discoveries at The Old Custom House – The Old Customs House, Gunwharf Quays, 1 , Portsmouth, PO1 3TY
Tuesday 2 August – 5pm – Saving the Fairey Barracuda from extinction at The Old Custom House – The Old Customs House, Gunwharf Quays, 1 , Portsmouth, PO1 3TY
Wednesday 3 August – 10am – Portsmouth Photography Tour with Wessex Archaeology at Central Building Gunwharf Quays Plaza – Central Building, Gunwharf Quays Plaza, Portsmouth, PO1 3TU
Wednesday 3 August – 5pm – The story of landing craft LCT 7074 at The Guildhall Village – The Guildhall Village, 25 Guildhall Walk, Landport, Portsmouth, PO1 2RY
Wednesday 3 August – 7pm – Modern wrecks and relics in the Solent at The Guildhall Village – The Guildhall Village, 25 Guildhall Walk, Landport, Portsmouth, PO1 2RY
Wednesday 3 August – 9pm – 'USS Chesapeake : Don't give up the ship!' film screening – The Sallyport Inn, 57 – 58 High Street, South England, Portsmouth, PO1 2LU
Saturday 6 August – 5pm – Historic shipwrecks: two major new discoveries in the Solent region – National Museum of the Royal Navy, HM Naval Base, Portsmouth, PO1 3NH
Saturday 6 August – 7pm – Repair and renewal: HMS Victory's timber rase marks – National Museum of the Royal Navy, HM Naval Base, Portsmouth, PO1 3NH
Sunday 7 August – 5pm – Defending Southsea: Now and Then – The Guildhall Village, 25 Guildhall Walk, Landport, Portsmouth, PO1 2RY