The Royal Yachting Association has joined forces with short story podcasters, 'Our Voices,' for a series of episodes focussing on real-life stories from the boating community.  
The RYA has teamed up with podcast, 'Our Voices,' produced by Fascinate Productions, for a series of insightful episodes chatting with members of the boating community. As a channel that encourages listeners to better understand themselves and society through listening to others, the interviews will focus on diversity in sport and celebrating some of the girls and women participating in boating.
During each of the episodes, listeners will hear the real-life stories from people within the boating community, as re-told in their own words. Subjects for discussion include when and how guests were offered their first chance to get on the water, what excites them about boating and what drives them to continue with the sport – whether that is as a hobby or competitively. Guests will also be invited to delve into any negative experiences that they may have faced whilst a part of the boating community, and to talk about what their hopes are for the future of the sport.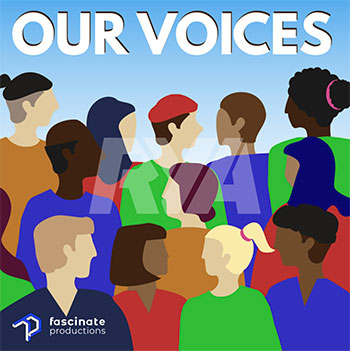 Initially started as a voice for NHS medical professionals during the pandemic, the 'Our Voices' podcast has evolved as a reliable channel for hearing real stories told by real people and has gained popularity for the honest and human portrayal of people's real lived experiences.
Commenting on the upcoming episodes and its hoped impact, Mel Hide, RYA director of external affairs, said: "The RYA is looking to reach new audiences and inspire more people to try boating, and maybe even fall in love with the activity they choose. Boating comes in many forms so there is something for everyone, no matter ability, location, and financial status. But sometimes people think it is exclusive and expensive so not for them. We want to change that perception. Helping us do that is a group of entrepreneurs who believe stories have the power to change minds and we are excited to sponsor Our Voices – the only short story podcast that takes a snapshot of people's lives."
Guests on the podcast are expected to range from weekend windsurfers to Olympic medallists and everything in-between. It is hoped that listeners to the interviews, regardless of background or ability will feel encouraged to find their nearest club or centre and to give boating a go.
Mel continues: "Through this association we hope to spark an interest in the RYA and drive those that are curious to want to know more about how we are keeping the sport real for everyone, in their communities, now and in future."
Alex Melia, creator and host at 'Our Voices,' said: "I am very excited to partner with the RYA on the 'Our Voices' Podcast. I see a genuine opportunity to really encourage people from different backgrounds and different ethnicities into the RYA organisation as part of their EDI strategy. Our podcast is all about providing a platform for diversity: both diversity of background and diversity of experience. So, as we look to do future podcast series on the areas of celebrating women, raising awareness of disabilities, exploring role models, and highlighting key aspects of safeguarding, I see huge potential for people of a diverse range of backgrounds to discover and enjoy the thrill of boating and sailing through our association."
---
The 'Our Voices' podcast can be accessed via the 'Our Voices' website.