Musto has renewed its long-standing commitment to the British Sailing Team as Official Clothing Supplier.
Governed by the Royal Yachting Association, the British Sailing Team supports nearly 60 elite sailors on their performance pathway to compete at the very highest level of the sport.
Musto's Olympic heritage can be traced all the way back to the 1964 Olympic Games when founder Keith Musto won the silver medal in the Flying Dutchman class. Ever since, the brand has continued to deliver race-winning performance and weather protection apparel.

Nick Houchin, Musto's head of marketing said: "We are proud to continue our relationship with the British Sailing Team. The four year partnership enables us to build upon our close relationship with the team, working directly with the sailors in the development of our high-performance dinghy sailing gear. We are engaging with the global sailing community from grassroots to Olympic level through our partnership with the international federation, World Sailing, and Musto's support of the British Sailing Team is our commitment to inspiring current and future Olympic hopefuls on a national level."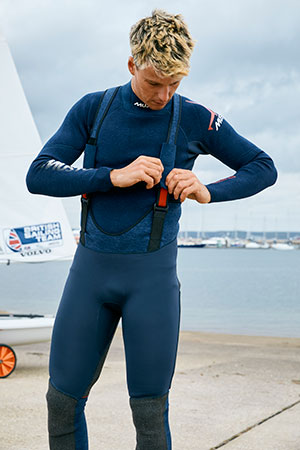 Musto first partnered with the British Sailing Team in 2009 and has been the team's clothing supplier of choice for over a decade. Since renewing the partnership in 2017, Musto and the British Sailing Team have continued to combine their knowledge and expertise to ensure athletes are kitted out in the highest level of performance dinghy gear including the Sunblock Dynamic and Flexlite Vapour range.
"It is really important to have the right kit in order to perform at our best, day in and day out," said Anna Burnet, Nacra 17, who raced alongside her partner, John Gimson, to secure Silver at the 2020 Tokyo Olympic Games. "Musto worked with us to fully understand our requirements and have produced durable, flexible clothing that provides us with a level of protection like no other. The brand helps the British Sailing Team achieve those marginal gains so vital in securing a podium spot in each race." 
The British Sailing Team was instrumental in developing Musto's new Spring Summer 2022 dinghy collection, offering feedback to Musto's designers over a three year period, culminating in an updated Flexlite Alumin product family.
Ian Walker MBE, RYA director of racing, a double Silver Olympic medallist and Volvo Ocean Race winner, knows all too well the importance of quality clothing when pushing the limits of performance.
"Musto is the 'go to' brand globally across all types of sailing, from high performance to recreational, dinghy to offshore," Walker said. "The British Sailing Team aims to be the world's best both on and off the water. Musto's peerless knowledge and expertise will be invaluable as the British Sailing Team seek to further their dominance in Olympic class sailing. As the British Sailing Team continues to lead and inspire future generations of athletes, we work with Musto to help our sailors gain the inside edge over their rivals through innovative development from the world's most trusted sailing brand."
Musto also announced a 'Lifestyle Ambassador' partnership with leading British pro kiteboarder, Tom Court. Aged 30, Tom learnt to windsurf at an early age before turning his attention to kitesurfing in 1999. Ever since, he has been an enthusiastic kiter and quickly made his mark on the PKRA Kiteboarding world tour after winning the UK under 18s championship in his first year of competition. Tom is an International rider for Boards & More (Duotone) and is well known for his powerful riding style. Tom will be wearing Musto's Marina and Evolution collections and showcasing the kit in action as he competes around the world.
---
For more information, please visit www.musto.com