From stand up paddleboarding to dinghy sailing, the thrill of powerboating to stepping back in time on a classic tall ship. Exhilarating RIB rides to a scenic cruise around the Solent – this year's Boat Show has more ways than ever to get everyone out on the water. And best of all, many experiences are included in the price of your show ticket. 
One of the main attractions of the Southampton International Boat Show is it provides the option of getting out on the water and trying out lots of experiences in a wide range of different boats. "From our visitor feedback, we know how enjoyable it is to get onto the water during a visit to the Boat Show," says British Marine CEO Lesley Robinson. "Last year over 14,000 visitors enjoyed an on-water experience and by bringing special feature boats, and working closely with exhibitors, we will provide opportunities to get out on the water to even more people this year. 
"It can be really hands-on such as paddle boarding and dinghy sailing, or the perfect opportunity to get the family on board several different types of boats, enabling you, for example, to make comparisons between powerboats and sailing yachts.  For many, there's the complete pleasure of taking a mini cruise around the Solent or experiencing a once in a lifetime sail on an historic vessel." 

For those who want to literally dip their toes in the water, Get Afloat, in partnership with Rockley Watersports, provides you with the chance to have a go at single handed sailing, which is just one person in a boat, or choose to go double handed, with two people in a boat.  Or check out your paddling skills and try a step back turn on a stand-up paddleboard (SUP) or put your team working skills to the test on an XL SUP with your friends and family. You'll learn some sailing lingo as well.  With friendly experienced instructors from Rockley Watersports helping you all the way, you will be provided with all the kit and equipment you need. It will help hone your skills and will give you the chance to try something new.
Get Afloat is included in the cost of your entry ticket so simply sign up on the day for your session.  Remember to sign up early as Get Afloat is very popular and don't forget your towel!
Try-a-Boat is another of the show's top attractions enabling visitors to choose to go on the water in a variety of different types of craft.
There are eight different types of Try-a-Boat craft to try, provided by boating membership club Flexisail, all of which are included in the price of your entry ticket.  Whether a complete beginner or a seasoned 'pro', Flexisail's team of qualified instructors are on hand to get all the family out on the water to compare and contrast experiences in everything from a RIB ride in a Brig Eagle 6.7 to a Merry Fisher 1095 powerboat.  Or if you have a hankering for sailing, there's a choice of six different sailboats in a range of sizes to try from boat manufacturers which include Sun Odyssey, Dufour, Salona and Hanse Yachts.
There is also the opportunity to step aboard the show's very own cruise ship which departs from the marina twice an hour, taking visitors on a mini cruise around the Solent. Fully equipped with sundecks, bars and on-board facilities, you'll enjoy a relaxed and completely free 20-minute voyage.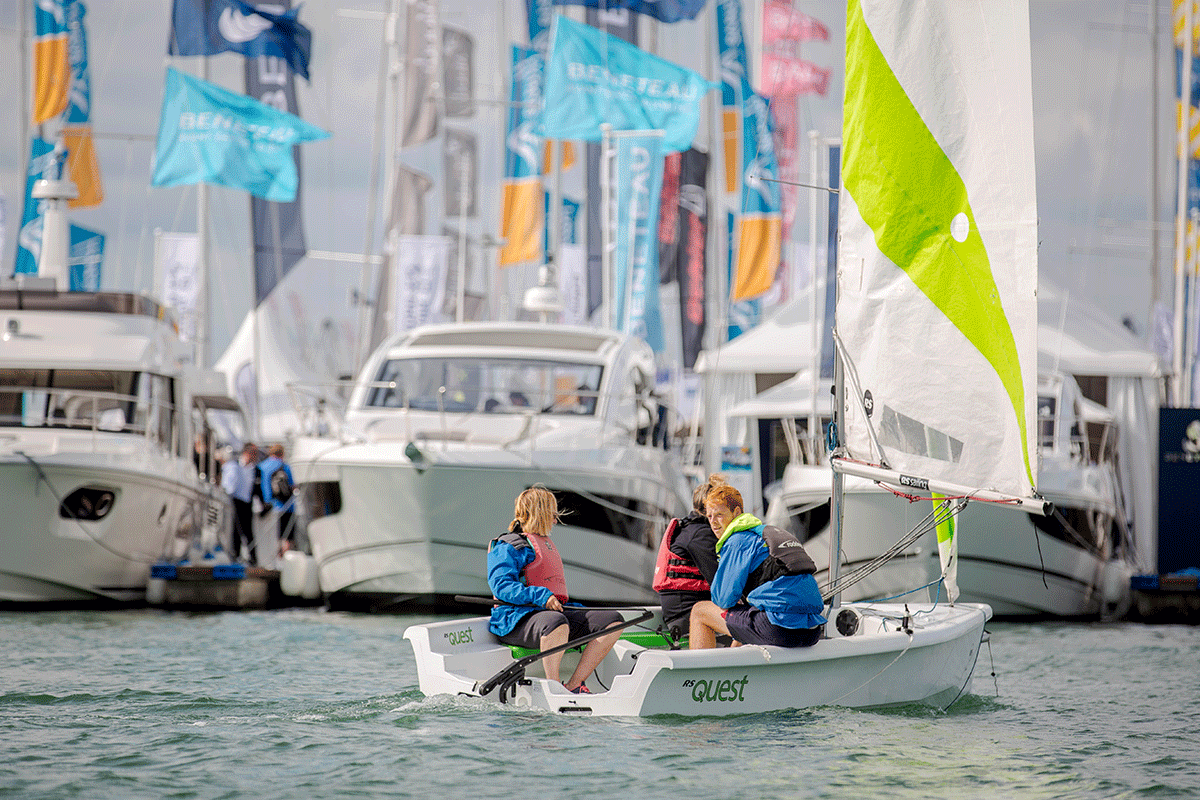 For those looking to enjoy a completely different experience, the show's Try-a-Boat+ experiences could be just what you are looking for. For an additional cost you have the chance to stay out on the water longer and experience life aboard some of the most adventurous and historically unique boats at the show (prices from £20).
You can become a deck hand on board the 47m classic tall ship Thalassa!*  One of the fastest and most beautiful of the famous Dutch Tall ships, she's rigged in a traditional way but with all the safety and conveniences of a modern-day vessel.  Simply upgrade your entry ticket to include a late afternoon sail on board this unique ocean-going beauty (VIP experience also available).
There is also the opportunity to experience the thrill of sailing on board a 50ft racing Trimaran*.  With two sailings a day, for five people each sail, this promises to be a truly once in a lifetime experience.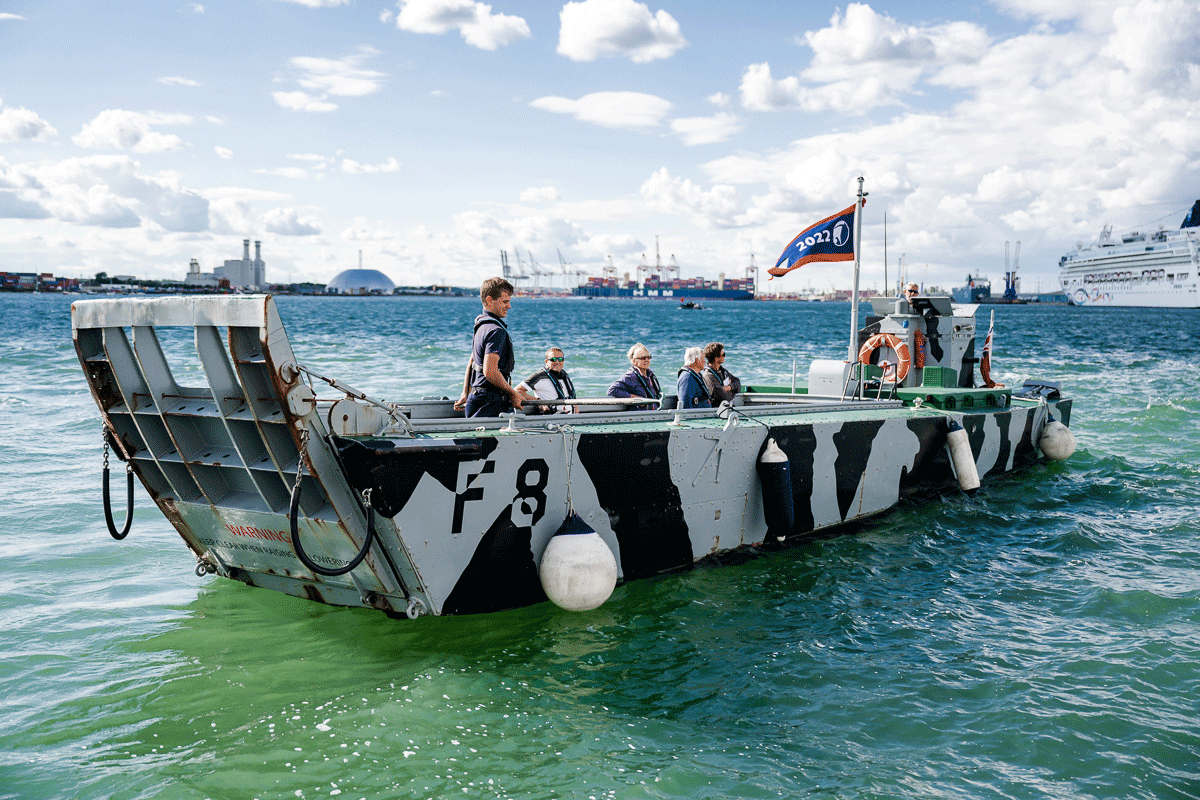 Portsmouth Historic Dockyard's Boathouse 4 will also be bringing three truly unique craft to the show, the Motor Gunboat (MGB) 81*, the Highspeed Launch 102* and Landing Craft F8*, giving visitors the chance to step aboard and head out on the water on board these iconic vessels.
After all that action why not take a break, chill out and enjoy watching all the high-octane activities from On the Water stage.  Style it out at TheYachtMarket.com Sparkling wine bar, or grab a cool drink and some tasty street food and sit back to be amused and amazed by these adrenalin-packed shows.
Or if the music is calling you, head over to the Shipyard to enjoy the live music line up and professional DJ sets or head over to the ever-popular refreshed Guinness Bar, it's the perfect place to enjoy time with family and friends – what a way to end the perfect day out.
---
Booking your on-water experiences
You can book your Get Afloat, Try-a-boat and Mini Cruise experiences on the day at the show at either the booking area in the Watersports Zone (near the entrance to the show) or down on the marina pontoons.
Book your Try-a-Boat+ experience online when purchasing your tickets.
*Tall Ship Thalassa, 50ft racing Trimaran, Motor Gunboat (MGB)81, High Speed Launch 102 and Landing Craft F8 are all part of the Try-a-Boat+ experience and subject to an additional cost.  See website for details.
Get your ticket
Tickets for the Boat Show can be purchased online at www.southamptonboatshow.com/visitor-information/tickets/
Upgrade your visit with the new and exclusive Quayside Club VIP package at www.southamptonboatshow.com/vip/
The show is open from 10am – 6pm daily except the final Sunday when the show will close at 5pm.