Lowrance® has announced its continued partnership with Angling Spirit, the founder of some of the most prestigious fishing tournaments in Europe.
The Angling Spirit Association, created by founder Ross Honey, has a legacy of angling tournaments including the World Predator Classic in the Netherlands and World Carp Classic in France. Plus, in 2021 Angling Spirit added a new UK based event to its calendar, the Sea Angling Classic, a pioneering saltwater fishing event that will be hosted in The Solent and which will launch officially in June.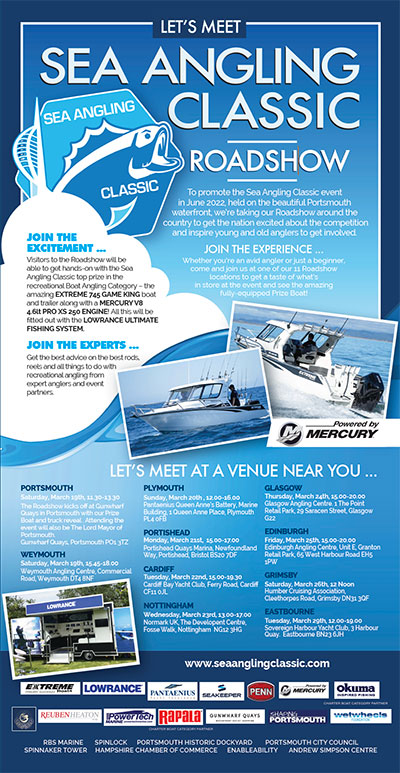 Historically the WPC and WCC have attracted some of the most elite anglers in Europe. Now with the addition of the new Sea Angling Classic event this summer, both elite anglers and families alike, can enjoy the thrill of fishing.  There is an impressive prize table to be won, including an Extreme 745 Game King fitted out with the Lowrance Ultimate Fishing System.

The Ultimate Fishing System is the complete set up of marine electronics for a perfect day fishing on the water, with the HDS LIVE at the heart of the system, it has all the features that the best anglers in the world use. Accompanied with ActiveTarget™ Live Sonar anglers can see fish in real-time, how they are reacting to the bait, where they are hiding and where they are going. This, combined with Active Imaging™ 3-in-1 sonar featuring CHIRP, SideScan and DownScan with FishReveal™ which gives the ultimate level of detail and at unmatched ranges, provides anglers with the ultimate sonar tools for finding and catching more fish.
"We are delighted to continue working with Lowrance and extend our successful partnership for another two years. Lowrance are renowned as the market leader in fishing electronics and the Angling Spirit events are natural platform for showcasing Lowrance's amazing equipment and connecting with anglers, where being successful on the water is essential. Lowrance has been a key partner in the World Predator Classic, World Carp Classic and the World Street Fishing events and we look forward to continuing to grow these events together. The Sea Angling Classic is a new event for 2022 and along with the fishing competition there will be some fantastic sustainability initiatives, from beach clean ups to research projects with universities, making this fishing event a competition like no other for the UK,"  said Ross Honey, Angling Spirit Founder.
Lowrance will be on site at each event providing technical support to competitors, as well as showcasing the latest in marine electronics for fishing.
"We are really pleased to be renewing our partnership with Angling Spirit, and continue to work together to grow competitive fishing and awareness of angling in Europe," said Simon Conder, Global Head of Brand, Lowrance. "Saltwater fishing is also a big focus for us, so the new Sea Angling Classic event is a great addition to the portfolio. The event is already proving popular and is promising to see a huge number of anglers, including families, beginners and professionals of all ages competing, and supporting environmental initiatives, making it a really inclusive and important event."