INEOS Britannia has confirmed its core leadership team to lead the British challenge for the 37th America's Cup.
Backing the team again is INEOS and being part of the INEOS Sport group means access to a wider sporting family which includes the Mercedes-AMG Petronas F1 Team, the INEOS Grenadiers cycling team, the All Blacks, and football clubs OGC Nice and FC Lausanne-Sport.
As part of this high-performance group, the British America's Cup team has come together with Mercedes-AMG F1 Applied Science, a division of the Mercedes-AMG Petronas F1 Team, to form INEOS Britannia, bringing together the best of the worlds of high-performance marine and automotive engineering, with the goal to win the America's Cup for Britain.

Leading INEOS Britannia on and off the water into the 37th America's Cup will be Sir Ben Ainslie, four-time Olympic gold medallist and one of only two British sailors to have won the America's Cup (with Oracle Team USA in 2013) as Team Principal/CEO and Skipper.
James Allison will be the technical lead as Chief Technical Officer of the Mercedes-AMG Petronas F1 Team and INEOS Britannia. Through Mercedes-AMG F1 Applied Science, Geoffrey Willis will be dedicated to INEOS Britannia as Technical Director, having previously worked in the America's Cup with Peter de Savary's Blue Arrow Challenge.
Leading the design concept for INEOS Britannia's AC75 boat for the 37thAmerica's Cup campaign will be the highly experienced naval designer, Martin Fischer. German-born Fischer was most recently a key part of Luna Rossa Prada Pirelli's design team for two America's Cup campaigns, after spending 14 years working on the design of hulls and appendages for numerous projects.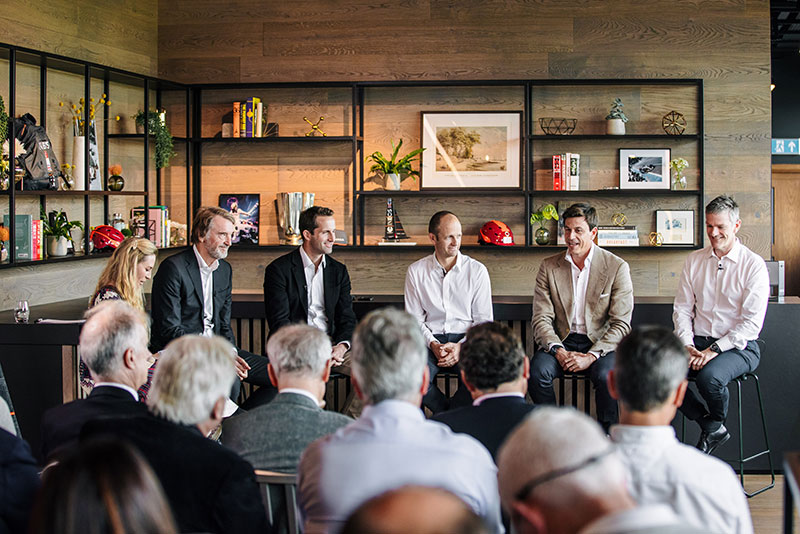 The INEOS Britannia sailing team is currently in the process of reforming following the conclusion of the 36th America's Cup. Giles Scott, the team's Tactician in Auckland, has become one of the first sailors to re-sign with the team following his gold medal in the Finn Class in the Tokyo 2020 Olympic Games.
Dave Endean, Project Director for the team's 36th America's Cup campaign, completes the leadership team as COO, responsible for the day-to-day running and operations of the team's campaign alongside Ainslie.
Speaking about the launch of the team's 37th America's Cup campaign Ben Ainslie said: "The America's Cup is the ultimate team sport and to be successful you need continuity. It takes time to develop the IP, skills and know-how necessary to be a winning team, especially when you are up against teams with over 25 years' experience. As we enter our third campaign, we have taken a lot of learnings from our previous challenges and assembled a world class team combining talent from Formula 1 and the America's Cup. Mercedes-AMG F1 Applied Science bring a legacy of design to the table. They are proven winners, it is in their DNA, it is in their culture.
"As Challenger of Record we have been negotiating the upcoming Protocol with the Defender Emirates Team New Zealand and are pleased that there is an increased commitment to diversity and inclusion in our sport, through the Women's and Youth America's Cup Events. That is something we have been working to through our Official Charity, the 1851 Trust, since the team's inception in 2014 and remains core to the team's values moving forwards as we continue to provide pathways into sport and inspire the innovators of the future."
The integration of INEOS Britannia and Mercedes-AMG F1 Applied Science is an example of the spirit of collaboration and shared learnings the unique high-performance sports group of INEOS Sport is beginning to foster.
Commenting on the partnership INEOS Chairman and Founder Sir Jim Ratcliffe said: "The America's Cup has been 170 years pain for us in Britain. We have had fantastic sailors in this country, but we have never had the boat that could win. We believe that assembling this unique collection of elite sports teams will give us a stronger chance of achieving what has never been done before. There are many synergies across our sporting family and what Mercedes F1's engineering and organisational expertise can add to our America's Cup challenge is one of the strongest examples of that."
James Allison brings a wealth of experience in high-performance sport, playing a key role in the creation of 13 Formula 1 Constructors' Championship winning cars. He added: "Our involvement in the 36th America's Cup campaign certainly whetted our appetite. For that campaign we came in quite late into the process and tried to add as much as we could through the design and engineering expertise of our Applied Science division. It was immediately clear to us that the America's Cup is a very exciting, and very difficult, challenge. This time we are one team, INEOS Britannia, with the team's design base embedded in our Formula 1 HQ, and the clear goal to bring the America's Cup back to Britain. We feel very lucky to be involved in this opportunity and we can't wait for the challenge ahead, it's a mouth-watering prospect."
As Challenger of Record, INEOS Britannia and Royal Yacht Squadron Ltd are currently working closely with the Defender Emirates Team New Zealand and the Royal New Zealand Yacht Squadron to define a fair Protocol for the 37th America's Cup due to be published 17 November. This will include previously announced initiatives such as retention of the AC75 class, cost reduction measures to attract a higher number of Challengers, a new crew nationality rule and the Women's and Youth America's Cup regattas announced last month.