In March, Lymington sailor Hattie Rogers (21) competed in the inaugural SailGP Inspire WASZP Grand Final Championship in San Francisco Bay, representing Great Britain with fellow sailor Zac Blomeley (20). 
The youth WASZP Inspire event runs alongside SailGP, the international sailing circuit equivalent of F1. Youth sailors were selected to complete in their national SailGP Inspire event and the male and female winner from each nation met at the Grand Final. 
The young athletes raced over three days in their WASZP single-hander foiling dinghies against top youth sailors from around the world at the Mubadala United States Sail Grand Prix event weekend, on the same waters as the F50s. 

Hattie won 9 out of the 11 races, with two 2nd, fighting off Mathilde Robertstad of Norway and Pearl Lattanzi of the USA to claim victory. Sean Herbert from New Zealand claimed the male championship.
Hattie said: "The format of the fast-paced races was downwind slalom with a reaching start, which puts pressure on your boat handling, punishing any slight mistake made. On the first two days, racing was directly in front of the SailGP grandstand with large crowds and loud commentary which was a great experience! Being close to shore with wind gusts and shifts gave each race lots of opportunities."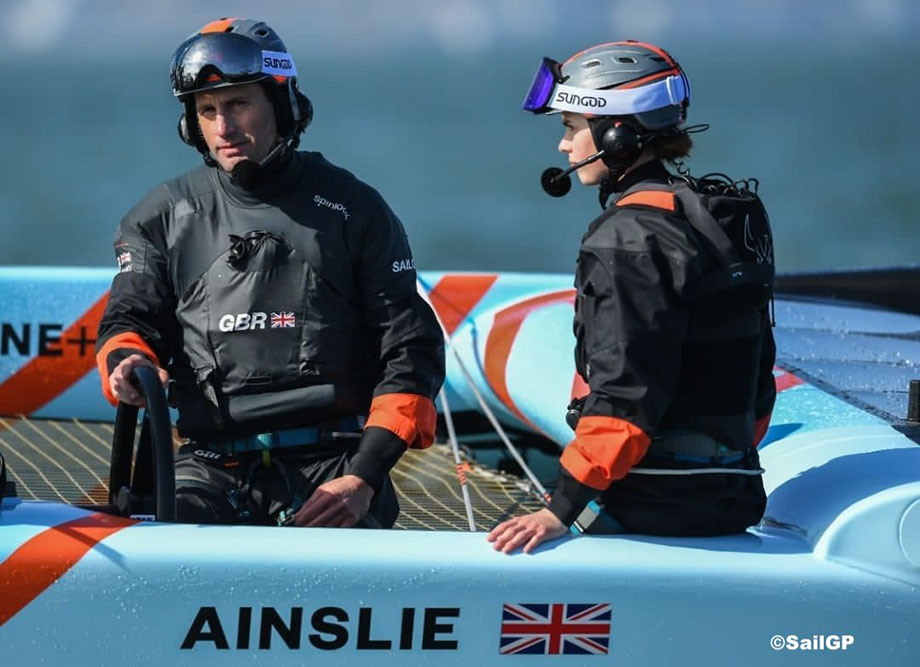 Before the Grand Final whilst getting ready for the Inspire Racing training days, Hattie received a surprise phone call inviting her to step up to the F50 with Sir Ben Ainslie, as a replacement for Hannah Diamond and Hannah Mills who were both unwell. Hattie took the opportunity with both hands, even getting a chance to drive the F50. It meant going straight into the Grand Final in her WASZP without any training or mental preparation, but what an opportunity!
Hattie said: "Just a few minutes after I took the wheel, a gust came through and we bore away and hit 48.2 knots! It was a bit surreal with Ben looking back at me from the grinding position with the biggest smile on his face. I was unaware of the exact speed until the shore team told me I was the fastest women helm in an F50!"
"I had to pass safety training before being allowed on the F50. In many ways it was good that I went into the safety training with no time to think about it as it was pretty brutal – not everyone passes! The F50 is extremely professional. This is a class where the shore teams, support boats, data analysts and technical support are absolutely critical. The sailing was incredible, surrounded by the best sailors in the world!"
Sir Ben Ainslie said: "Nice work Hattie, stepping up from Inspire sailor to member of the crew in two days! Helmed at 48.2 kts!!!"
Hattie grew up in Lymington and learnt to sail with her family from the age of two in Contessa's. Her first sailing commitment was to Wednesday Junior Sailing at the Royal Lymington Yacht Club, she was also a member of Salterns Sailing Club. As an Optimist sailor she was crowned British Junior Ladies National Champion in 2012 and British Senior Ladies National Champion a year later. Hattie was then successful in the 29er skiff qualifying for the Youth Worlds in 2017, before moving into the foiling WASZP. Now undertaking a Masters in Ship Science Engineering at Southampton University, Hattie is looking forward to a bright future.
Hattie said: "The last week in San Francisco has been one of the best weeks of my life. From helming the British SailGP F50 and unofficially becoming the fastest women helm in sailing in the World (48.2 knots), to becoming SailGP WASZP Grand Final Women's Champion for Season 2, has been absolutely insane! I can't thank my family, my sponsors, the Royal Lymington Yacht Club, the RYA and all the coaches over the years enough for believing in me and helping me to chase my dreams. I can't wait for the next chapter, wherever that may take me!"
Follow Hattie's sailing journey on Instagram at @hats.sailing.
---
The new season of Wednesday Junior Sailing, the RYA OnBoard Centre for local children at the Royal Lymington Yacht Club starts on 27 April. Sponsored by Lymington Yacht Haven, WJS enables local young people aged between 8 and 18-years-old to learn how to sail, plus a multitude of seamanship skills including rowing and power boating, for just £1 per session. As well as the water activities sailors get the use of a buoyancy aid and enjoy a hot drink and doughnut. Find out more and register now at www.rlymyc.org.uk/wjs.