Her Royal Highness, The Princess Royal was able to enjoy time with sea cadets during her first voyage as Admiral of the Sea Cadet Corps on Thursday.
The Princess Royal was joined by Martin Coles CBE, chief executive, and Captain Neil Downing RN, Captain Sea Cadets. Cadets from 12 units around the country piped her arrival on board TS Royalist, the youth charities flagship and promptly set sail for the Solent.
"We were delighted to welcome The Princess Royal for her first voyage with Sea Cadets since becoming our Admiral," said Captain Sea Cadets, Neil Downing. "Cadets getting together for a voyage is a key aspect of the Sea Cadets experience, encouraging young people from many different backgrounds to get to know each other and work together as a team. The cadets were clearly excited for the occasion but certainly demonstrated their exceptional skills throughout the voyage."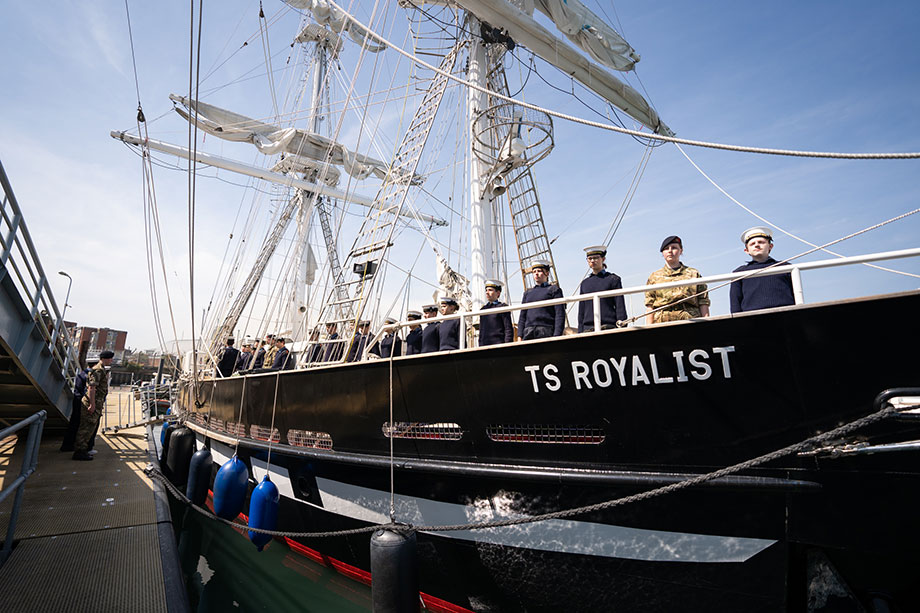 The Princess Royal has a long history of actively supporting the youth charity and has special links with the TS Royalist, having named and commissioned the original TS Royalist in 1971 as well as the the new replacement ship of the same name in 2015.
At the beginning of this month, The Princess Royal officially opened the new Sea Cadets boat station in Port Edgar, Edinburgh, where she praised the charity for the opportunities it offers young people, telling the cadets: "Sea Cadets has quite a history – a history that you keep adding to."
The TS Royalist sleeps 24 cadets and offers young people all around the country to experience voyages up to six days in length. Offshore voyages give sea cadets a great opportunity to enjoy nautical adventure and fun, while developing the skills and confidence to launch them well into life.