The volunteer crew from Teddington Lifeboat Station were tasked on 17 March to an unattended rowing boat with the engine still running, near the Teddington footbridge.
The shout marked two firsts for the lifeboat station as it was the first callout for newly qualified helm, Samantha Armatage, who was joined by crew members Nicola Peters and Gianna Saccomani, marking the first all-female crew callout for Teddington RNLI.
Teddington lifeboat operations manager, Matt Allchurch, said: "We believe this was the first ever all-female crew shout on the Thames which is something we are incredibly proud of and an exciting first shout as helm for Samantha."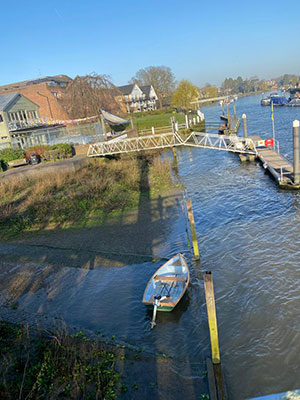 The station's D-class lifeboat was launched following reports of an empty rowing boat with a small engine that was in reverse and still running. The tide was rising, and the river flow was very strong so the crew were concerned that the vessel may sink as its mooring was unsuitable.
Following inspection of the vessel, they were no personal effects or casualties found nearby, raising concerns that the boat owner may be in difficulty. Shortly after Teddington's second lifeboat was launched to start a search, the boat owner was found safe and well.
The lifeboat was then returned to the station and prepared for her next launch.
Samantha Armatage, volunteer Helm, said: "I am delighted to have completed my first ever shout as Helm after recently passing out. We are so pleased that this callout had a happy ending, but we urge boat owners to ensure their moorings are always safe and to always check the tide times and weather forecast before heading out. If you ever see someone in trouble in the water, call 999 and ask for the Coastguard."