A boat that played a part in the mass evacuation of Dunkirk is continuing to save lives thanks to an addiction recovery project in Scotland.
Love Island star Amber Rose-Gill spoke to Dumbarton-based Skylark IX Recovery Project about the incredible history of the humble pleasure boat for The National Lottery's new Amazing Starts Here podcast.
The series sees host Amber sharing stories from ordinary people who do extraordinary things with the help of the £30 million raised by National Lottery players each week.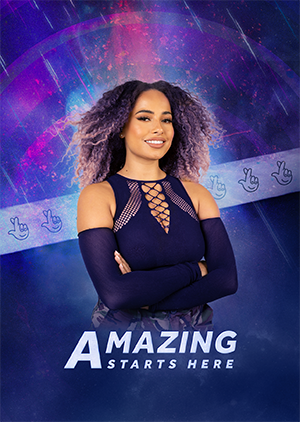 In the fourth episode of Amazing Starts Here, Amber talked to representatives from the project to find out how the Skylark IX became a symbol of recovery and resilience for the community in Scotland.
The Skylark IX was a small vessel built in 1934 and for the first few years of its life, the boat played a role in many people's visits to the seaside, but it wasn't until the Second World War broke out that it truly made its mark on history.
In Operation Dynamo, it rescued more than 600 allied soldiers from the beaches of Dunkirk, helping larger vessels that couldn't venture into shallow waters.
After its crucial role in this dramatic rescue mission, the Skylark IX was used as a pleasure boat once again until 2010 when it became unsafe. It sank shortly after.
Claire McDade, Project Manager of the Skylark Recovery Trust, said this triggered an "SOS" among local boat clubs and veterans, who began a campaign to save the historic vessel.
She said: "The trust raised all this money, over £400,000, from The National Lottery, to whom we are eternally grateful, to help us rebuild the boat, and then refloat her."
Following support from The National Lottery, the boat was salvaged and now plays a key role in helping people with addiction problems in their recovery process.
Crucially, Claire said, the boat's past told a story about the "recovery of people," a component the project was keen to retain.
She said: "We've got this little banner, headline, Recovery Through Recovery, which is really important for us.
"It's about using the boat, and her story of heroism and recovery of people's lives from the beaches of Dunkirk, and inspiring people who are suffering from addictions today in their recovery journey."
Sadly though, the project soon realised they would noot be able to restore the boat to its former glory.
Instead, they decided to build a new recovery centre for skills-building, health and wellbeing, and put the boat on display there "in all her broken beauty."
Claire said: "We'll show her wounds, and show, this is a boat that has lived. And that is so important, because it's about saying you don't need to be perfect."
Podcast host Amber Rose-Gill said: "The Skylark IX is a symbol of recovery and resilience, inspiring people to make positive changes in their lives. She's helped people make authentic connections, realize their potential, and give them opportunities for a better tomorrow.
"It's all thanks to National Lottery Players, who raise 30 million pounds a week for good causes like the Skylark IX Recovery Trust."
Jade West, Community Engagement Lead at the Skylark Recovery Trust, opened up about her own struggles with anxiety and spoke about how she overcame them with the help of the project.
She said: "I really recognise, because I've lived it, how important community-based opportunities like this are for people.
"Through the transformative space we've created in the workshop, we're understanding the power of working and learning together. It's something really special and amazing to be a part of.
"We also open the doors to the workshop as much as we can and, for some people in the community, this might be the first time they have knowingly interacted in a positive way with someone with an addiction.
"We all hit bumps in the road and, here at the workshop, people can see our volunteer trainees turning their lives around and understand how Skylark IX is a symbol of that journey and that resilience."
The full episode of Amazing Starts Here is available to stream here: https://AmazingStartsHere.lnk.to/Ep4
---
Thanks to National Lottery players, more than £30 million goes to good causes across the UK every week, which in turn helps charities like The Skylark IX Recovery Trust to continue to carry out incredible work in their communities.