A young sailor from Bournemouth who lives with epilepsy and is recovering from a stroke has been chosen to sit alongside some of the UK's greatest creative icons, including Sir Quentin Blake, Joanna Lumley OBE and Gerald Scarfe CBE, as part of a national campaign.  
Will, who has taken part in sailing championships across the world, was invited by Roald Dahl's Marvellous Children's Charity to draw a thank you card to acknowledge those who have been invaluable during the pandemic.
As someone whose own brain surgery was delayed as a result of the pandemic, Will knows first-hand the additional pressures that Lockdown has had on seriously ill children and young people and their families.

He said: "It's been a bit of a tough time lately; I had a stroke and have these things in my brain that cause problems. I was due to have brain surgery up at Great Ormond Street Hospital but Covid delayed it. This was really stressful. It was scary enough to think about surgery, but with the delays, it felt so much worse."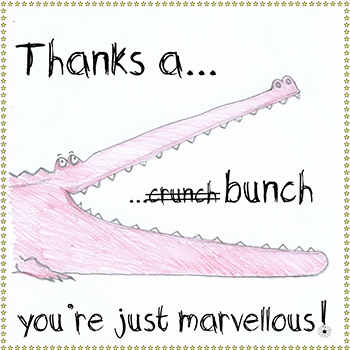 Will's thank you card design features Roald Dahl's Marvellous Children's Charity red crocodile mascot Marvin and forms part of a collection designed especially for the charity available at www.roalddahl.com/thankyou.
The card sits alongside a new design by Roald Dahl illustrator Sir Quentin Blake also depicting mascot Marvin, a fabulous design with hearts and kisses by actor Joanna Lumley, a bowing fox by cartoonist Gerald Scarfe, a whimsical swamp crocodile by artist Emily Woodard, a simple heart by presenter Claudia Winkleman and a piped-icing thank-you by actor and celebrity cook Jane Asher.
As well as his public card, Will has also designed a special thank you for his own Roald Dahl Epilepsy Specialist Nurse Kat – in whom he places his own gratitude for supporting him through the pandemic:
"My nurse Kat is pretty cool, she's always there for me and not just for checkups and medical things," he said. "Kat talks me through, keeps me calm and checks in when I am feeling rubbish. She has this knack of knowing when I could do with a 'Kat chat' and especially lately, with my surgery just weeks away, she's been amazing at answering my questions, however silly they may sound to others.
"I think life would definitely be worse without her, in fact I know it would. Kat is more than a nurse, she's the light in the dark for me and my family. The 'Thank You' card was a great chance to remind Kat what she means to us and also raise awareness for others. Everyone deserves a Roald Dahl Nurse, they're just marvellous!"
"Our nurses and young people have truly been the inspiration for our 'Marvellous Thank You' collection," said Louise Griew, Chief Executive of Roald Dahl's Marvellous Children's Charity.
"Children and young people with lifelong conditions have had the additional complexities of COVID-19 on top of their complex health conditions, and everyone in healthcare and the wider support bubbles has been working hard to keep them safe.
"We wanted to give the public a way to say thank you to the people who have been invaluable this year, whilst also raising donations to help provide more Roald Dahl Specialist Nurses within the NHS and continue our vital support work."
---
The public can send a thank-you card and make a donation by visiting: www.roalddahl.com/thankyou     
Will's inscription to Kat, inside her card, is below:
THANK YOU KAT… 
I wish there was more than one Kat, our #marvellous nurse, I'd be happy with that! 
She's so full of care, we need more to share, you should all be aware 
about the power of a very special specialist nurse, Kat, my nurse 
and her #marvellous ability to make things better, not worse! 
The light in my dark, adding flame to my spark, her difference is stark, that's my nurse Kat! 
Roald Dahl Nurses are rarer than they should be, rarer than they could be, 
If I were you and you were me, I'd be doing something about it, it's easy as can be… 
For more specialist nurses, we must dip into our purses, 
maybe fundraise or do all you can to praise 
their #marvellous work (and all of their quirks), now's not the time to shirk 
It's up to you, me and them too, we need more Kats, more nurses that do this and that, 
we need more Kats, the world deserves that! 
Thank you Kat, for all that you do, especially for me, you're marvellous, it's true! 
Will x