Dame Ellen MacArthur has thanked a team of cyclists for raising almost £24,000 after completing an epic 600-mile ride to support young people living through and beyond cancer.
Eleven riders participated in the gruelling Largs to Cowes 'Brighter Futures' Cycle Challenge for the Ellen MacArthur Cancer Trust, tackling a picturesque but demanding route between the charity's bases, starting out on a rainy day in North Ayrshire and concluding on the Isle of Wight.
Their incredible achievement will now enable more young cancer survivors to be supported on the road to recovery through transformational sailing experiences and outdoor adventures.
Cycling 75-80 miles a day with Pie Events, the fundraising riders succeeded in their mission to pedal across Britain over eight consecutive days (17-24 June 2022) through Scotland, Cumbria, Yorkshire and Cheshire, then on to Ironbridge, Herefordshire, Wiltshire and the south coast.
With a camaraderie within the group second-to-none, this was a team of riders who were determined to go the extra mile to make a difference, supporting each other through the highs and lows of the British landscape and their own emotional rollercoaster as they tackled the relentless miles together to raise awareness and support the work of the Trust.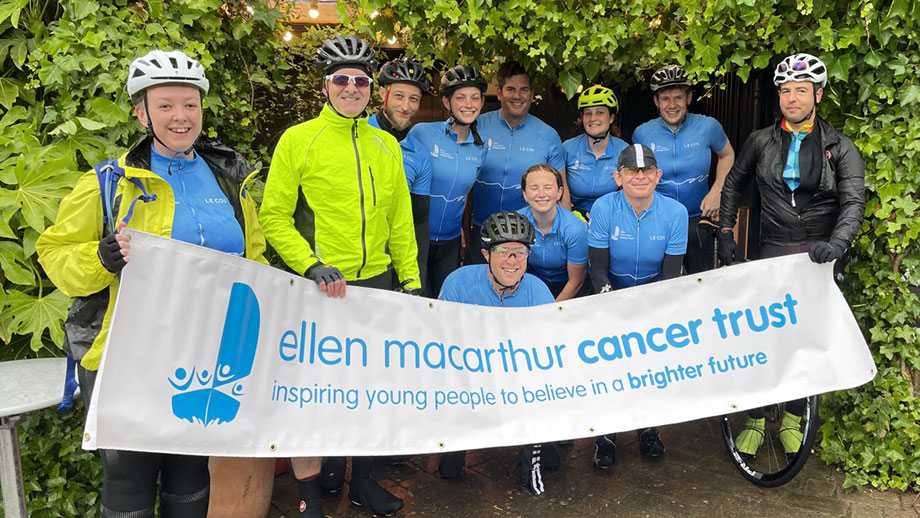 Dame Ellen MacArthur, who was in Cowes to welcome and congratulate the team, said: "On behalf of every single young person who sails with the Ellen MacArthur Cancer Trust, thank you, thank you to all of the riders on the Largs to Cowes 'Brighter Futures' Cycle Challenge. I know they had the most amazing adventure and a wonderful time.
"It's a phenomenally long trip from the north to the south of the UK. It was always going to be a real challenge, and it reminded me of when I first sailed round Britain when I was 18. The countryside was absolutely stunning and I shall never forget being astounded at how beautiful our countries are.
"But when you have a challenge I always say think through to the other side, that's the most important, prepare as best as possible and think about why you're doing it. The riders know the young people the Trust supports need us more than ever right now, so it's an extraordinary achievement and an extraordinary thing they have done. Well done to all the riders and thank you again." 
The Ellen MacArthur Cancer Trust inspires young people aged 8-24 to believe in a brighter future living through and beyond cancer. For many young people, picking up where they left off before their diagnosis isn't possible. So, when treatment ends, the Trust's work begins.
Through the Trust's sailing and outdoor activities, young people meet others who have had similar experiences – often for the first time, rediscover independence away from home, experience an increased sense of purpose and self-worth, and begin to realise what they are capable of again. Most importantly they stop feeling like the 'only one'.
The Largs to Cowes riders included both supporters of the Trust and young people who have benefitted from taking part in its activities following treatment for cancer. Seven riders pedalled all 600 miles: Avalon Ridler, Simon Townsend, Roisin Smith, Liam Wright, Holly Hudson, Max Goulden and Ben Pitman. Also completing monster miles after signing up for the challenge were Ian Wright and Amelia Caley, along with day riders John Stewart and Theresa Kennedy.
Simon Townsend, aged 39, of Tooting, co-ordinated the Trust's first Round Britain Voyage in 2009. Having seen first-hand the impact of the charity's work, he has since continued to fundraise for the Trust, and summed up: "It was a really great eight days. We've seen some fantastic scenery but importantly met some awesome people – we all stuck together, worked as a team and made it to Cowes. A big congratulations to everyone on the ride – we did it!"
Largs to Cowes cyclist Roisin Smith, aged 23, of Exeter, first sailed with the Trust aged 19 following treatment for Hodgkin Lymphoma – a trip which gave her a much-needed confidence boost before starting university. As Roisin explains: "Spending that time with the Trust in Largs, sailing with other young people who had also experienced cancer, gave me perspective and made me feel less alone. 
"The Trust is one of the few charities supporting young people after they've had cancer. In the moment, you have so much support from doctors and nurses and other charities, and then there's this image that once you go into remission you'll be fine and that's the end. But actually that's kind of the beginning of recovery in a lot of ways. I wouldn't be in anywhere near as good a place without the amazing people and adventures that make up the offering of the Ellen MacArthur Cancer Trust."
On completing the Largs to Cowes ride, Roisin added: "I'm very proud of what we've achieved.  It's a great feeling knowing you've raised this money for the charity that has helped you and helped so many other young people and hopefully will continue to do so."
Fellow rider Holly Hudson, aged 21, of Tilton on the Hill, Leicestershire, who first sailed with the Trust aged 13 following acute lymphoblastic leukaemia and has since become a volunteer, said: "The Trust brought normality back to my life and allowed me to find the confidence in myself again. After treatment finishes, that's it, it is like you are just on the edge of a cliff afterwards. The Trust builds a bridge, so you don't go over the edge. I wouldn't be where I am today if it wasn't for the Trust team."
At the conclusion of the cycle challenge in Cowes, Holly added: "It's been incredible and I've met so many amazing people along the way. The Trust holds a huge place in my heart so to be able to do this and help other young people get involved in the Trust means a lot. What kept me motivated was knowing I was going to help people like me – and the finish was always going to be there, it just took time to get there and lots of emotions along the way. I feel overwhelmed by the amount we've raised."
Avalon Ridler, aged 27, of Burgess Hill, West Sussex, was diagnosed with Hodgkin Lymphoma as a teenager in 2012 and first sailed with the Trust, for whom she is now a volunteer, in September 2016: "It was a perfect balance of meeting people, processing my diagnosis and opening up about how it had affected me in a non-confrontational setting. The sailing facilitated the right conversations. I came away from my first trip completely reset and more at ease with my diagnosis. Subsequent trips just reinforced this new confidence and acceptance of cancer."
Having described herself as 'an enthusiastic rookie cyclist' before setting off on the Largs to Cowes 'Brighter Futures' Cycle Challenge, Avalon said: "I was quite concerned about doing something like this but I met the most lovely people and this was the right challenge for me at the right time and for a good cause. I realised it was 10 years since I was diagnosed and I wanted to prove to myself that I was back to where I was before all this happened so that was a real motivation to get to the end."
Ian Wright from Redlynch, near Salisbury, was disappointed to miss out on the final leg over home turf after injuring his wrist in a fall from his bike on the penultimate day, but had pedalled more than 500 miles and brought his experience as a keen cyclist to support team throughout and to the finish.
His commitment to the challenge followed the support given to his daughter Emily, aged 19, who is registered blind and first sailed with the Trust following treatment for a brain tumour affecting the nerves that carry information from the eye to the brain. Emily was in Cowes for the conclusion of the ride to take part in the Round the Island Race with the Dame Ellen MacArthur Cancer Trust.
Ian said: "What kept me motivated on the tough days was knowing that Emily and many of the other young people have been through a lot worse and they deserve to have people doing nice things for them because they do amazing things for everybody else. It's fantastic to have raised so much but there's always room for more!"
While the ride has so far raised nearly £24,000 for the Trust and counting, towards the challenge target of £25,000, donations are still welcome and hugely appreciated via the Largs to Cowes challenge hub at: https://largs-to-cowes.blackbaud-sites.com/
Ben Pitman, who assists in the running of remote healthcare company MSOS, Medical Support Offshore – a supporter of the Trust and event partner for the Largs to Cowes 'Brighter Futures' Cycle Challenge – added: "I had a good idea the challenge was going to be tough but it was definitely harder than I thought it would be. The best part was the camaraderie that built between the group – everyone pulling together, pushing each other up hills, making each other laugh, it was great. The ride also gave me a much better understanding of what the Trust does, how it helps people and how it can help lots more people going forwards. It was a long week but it means a huge amount to allow all of that to happen – bring on the next challenge!"
Find out more about the Ellen MacArthur Cancer Trust at ellenmacarthurcancertrust.org  or make a donation to support the heroic efforts of the Largs to Cowes cyclists – as highlighted in this fantastic wrap-up video by rider Simon Townsend – by visiting Largs to Cowes 'Brighter Futures' Cycle Challenge.