Russell Matthews, 42 from Whiteley, just took on his fourth marathon of the year to raise money for Young Lives vs Cancer.
After running the London Marathon in April, Berlin Marathon in September, Chicago Marathon in October, Russ just ran the New York Marathon at the weekend. Russ took on this mammoth marathon challenge to raise money for young people with cancer after his son Harry was diagnosed with leukaemia at just three-years-old in April 2016 and sadly the cancer returned again in late 2019. Throughout this time, he and his family were supported by Young Lives vs Cancer (formally CLIC Sargent).
Russ said:  "Sadly our son Harry has faced cancer twice.  He was diagnosed with leukaemia in April 2016 at age 3 and underwent two years of long hospital stays and intense, debilitating daily chemotherapy, finishing treatment in April 2018. Sadly, on 31st December 2019, after being off treatment for 20 months and living life to the full, Harry's cancer returned.  This news devastated our world, and no words can describe how we felt.

"Harry then spent the next seven months in four different hospitals. Eight weeks of this was spent in intensive care in an induced coma. He then went on to receive the revolutionary treatment CAR-T Cell Therapy at Great Ormond Street Hospital. After recovering from treatment, he undertook hours and hours of intensive physio and occupational therapy to learn to walk, eat and other everyday life skills, which we all take for granted. Throughout all this, Harry had a smile on his face and showed more strength and determination than I ever thought was possible.  Harry age 11 has now been off treatment for three years; he is loving life and grabbing every opportunity with both hands."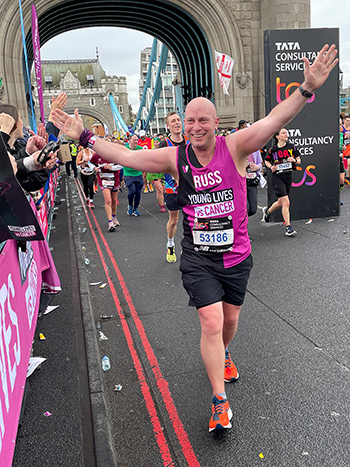 Russ, who works for ABP Southampton as a Marine Pilot, decided to fundraise for Young Lives vs Cancer, the UK's leading charity for children and young people with cancer, after being supported by the charity themselves throughout Harry's treatment.
"The Young Lives vs Cancer team were with us at every step, providing vital accommodation across the UK, psychological support, advice and guidance in many areas alongside daily interaction not just for Harry but the whole family."
Liz Blunt, Senior Fundraising Engagement Manager, said: "Russ is an absolute running legend. He has run the London Marathon for us three times now, cycled the length of the country and to run four marathons in one year is such a huge achievement. Russ recently raised around £7,500 which takes his total fundraising including gift aid to over £31,000 which is such an incredible amount to raise. What an impact his fundraising has had on the service that we provide locally in Hampshire."
Young Lives vs Cancer provides a group of specialist social workers who support young people with cancer and their families receiving treatment at Southampton hospital. The charity also has a Home from Home Jean's House, close by to the hospital, which provides families like Russ' with a free place to stay nearby to where their child is receiving treatment.
Liz said: "We only have this service thanks to the generosity of others such as Russ, so a massive thank you to him and everyone who sponsored him. Russ and wife Jane, Jessica and Harry are absolutely fantastic people and I am sure they are all so proud of him for his wonderful running and fundraising."
---
To sponsor Russell and his incredible marathon effort, go to https://www.justgiving.com/fundraising/russell-matthews-2023 
For more information about Young Lives vs Cancer's work, visit www.younglivesvscancer.org.uk