Three brothers from Hampshire are taking on the world's toughest row, rowing 3,000 miles across the Atlantic to raise money for wildlife conservation charity, Tusk – and beat dad's time from 2003.
This December, three brothers from the New Forest are taking on one of the toughest challenges of their lives, the Talisker Whiskey Atlantic Challenge.  Louis Ambrose (26), Felix Ambrose (25) and Finn Ambrose (23) will be rowing 3,000 miles from La Gomera to Antigua, in support of wildlife conservation charity Tusk.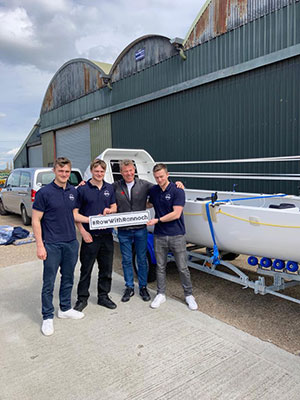 Almost 20 years ago their father, Hugo, completed the Atlantic row in 59 days. Back in those days the boats were made out of wood, so the boys are hoping their light, streamlined, high-tech boat will give them a bit of an advantage, as they aim for a speedy 40-day row. The brothers, who will be rowing under the team name Ambrose Buoys, will be rowing 24 hours a day, two hours on, two hours off, taking it in turns to row, eat, sleep and carry out essential boat maintenance.

"We are three brothers who share an affinity for the outdoors and we see this as the perfect test. In 2003, we were exposed to the enormity of this challenge as our father completed the Woodvale Atlantic Rowing Race – in those days it was named something else – as part of a pair," said Felix.
"Hearing stories about the endeavour, witnessing first-hand the toll it took and experiencing the atmosphere at the finish line has done little to quell our curiosity. In fact, as children we were so confident that we would not only take on the challenge but also surpass our father's time of 59 days, that we made a bet with him – £5!"
While beating their dad is half the motivation, the other half is to raise money for wildlife conservation charity, Tusk. Finn, in particular, has a big connection to Africa, having spent nine months working in conservation lodges there.
"The outbreak of the Covid-19 pandemic has not only created a huge challenge for conservation, but has highlighted how connected we are to the natural world, and illustrated just how delicate that web is," said Finn.
"From the oceans we sail on, through the habitats that provide the air we breathe, to the estimated 10 million plant and animal species that share our planet, there has never been a more crucial time to fight for the protection of all life on earth. In Africa, one of the most biodiverse areas on our planet, the relentless impact of the pandemic threatens to undo decades of conservation progress.
"The collapse in tourism and economies has seriously affected rural livelihoods and conservation efforts. Large scale redundancies of wildlife rangers, community liaison teams and other project staff have led to reports of an upsurge in illegal bushmeat hunting and fears of an imminently approaching international poaching crisis."
Charlie Mayhew, CEO of Tusk, added: "The work we support across Africa is instrumental to the conservation of many critically endangered species, the preservation of threatened landscapes and marine habitats, and the livelihoods of communities. Our work would not be possible without the fundraising efforts of our supporters, and we couldn't be more grateful for the monumental challenge that the Ambrose brothers are undertaking on our behalf."
Training has already begun for the Ambrose Buoys. They are planning to spend as much time on the water as possible between now and December, as well as keeping their fitness levels high. One person who knows how tough endurance challenges like this are is British adventure and Tusk ambassador, Bear Grylls: "The Talisker Atlantic Challenge pushes its entrants to the absolute limit of their physical and mental endurance. As a proud patron of Tusk, I have huge admiration for the Ambrose brothers who are not only taking on the biggest adventure of their lives, but following in their father's footsteps and raising money for an incredible cause."
---
To find out more about the Ambrose Buoys or follow their journey, head to https://ambrosebuoys.com/ and follow along on their Instagram (@ambrosebuoys) and Linkedin (www.linkedin.com/company/ambrose-buoys).