In the briefing to the assembled maintenance crew, Gerry Scutt, who was in charge, gave a warning.  "If the top mast falls while it's being hoisted it'll pierce the deck like a harpoon and won't stop until it crashes through the bottom of the boat." It focused everyone's minds.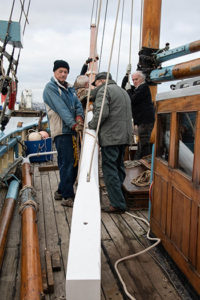 Vigilance, the last large Brixham sailing trawler to be built at the famous Uphams Shipyard in 1926, has been undergoing comprehensive maintenance work this winter. One of the most complicated and dangerous operations involved the top mast which sits on top of the main mast. It is solid Douglas Fir, 32 feet long and weighs more than half a ton. Every other year it has to be lowered under carefully controlled conditions. That took place in October 2021 and after a thorough check and some routine maintenance work, it was hoisted back aloft to sit on top of the 50 foot main mast. It is a delicate operation which requires great precision, careful manoeuvring and a lot of man power.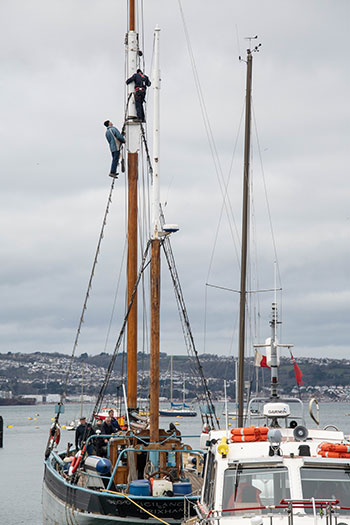 A team of 10 drawn from Vigilance's skilled and experienced volunteers undertook this essential task. Two crew members, Richard Boyles and Peter Chrystie spent several hours at the top of the main mast while the others carefully raised the top mast from the deck to an upright position. It was lifted it vertically 50 feet in the air to its resting position on top of the main mast where the steel inch-thick cable supports, the shrouds, were attached.

The whole operation took 4½ hours and was meticulously planned by Gerry Scutt who was in charge of this critical task. Safety was paramount with mast and men having safety lines – just in case. The top mast is only lowered every other year and so the crew do not get a lot of practice but experience gained each time is added to the knowledge built up over many years.
The top mast was raised without a hitch and now Vigilance is once again ready to take local residents and visitors on tours around Tor Bay this summer.
---
On 19 February there is an Open Day, when Vigilance will be on the Heritage Pontoon in Brixham Harbour. Everyone is invited to tour the boat and see for themselves what has been achieved. Passenger sails start on 10 April and bookings are now open through the Vigilance website www.vigilanceofbrixham.co.uk