British Sailing Team boss Mark Robinson has heaped praise on a host of sailing stars after they announced their retirement from Olympic campaigning.
Tokyo 2020 gold medallists Hannah Mills, Giles Scott and Stuart Bithell are among those calling time on their Olympic careers. London 2012 silver medallist Luke Patience, three-time Olympian Ali Young, two-timers Charlotte Dobson and Chris Grube and Rio 2016 Team GB athlete Ben Saxton have taken the decision to move on.
It follows a stellar performance from Team GB's sailors at the Tokyo 2020 Olympics, at which the team secured the top spot on the sailing medal table for the fifth time in six Games with three golds, a silver and a bronze.

"All good things must come to an end, and as such these incredible athletes have taken the decision to step back from Olympic campaigning," said Robinson, the RYA's Olympic Performance Manager.
"These individuals have made such a huge impact on our sport, their achievements speak for themselves, and they have inspired countless youngsters to follow in their footsteps. I feel very proud to have led a team full of such great athletes, and those retiring will be sorely missed.
"However as a team we are well-prepared. Lots of our Tokyo team are going again, plus there are a whole host of talented sailors who have been waiting patiently in the wings to get their time to shine. With Paris 2024 less than three years away the British Sailing Team is full-steam ahead, with the number one goal of defending our title of the world's most successful Olympic sailing team."
Onwards to Paris
Despite the loss of so many big names, the British Sailing Team remains in great shape. Gold medal winners Dylan Fletcher (49er) and Eilidh McIntyre (women's 470) will both continue campaigning for the next Olympics with new crews, yet to be decided. Nacra 17 runners-up John Gimson and Anna Burnet are also continuing their bid for gold alongside Emma Wilson, bronze medallist in the women's RS:X, windsurfer Tom Squires and 49erFX crew Saskia Tidey. A host of new faces will also be looking to make their mark in a bid to win selection for Team GB.
Meanwhile Nick Dempsey, Britain's greatest ever Olympic windsurfer with two silvers and a bronze to his name, is back in the British Sailing Team as coach to the men's iQFOiL, the new foiling windsurfer class that will debut in Paris. Dempsey retired from competition after scooping silver at Rio 2016, and went on to coach Japan's Makoto Tomizawa for the Tokyo 2020 cycle.
"I am hugely excited to be back with the British Sailing Team," said Nick. "This is my dream job, and it is a real honour to lead this men's iQFOiL squad. I truly believe we have all the right ingredients to be the world's best team. The individual members are young, talented and busting to learn. I am really looking forward to seeing what we can do in the run-up to Paris 2024 and beyond."
Hannah Mills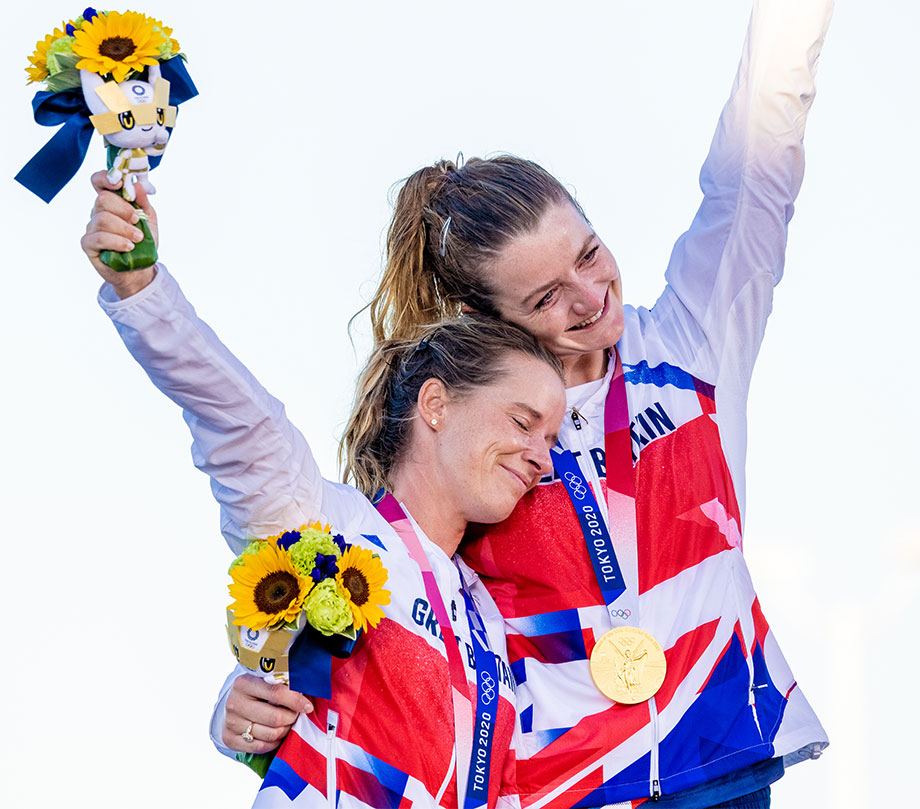 Mills became the most successful female Olympic sailor of all time this summer when she defended her Rio 2016 gold medal alongside Eilidh McIntyre. The pair were among the favourites for the top spot but faced stiff competition from crews from Japan, France, Poland and Switzerland. Fifth in the medal race sealed glory in style, with a huge 16 point-gap separating them from the second-placed Polish team.
Victory for Mills rounded off an incredible Olympic career in which she won silver at London 2012 then golds at Rio 2016 and Tokyo 2020. Not only does that make her the greatest female Olympic sailor ever but also Wales' most successful female Olympian.
In recognition of their achievements, Mills and McIntyre were voted female World Sailors of the Year last week.
Mills now turns her attention to the SailGP circuit which she joined earlier this year as part of Sir Ben Ainslie's British outfit, as well as continuing her environmental campaigning with her charity the Big Plastic Pledge.
Hannah said: "Sadly my Olympic campaigning is coming to an end – the 470 is going mixed for Paris 2024 and for me, in terms of my career, this is the perfect time to step away and explore other options. I'll be working on my sustainability campaign which I'm really passionate about while exploring some exciting opportunities in women's sailing. It was a difficult decision and yet also an easy one. What made it hard was just how incredible the Olympic Games is – it's like nothing else on Earth. As an athlete who's dreamed of going to the Games my whole life it's something that is quite difficult to walk away from. But in terms of where I'm at in life and what I want to do next it was a bit easier."
Giles Scott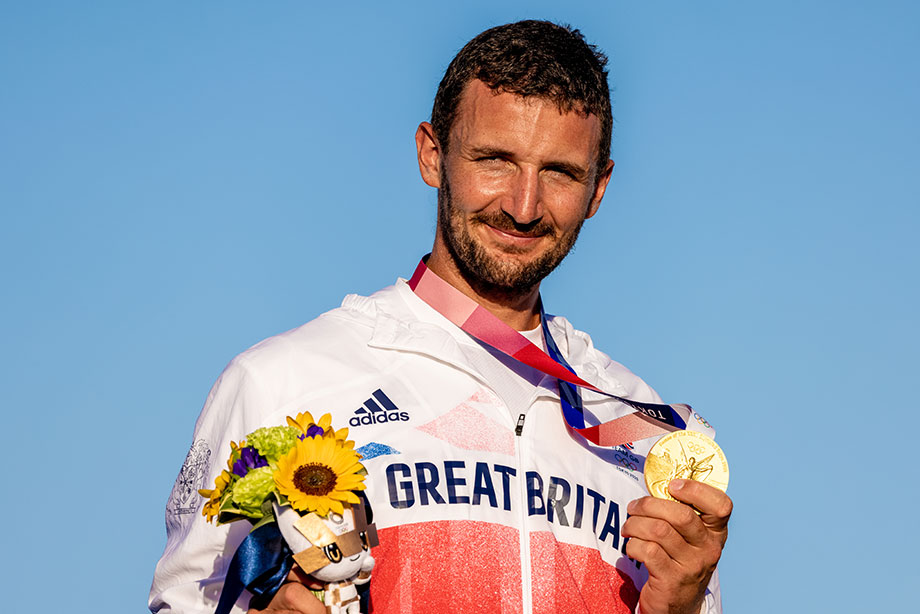 Scott had his own challenge defending his Olympic title in the Finn, a class which will not feature in the Paris 2024 sailing competition. Heading into the medal race in the lead with one hand already on gold, his hopes were dealt a huge blow when, fearing he was over the line at the start of the race, he turned round and headed back to start the race again, relegating him to the back of the fleet.
An incredible fightback saw him pick his way through the fleet to fourth, enough to snatch overall victory from race winner Zsombor Berecz of Hungary. It seals Scott's place in the history books as the final Finn Olympic champion. It also maintained Britain's winning legacy, having taken gold in every Olympics since Sydney 2000 thanks first to Iain Percy and then Sir Ben Ainslie.
Scott's win was even more impressive for the fact that he spent much of the time in between Rio 2016 and Tokyo 2020 campaigning to win the America's Cup alongside Ainslie, a project he will now return to.
On life after the Olympics Giles said: "The main focus is the America's Cup. I've signed back up with INEOS and over the next year things will really start to ramp up. We are beginning to build the team and put schedules in place. It's early stages at the moment but it will start to get big quite quickly. In the meantime I'm learning to sail again, this time in a Moth which is good fun. It's been a long time since I've sailed in Weymouth harbour in November with a big grin on my face!"
Stuart Bithell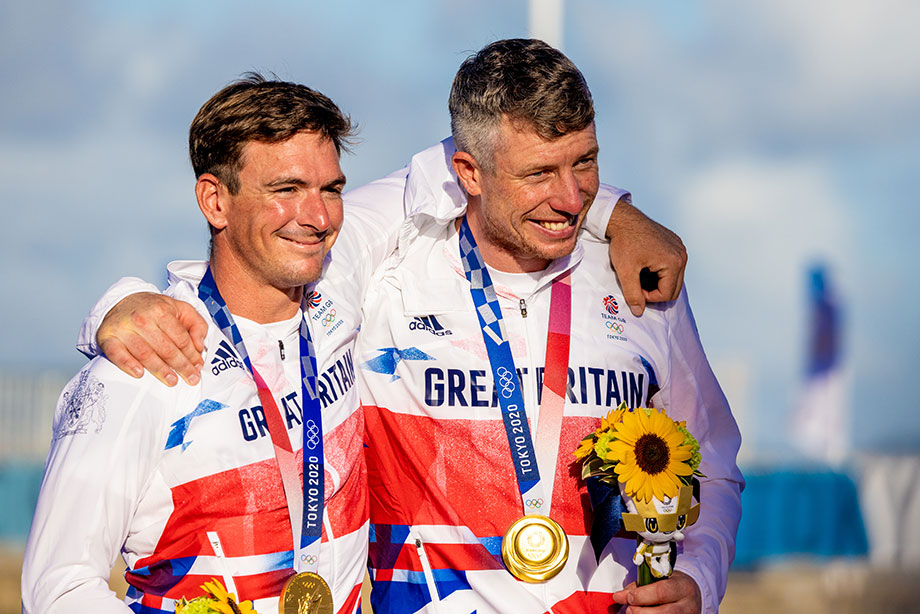 Bithell took gold in the 49er class with Dylan Fletcher, adding to the silver medal he won with Luke Patience in the men's 470 at London 2012.
After missing out on selection for Rio 2016 at the hands of Fletcher and his then team-mate Alain Sign, Bithell and Fletcher teamed up in 2017 and have been a formidable force ever since. After putting together an impressive series in Tokyo, the pair went into the medal race in second place with just a handful of points separating them from regatta leaders Blair Tuke and Peter Burling.
A thrilling photo finish in the medal race saw them overhaul Germans Erik Heil and Thomas Ploessel to steal the top spot from Tuke and Burling, relegating the Kiwis to the silver medal position. It was the first ever gold medal for Britain in the 49er class.
Luke Patience and Chris Grube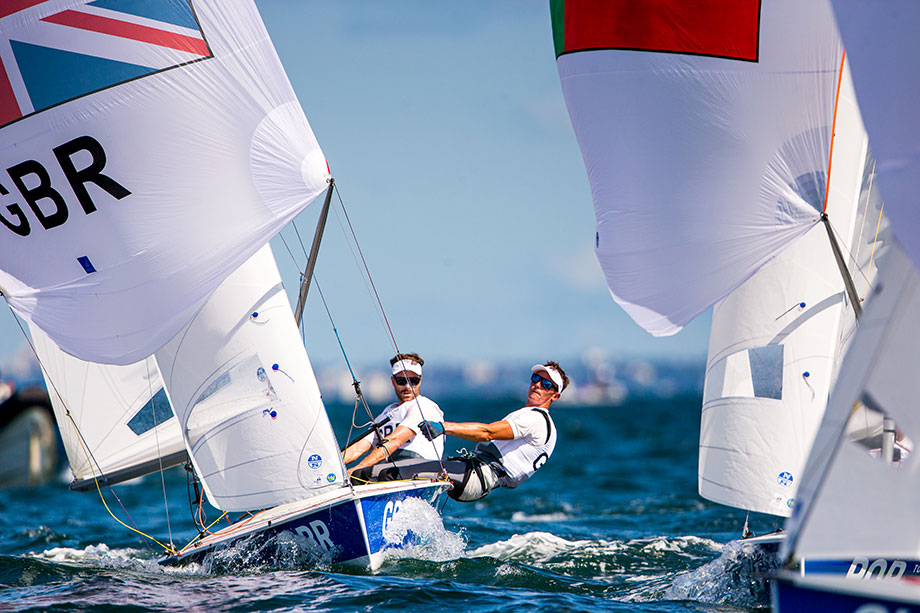 Luke Patience was just 25 when he won a silver medal alongside Stuart Bithell in the men's 470 class at London 2012. After winning a spot with Team GB at Rio 2016, his campaign was turned upside down when crew Elliot Willis was diagnosed with cancer, and they were deselected.
Chris 'Twiggy' Grube had been part of the British Sailing Team for almost a decade when he got the last-minute call-up to join Patience, with whom he had raced alongside in the mid 2000s. The pair went on to finish an incredible fifth, and took that partnership into the Tokyo cycle – and all the way to Tokyo 2020 itself.
They enjoyed a strong start to the Olympic regatta, and despite slipping down the leaderboard slightly in the lighter winds through the week, only the Aussies bettered them for the lowest discard. A consistent series had them into the medal race as one of only five boats who could take home an Olympic medal.
Alison Young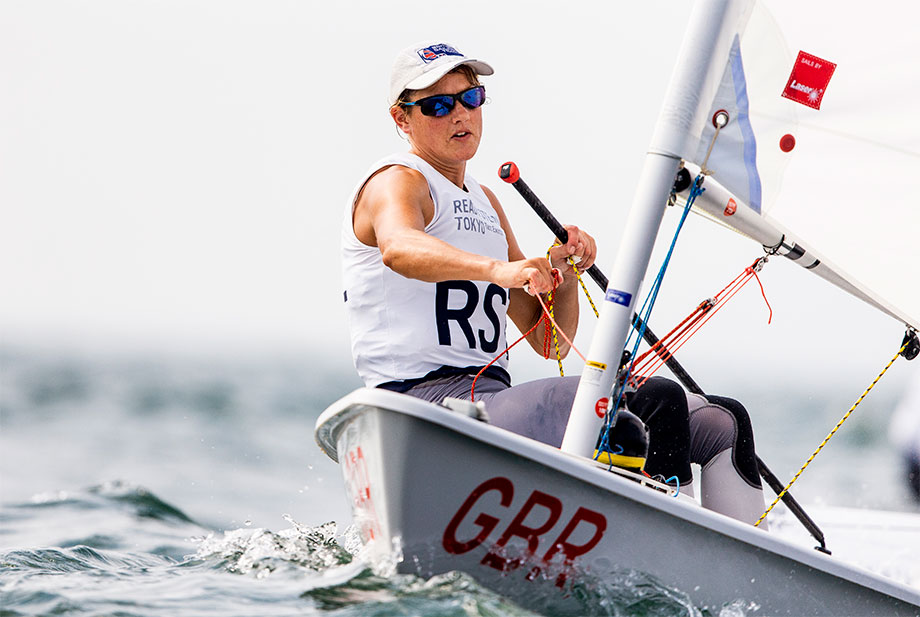 With three Olympics under her belt, Young is Britain's greatest ever ILCA 6 (formerly Laser Radial) sailor.
Young picked up the baton from Penny Clark, winning a call-up to Team GB for London 2012. She was the first Brit to win a world championship in the class in 2016, and was among the favourites for an Olympic medal. However she was dealt a blow when she broke her ankle just eight weeks before the Games.
An eighth in Rio fired her up for a tilt at Tokyo, where she finished 10th after a tricky week. Alison Young now plans on using her knowledge and experience to coach young athletes to success.
Charlotte Dobson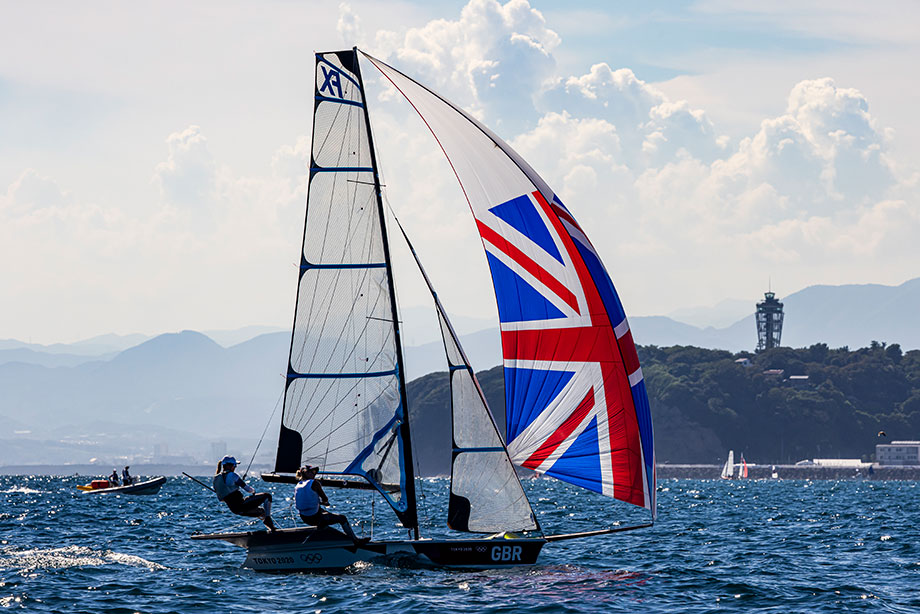 After narrowly missing out on Olympic selection for two cycles running in the ILCA 6 (formerly the Laser Radial) Charlotte Dobson switched to the 49erFX skiff when it was introduced in 2014, teaming up with Sophie Ainsworth. The pair won their spot with Team GB for Rio 2016, finishing ninth.
She then joined forces with Saskia Tidey and the duo quickly established themselves as a powerhouse of the 49erFX fleet, backed up by string of podium results silvers at the Olympic test event and the 2020 world championships.
Dobson and Tidey led the Tokyo 2020 regatta in the windy early stages before being overhauled later on as the breeze turned light, eventually finishing sixth. Charlotte. Dobson, who married Dylan Fletcher a few weeks after returning from Tokyo, is now looking to work in banking.
Charlotte's advice for the next generation is:  "I would say just stay in love with our sport. It's the most incredible sport, and so wide-ranging. You can sail fast boats, slow boats, complicated boats, simple boats, with people, on your own… Never lose the love for the sport. Do as much sailing across a variety of boats. And if you decide you want to go to the Olympics it's totally possible. Anything is possible when you set a goal, put your mind to it and crack on."
Ben Saxton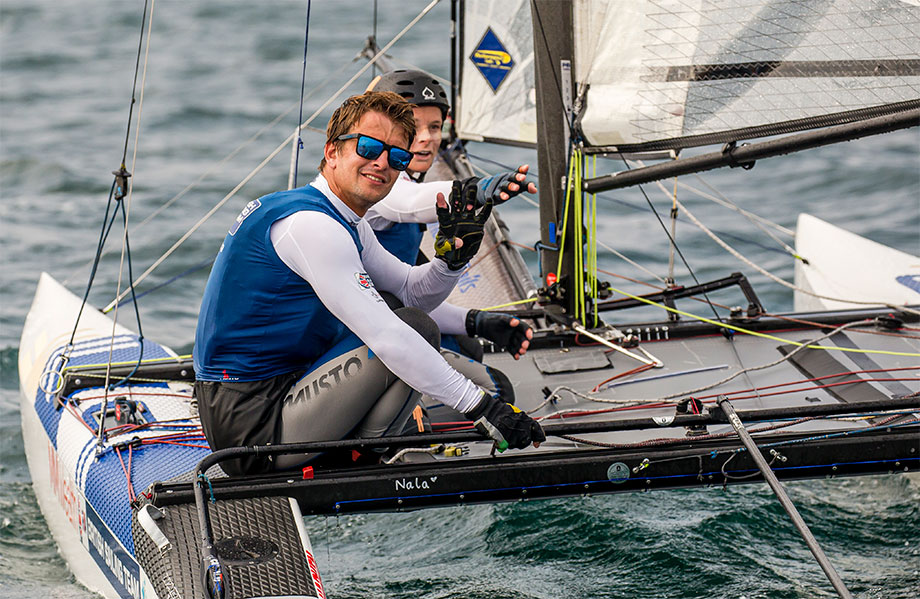 After switching from the 470 class to the Nacra 17, multihull expert Ben Saxton was picked for Team GB at the Rio 2016 Olympics alongside crew Nicola Groves.
The pair went on to finish ninth, a result that frustrated Ben. He made amends the following year with victory at the 2017 world championships with Katie Dabson.
After teaming up with Nicola Boniface, Ben went on to score numerous podium finishes including winning the 2019 European championships and placing third at Ready Steady Tokyo, the test event for Tokyo 2020. He stepped away from Olympic sailing after losing out on Olympic selection to Tokyo 2020 silver medallists John Gimson and Anna Burnet, and recently started a job working for North Sails.
---
Follow the British Sailing Team's progress towards Paris 2024 at britishsailingteam.com and via the team's social media channels.