The British Keelboat Academy has announced its new squad for the 2022 season.
A total of 67 sailors are part of the latest cohort and with no previous yacht sailing experience necessary, recruits range from dinghy racing sailors looking to transition to existing keelboat sailors wanting to take their skills to the next level.
The British Keelboat Academy supports young sailors aged between 18 and 24 with a programme which provides the training and technical knowledge for racing keelboats at the top end of the sport across a wide range of disciplines.

BKA sailors last year took part in match racing, the British Keelboat League, the Round the Island Race, Cowes Week and the Royal Ocean Racing Club's offshore series, including the Rolex Fastnet Race. Previous alumni have gone on to hold top positions competing in the America's Cup, The Ocean Race, TP52 Super Series, Class 40 and Figaro.
Richard Moxey, RYA Keelboat Development Manager, said: "We are excited to announce our 10th British Keelboat Academy squad. We have a world class coaching and performance racing programme lined up and we are looking forward to inspiring the next generation of keelboat racers."
New to the British Keelboat Academy for 2022 are: Kate Angier; Liberty Askew; Freya Baddeley; Joe Beech; Zac Blomeley; Jasmine Boote; Max Bradley; Emily Bush; Will Caiger; Charles Callon Hine; Lewis Clark; Owen Colbern; George Colcomb; Charles Cooper; Josh Davies; Sam De La Feuillade; Charlie Ellse; Amelia Fox; Jamal Ganiyu; Emma Gardner; Daniel Gibson; Jasmine Gosling; Dominic Hall; Maisie Harkess; Evie Herrington; Oliver Holmes; Jess Jarman; Jack Lawrence; Elliott Marshall; Curtis Mckay; Josie Meredith; Ffion Morgan; Suria Morris; Zoe Nieveen; Josh Oates; Harry Palmer; Ana Paterson; Mary Jane Piper; Matthew Riley; Freddie Scott; William Setra; Alice Snook; Alec Stenhouse; Andrew Sturt; Flossie Tanner; Cameron Thomson; Miles Vidler; Isobel Walker; Joe Walters; Jacob Wills; and Adela Wilson.
The latest intake also includes 16 sailors returning to the BKA for a second year to further develop their skills: Holly Annels; Matthew Bird; Ben Constable; Samuel Davis; Megan Ferguson; Anya Haji-Michael; Amy Hinsliff-Smith; Eleanor Hutchings; Emma James; Milly Jinks; Maddy Kirk; Kate MacAdorey; Leila Moore; Mike O'Donovan; Cameron Tookey Gardner; Charlie Warhurst.
Teamwork
The squad announcement follows a selection weekend at Port Solent in mid-November, which saw coaches on the lookout for those demonstrating a strong desire to learn alongside an ability to work well within a team.
It included an onshore skills development day hosted by North Sails, covering sail repair, set-up and packing, plus a winch demo with Harken and a lifejackets session with Spinlock. An evening meal then enabled sailors to network and listen to speaker Emily Nagel sharing her experiences as a professional sailor on the Volvo Ocean Race, and working in data analysis with SailGP and the British Sailing Team.
Day two provided an opportunity for sailors to get out on the Solent with Sunsail's one design charter fleet, giving participants a chance to find out more, try keelboat sailing or explore new roles.
BKA Lead Coach Niall Myant said: "The ethos of our selection weekend is that 'no question is a silly question' for those new to keelboats or with limited experience, while for others it is a chance to learn a little bit more. As coaches we are not necessarily looking for someone brilliantly skilled already. We are more interested in whether you step on a boat and start asking questions about what you don't know: are you inquisitive and driven, and are you patient with your own learning and everybody else's learning? This year we had an abundance of that over the weekend and hopefully it's something the sailors will keep doing with us through the year."
Platform
The BKA provides an invaluable platform for those seeking to move into keelboat racing or develop their skills, opening doors through elite coaching and connections in the world of keelboat sailing.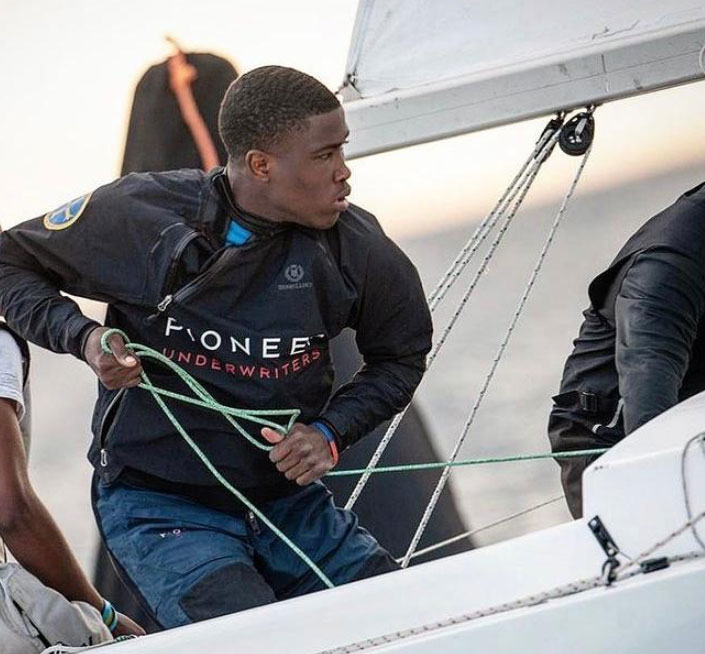 Among those selected for 2022 is Jamal Ganiyu, aged 18, who started sailing at school with Greig City Academy's Scaramouche project and is now studying Sport and Exercise Science at Birmingham University. Jamal's previous experience includes dinghy sailing, offshore Fastnet qualifiers, Etchells and Dragon racing. He also competed at the Sonata Nationals after restoring a boat with three friends from school and now hopes to continue broadening his horizons with the BKA.
"I've done a lot of sailing but want to get myself to the next step and I saw that the BKA offered opportunities for young sailors," said Jamal. "Even during the selection weekend we were able to network with so many great names and people in the industry, it was amazing."
Jamal's aims for 2022 include racing at the Etchells Worlds in Cowes, in the competitive one design class which has helped to inspire his passion for the sport: "And with the BKA build a name for myself and as a black sailor show people it's accessible – you can do it, all you need pretty much is just an opportunity to do it, and I want to show that I can do it and compete at a very high standard. My ambition would be to one day be on Ineos or in the America's Cup – that's the dream goal."
Also recruited to the BKA's latest cohort is Jasmine Boote, aged 23, who is in her final year of a degree in Neuroscience at Exeter University. Jasmine has previously worked as a sailing instructor and has raced offshore with the Tall Ships, qualifying as a Day Skipper. Over the last year Jasmine has also been competing in the foiling Waszp dinghy class.
She said: "The BKA is an incredible opportunity to meet some fantastic sailors and have access to a brilliant team of coaches. It provides an alternative pathway to get into professional sailing and it enables you to see what the sport can offer. I'm hoping to do a mix of sailing through the BKA. I want to try match racing and do inshore racing because it's fast paced and not something I've done so much of before, and I just want to say yes to a lot of opportunities along the way!"
The BKA squad programme kicked off this month with online sessions and a series of on-the-water weekends are scheduled for Spring 2022, including spinnaker handling, inshore yacht training, J/70s and an offshore training module, ahead of the new season.
---
To find out more about the British Keelboat Academy, visit: www.rya.org.uk/racing/keelboat-racer/british-keelboat-academy