The yacht industry has boomed in recent years, turning over almost £700m in the UK alone. As more and more people take to the seas, many are looking for the perfect land-based property to complement their yachting adventures. But where are the best places in the world to live for yacht lovers? Bethany Hemsley from The Luxury Property Show gives her recommendations…
5 of the most beautiful locations for yachting:
Monaco

We can't write about the most beautiful locations for yachting without mentioning Monaco. This glamorous spot on the French Riviera is the epitome of sophistication, so don't be surprised if you bump into some real A-listers while you're there – we're talking Kate Moss, Elton John and even Leonardo di Caprio, who all regularly visit during the summer months.
Port Hercules is the main marina in Monaco and is one of the best in the world. Set in a breathtaking position at the foot of the idyllic Monaco hills and lined with Michelin-starred restaurants, high-end boutiques and flashy casinos, it really is something special.
The marina is right in the action for some of the biggest calendar events of the year too, such as the famous Monaco Yacht Show and the Formula 1 Monaco Grand Prix, when even more celebrities descend on the area. What's more, once you are done enjoying the wonders of Monaco, you are only a short distance away from some of Europe's other most-stylish resorts. These include Cannes, Saint Tropez, and Portofino.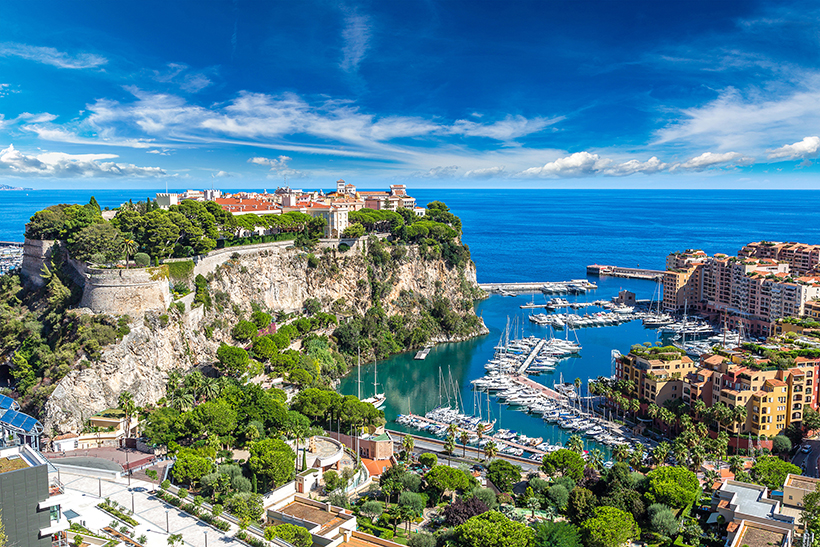 Mallorca
The crystal-clear azure waters of the Mediterranean have long attracted yacht enthusiasts to the island of Mallorca. Known as the 'crown jewel of the Balearic Islands', Mallorca offer some of the most beautiful yachting in the world, with soft sandy beaches, tucked away coves, quaint fishing villages and lush green mountains.
Port Adriano sits just nine kilometres from the capital city of Palma de Mallorca. It is a fantastic base to explore the Mallorca, as well as her sister islands of Ibiza and Menorca. The marina has a very large capacity, holding up to 488 moorings, and offers a whole host of facilities and amenities making it ideal for families. Once moored, you can try your hand at everything from sailing and paddle boarding to jet skiing and kayaking. There is even a kids' area on the marina to keep the little ones entertained.
Greece
With glistening blue water, picture-perfect islands, and an enviable climate, you'll never get bored of yachting around Greece. The Ionian Islands in particular are perfect for that bucket-list Greek island-hopping experience.
For your basecamp, look to Lefkas Marina on the island of Lefkada. This modern marina has top-notch facilities including a reception office in a control tower, ensuring your boat and belongings remain safe and secure.
The island itself is stunning with colourful towns and villages that create a stark contrast against the lush green countryside behind. You would have ample opportunity to leave behind the tourist trail and enjoy rustic Greece with its friendly locals and delicious local cuisine.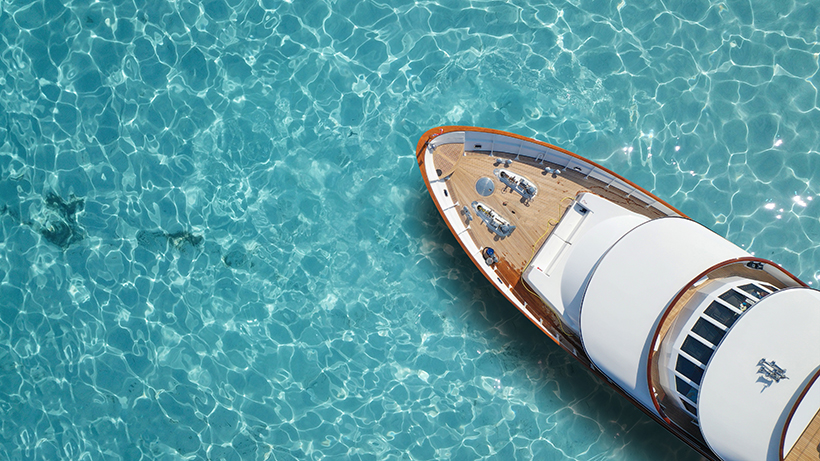 Croatia
The Croatian coast is extremely well-equipped for yachting with a network of over 50 marinas, stretching from Umag to Dubrovnik. Explore Croatia's endless islands with their spectacular historical ruins and get to know the locals in the many coastal towns and villages. The islands are relatively close together too, making for a safe sail – combine this with the calm winds and you really do have the perfect conditions for yachting.
Each of Croatia's marinas have something different to offer, but ACI Marina Dubrovnik is one of our favourites. Situated in Dubrovnik, it is a brilliant base to explore this charming and alluring city or to venture further along the beautiful Dalmatian Coast. You would even be close enough to hop over to Italy if you wish.
Italy
Italy's coastline is truly exquisite, filled with colourful towns teetering on cliff edges, vast sandy beaches, and dreamy turquoise waters. It's safe to say you are spoilt for choice when it comes to yachting destinations.
While the picturesque villages of Cinque Terre might first spring to mind, the area is fast becoming overcrowded and has recently introduced limitations on visitors to preserve its UNESCO World Heritage Status. Luckily, there are plenty of alternatives that are equally as beautiful.
One such spot is Capri. Nestled within a pretty and sheltered cove on the northern part of the island, the impressive Marina Grande is a fabulous place to moor up. With a backdrop of quaint, bright-coloured houses and magnificent luxury villas, the port offers a peaceful escape from the bustle of the town of Capri up above. Nevertheless, you would only ever be four minutes from the action thanks to a handy funicular cable car.
What to consider when buying a property near a marina:
Wherever you choose to buy, there are several things to consider and questions to ask yourself.
Firstly, how close to the marina do you want to be? Are you looking for a waterfront home or would you be happy living further out, perhaps in the nearby town/city? Unsurprisingly, the closer you get to the water, the more expensive it gets. Nonetheless, these types of properties are incredibly desirable, creating huge potential for rentals as well as a great long-term investment.
Once you've decided on a location, you'll also need to consider how often you plan to spend in your marina home. Are you moving there permanently or just using it for a holiday? If it's a permanent move, ensure that you're near the required amenities, such as shops and transport links. If the property is purely somewhere to sleep after a long day of yachting, then you may be happier with a smaller place that's further from the amenities.
Most importantly, though, your chosen location should put you in a prime spot to start your dream yacht adventure. As mentioned, Marina Dubrovnik presents the opportunity to explore both the Croatian coast and the Italian coast, while marinas on the Greek islands are fantastic for island hopping.