Amateur sailing enthusiast Andrew Bedwell is putting the final touches to his tiny 'Big C' vessel, which he aims to sail across the Atlantic and bring a world record back to Britain.
Setting off in May 2023 from  St Johns, Newfoundland the 1,900 mile journey will conclude at Lizard Point, Cornwall two months later to take the title of 'smallest sailing vessel to cross the Atlantic Ocean'.
Andrew Bedwell, 48, of Scarisbrick, Lancashire has previously taken a 6.5m mini transat racing yacht solo up into the Arctic and around Iceland, solo round Britain to list a couple, but this as his greatest challenge yet, with the journey expected to take approximately 60 days in the extremely compact boat  (it is just over 1m long).

The Big C attempt will be raising money for Cancer Research in tribute to the vessel's original designer and previous world record holder, Tom McNally, who died from cancer in 2017. The existing record dates back to 1993, set by American sailor Hugo Vihlen in a 5ft 4" craft.
The challenge is not being undertaken lightly with a huge amount of research put into the winds and tides with a full support crew lined up to help track and guide his progress.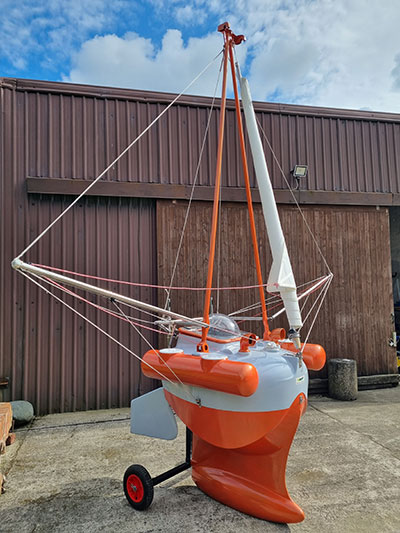 Bedwell has been busy modifying the vessel which has been specifically designed for the purpose with 12 separate watertight compartments, is exceptionally stable and has an 'A' frame mast, dual furling headsails, outriggers and twin rudders. It has a completely watertight main compartment with open and closeable vents and a full dome that his head will be in almost all the time for navigation and watch keeping, with a full harness for rough conditions.
The main compartment has AIS, VHF and chartplotter along with solar panels, an internal hand cranked generator and a watermaker combined with an in-keel water storage compartment, along with all the other sea safety equipment. Food is being specifically prepared for the passage due to the extremely limited space and weight requirements and will be 'functional'.
"This is a long held dream of mine but I am under no illusions it is going to be easy," explained Andrew. "The lack of space, toilet and proper eating options will be the hardest for me, throw in a few Atlantic storms and it could get interesting!"
---
Andrew has some passionate supporters but is looking for more assistance for his attempt. You can find out more on Facebook 'Big C Atlantic Challenge'  or www.bigc-challenge.co.uk (under construction) or contact Andrew at andrew@bigc-challenge.co.uk.