This month we are visiting the family run Avon Marina in Christchurch, Dorset, which is set in beautiful surroundings while only being a few minutes from the centre of the town.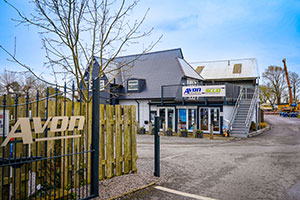 Previously known as Rossiters Boatyard, Avon Marina was bought in 2019 by a local family and comprehensive improvement works commenced straight away to make it a place for visitors to enjoy whilst providing a wrap-around fully operational boatyard with on-site engineers, fuel station, boat sales and chandlery.
The marina is set in a beautiful, history-rich town with picturesque views of the Christchurch Priory, one of the longest parish churches in the country, Stanpit Marsh, a 65-hectare nature reserve designated a Site of Special Scientific Interest in 1986, and Hengistbury Head, which is a site of international archaeological importance.

FACILITIES & BERTHING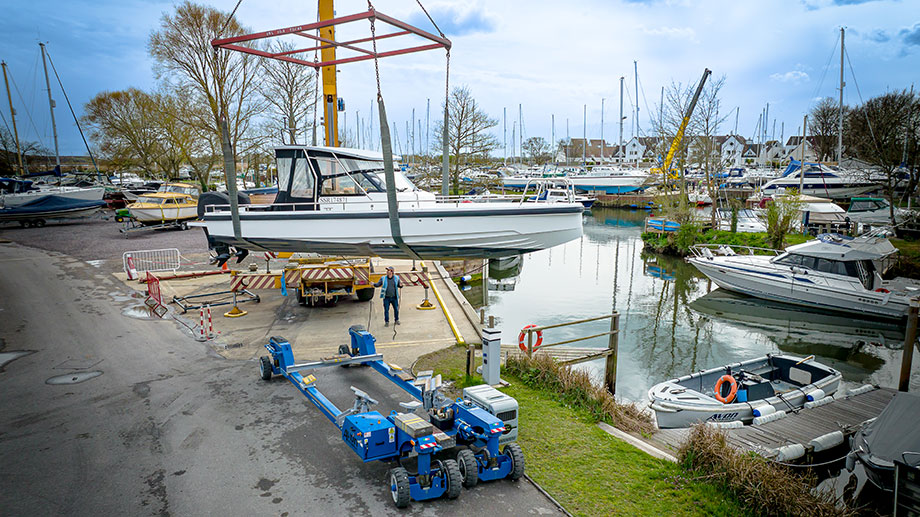 Avon Marina offers a variety of moorings for more than 100 boats and storage for in-excess of 150 boats and trailers, plus a purpose-built kayak and dinghy store. The refurbished and modernised site offers 24-hour monitored CCTV, secure complimentary parking and a shower block and restrooms.
Boatyard facilities include a 35-tonne crane for boat lifts along with a hydraulic boat mover.  Avon Marina offers a wide range of marine repairs, including inboard and outboard engines, electrical and gel repairs along with antifouling and valeting.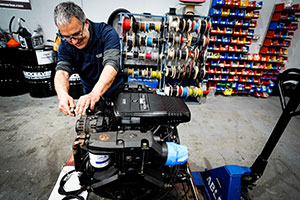 Avon Marina is also proud to be main dealers and a service centre for leading engine brands including Suzuki, Mercury and Epropulsion.
They also have a dedicated boat sales team who are authorised dealers for Quicksilver and Zodiac boats and are UK distributors for Takacat and River Boats. There is a brokerage scheme as well with a great range of pre-owned boats for sale and on display.
The chandlery at the marina has benefitted from an extension and is fully stocked for all your boating needs, along with a clothing and lifestyle section for all water users.
In a recent development, this spring the new fuel dock will open offering red diesel and E5 petrol to water users – a much needed facility for the local area.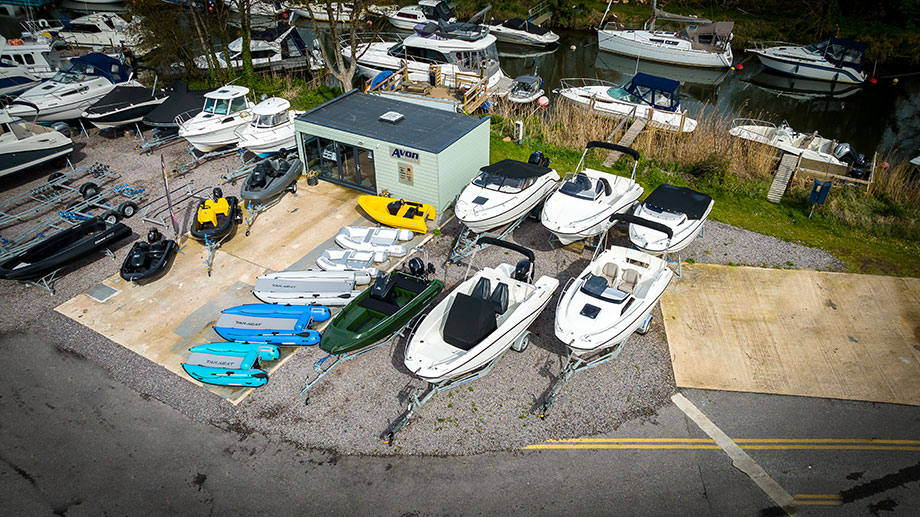 ACCESS
Avon Marina is situated at the lower reaches of the River Avon. Coming into Christchurch Harbour caution is advised due to a changing bar and a fast-flowing run. There is a 4-knot limit in the harbour. Channel marker buoys are placed at the entrance as an assistance from Easter to October. Once through the harbour take the starboard route by Clay Poole toward the River Avon.
For navigation information please refer to the latest Admiralty Navigation charts or speak to the local NCI on VHF 65.
CRUISING
Avon Marina is conveniently located halfway between Lymington and Poole, making it a perfect base to start or finish a day excursion to the Jurassic Coast, which lies off to the west, or a visit to the famous Needles at the Isle of Wight to the southeast. There are also many other beautiful coastlines to see whilst cruising the Solent.
THINGS TO DO
Whether it is a simple ice-cream by the river or a gourmet meal in a restaurant with celebrity chef connections, Christchurch has it all. Eating out here is a pleasure for all the senses, not just the tastebuds.
Being in the centre of a historic town steeped in history there is plenty of olde world charm mixed in with a range of independent shops, regular markets and a packed calendar of events from a Food and Drink Festival to a carnival.
---
RECOMMENDATION
"The dream has always been to own a boat and when I was lucky enough to realise that dream, the importance of where to moor my boat somewhere that was secure, tranquil and with an attractive environment became a very real problem. After searching I came across Avon Marina – a marina where the staff, management and owners are all striving and succeeding in transforming this former boatyard into a first-class marina. With the introduction of additional facilities including fuel, on-site chandlery and upgrades to the current facilities and a much-needed overhaul to the engineering department (who offer all the servicing, repairs and assistance needed but more importantly they offer honest, trustworthy advice) Avon Marina are setting themselves above the rest.
The staff are determined to maintain a balance of a community feel whilst achieving the business' core values. I feel that Avon Marina is set to not only become the leading marina in Christchurch, but in time the benchmark for other marinas along the south coast."
Mr S, Mooring holder
---
MORE INFORMATION
Avon Marina
Rossiter's Quay,
Christchurch,
Dorset BH23 1DZ
T: 01202 612610
E: info@avonmarina.com
W: avonmarina.com