The SSL Gold Cup is designed to crown the best sailing nation. The world's top 56 countries, selected on their SSL Nation ranking, will battle their way through to raise the Sailing World Cup trophy.
Qualifying Series Round 2 with SSL Team Ecuador, SSL Team Lithuania and SSL Team Slovenia will take place from 1 – 3 June. Unfortunately, due to Covid related restrictions, SSL Team Hong Kong  will not join as planned.
The SSL Gold Cup 2022 started on 19 May with the Qualifying Series in Grandson, Lake Neuchatel (Switzerland). All teams ranked from Top 25 to 56 in the SSL Nations Ranking meet in eight groups of four teams each. There will be five rounds, until 17 July.

The top two teams of each group will go through to the Final Series which will take place from 28 October to 20 November in Bahrain.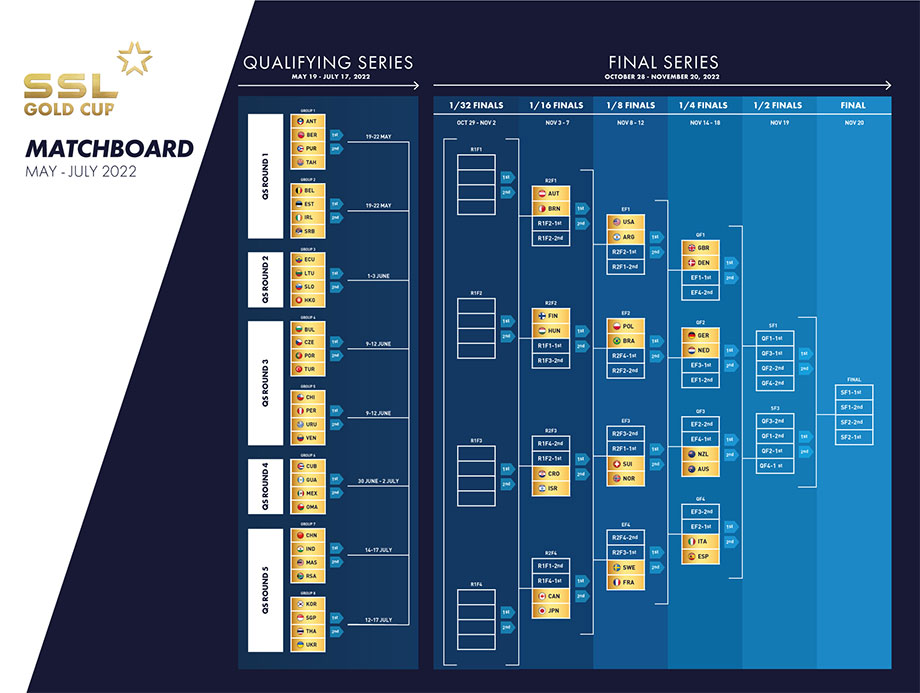 Group 3 : Ecuador vs. Hong Kong* vs. Lithuania vs. Slovenia 
SSL Team Ecuador 
Team Nickname: La Tri
Captain: Julio Vélez
Motto: "Higher and Faster"
​
​Ecuador is a country with a very diverse geography, they sail between the Enchanted Islands of Galapagos, paradisiacal coasts, and in the Andes in lakes between volcanoes. Despite being a small country, they have achieved World and Continental titles in several classes. Competing in this event gives them another opportunity to show that "La Tri" is always ready for tough challenges. They consider their unity a strength of the team, as most of the athletes onboard learned to sail and compete together since childhood.
Squad: Rafael Quintero – John Birkett – Jonathan Martinetti – Juan Santos – Sebastian Herrera – Samuel Herrera – Irene Suarez – Juan Andres Santos – Matias Dyck – Alfredo Ochea – Juan Ferretti  – Jesus Bailon – Sara Dyck – Francisco Almeida – Eduardo Viteri – Luis Perez – Luis Mario Acosta
SSL Team Lithuania
​

Team Nickname: The Ambers
Captain: Gintarė Scheidt
Motto: "Might look tiny, but golden shiny."
Combining the drive of the youth and mastery of the experienced, The Ambers are ready for a  challenge in the SSL Gold Cup. Being a small country by the Baltic Sea, Lithuania has always been distinguished for its talents and firm ambitiousness. With skills in a wide range of different yacht classes from ILCA to Volvo 65, as well as various sailing formats including ORC, Monotypes, and Match-racing, the Lithuanian team is equipped to be competitive in all aspects of racing.
Squad:  Rokas Milevicius – Martin Volkovicki – Raimondas Siugzdinis – Tadas Zizys – Emilis Valentinaitis – Karolis Janulionis – Klaudio Kliucinskas – Kristoforas Akromas – Viktorija Andrulyte – Andrius Ramonaitis – Domantas Juskevicius – Juozas Gordevicius – Tomas Ivanauskas – Adomas Valavicius – Deimantė Jermalaviciute – Vilius Roskus – Ignas Balciunas
SSL Team Slovenia
Team Nickname: Krpani 1860
Captain: Vasilij Zbogar
Motto: "Stay strong and never give up"
​Slovenia is a tiny country of only 2 million inhabitants, but the fame gained through top-notch sports achievements can not be disputed, and that includes sailing too. Krpani1860 sailors have been decorated with Worlds, Europeans, and Olympic medals, the team had match racing champions or successful sailing projects, like the unbeatable Esimit Europa 2, one of the fastest and technologically advanced sailing yachts in the world. Slovenian sailing is also known for groundbreaking designers and producers of sailing boats, like Andrej Justin who designed the RC44 together with one of the world's greatest sailing legends Russell Coutts. Their athletes proved with exceptional results that Slovenes, given the number of inhabitants and the size of their own coastline (47km), are a true world miracle.
Squad: Tomaz Copi – Mitja Margon – Tina Mrak – Igor lah – Mitja Beltram – Jaro Furlani – Veronika Macarol – Jani Klemencic – Nik Pletikos – Vid Jeranko – Tony Vodisek – Gašper Strahovnik – Matej Planinsic – Lara Poljsak – Branko Brcin – Iztok Knafelc – Karlo Hmeljak
*Hong Kong will not participate due to Covid related restrictions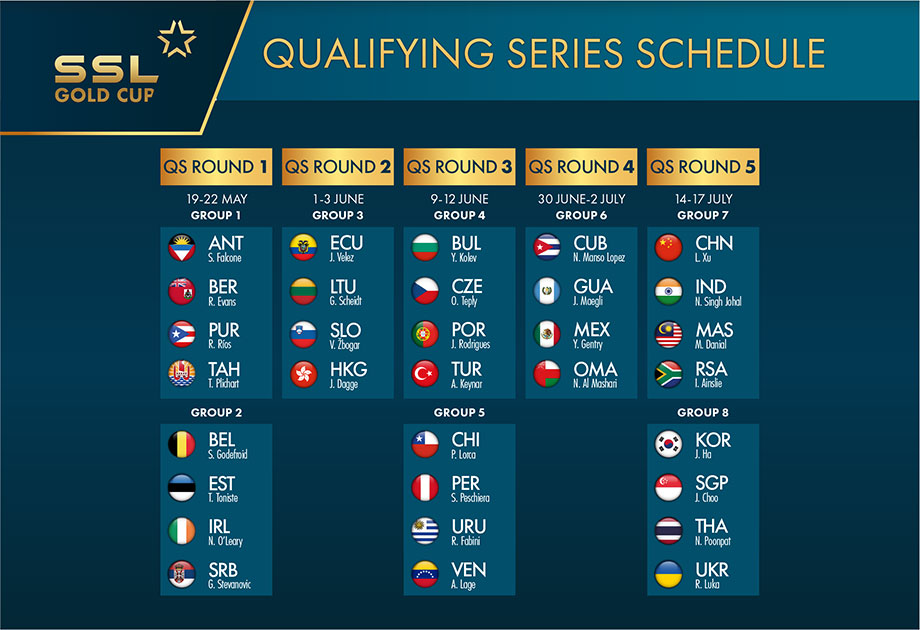 SSL Gold Cup 2022 Qualifying Series – Round 1 Highlights