Gentoo Sailing Team will be competing in the 2024 Vendée Globe with James Harayda as the skipper.
The team began in 2020 when Dee Caffari, offshore sailing legend, and James Harayda, a British up and coming talent, teamed up with an aim to win a gold medal at the Paris Olympics in the Mixed Doublehanded Offshore Class. However, this class was later removed from the Olympics by the IOC due to concerns over cost, safety and the overall aim to reduce athlete numbers. Although disappointed, the decision opened the door to explore new avenues in the sport, including the Vendée Globe, which is considered one of the toughest sporting challenges there is. The race is a solo, non-stop and unassisted circumnavigation of the planet.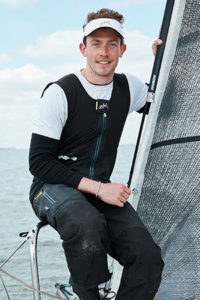 James said: "The race has always been the ultimate challenge, and an event I have always wanted to conquer; it is the ultimate test of human endurance. On top of this, competing in the Vendée Globe is so much more than just showing up and competing; the funding needed, qualification requirements and scale of the program is incredible."
Dee Caffari MBE, a veteran of the race, said: "The Vendée Globe takes talent and ability as well as resilience and tenacity. Having sailed with James for the last 18 months I have seen these qualities in him. He is a young, ambitious sailor who is keen to learn and improve. He is open to new ideas and willing to hear feedback, and these characteristics have made him a pleasure to sail with and I am keen to help him realise his dream of a Vendée Globe entry."
In addition to the Vendée Globe campaign, Gentoo Sailing Team has created a unique initiative – the Gentoo Sailing Team Youth Development Program. The program began earlier this year when 10 boys and 10 girls, aged 16 – 23, and from all different backgrounds, were selected to join the program.
The aim is to offer a clear, achievable and timebound pathway for the young sailors involved, all of whom have different ambitions within the sport. James, the coaches, volunteers and mentors will work with the sailors in order to open as many relevant doors as possible in order for them to realise their ambitions. They  will benefit from mentoring, on and off-the-water coaching, technical workshops and offshore racing in the 2022 JOG and RORC season. The sailors will also gain skills in teamwork, communication and leadership and play a role in the team's wider sustainability projects.
Gentoo Sailing Team is also excited to announce that they have added the Ian Atkins Keelboat Awards bursary to its growing list of supporters. Designed to help and enable young people to engage in all forms of keelboat activity, the IAKA trustees saw great synergies with the Gentoo programme.
Ian Atkins, Patron of the IAKA said: "Having met James and understood his goals to educate and mentor young people as they seek to build real campaigns and careers in the performance yacht industry, we could think of few better candidates for our bursary in 2022. We will be following the progress of the programme closely and supporting James' efforts wherever we can."