If you are planning to visit the RYA Dinghy & Watersports Show presented by Suzuki (26-27 February, Farnborough International) the RYA will be on hand with the advice, offers and inspiration you need to make the most of your time on the water.
Ask the RYA (A50/A10)
As you enter the show, you will find the RYA offering face to face advice on a range of topics from club development and training to coaching, legal and racing.

Experts on the stand include:
RYA Legal Manager, Mandy Peters and RYA Trainee Legal Advisor, Lucy Rutter (Saturday)
Regional Development Officers (Susie Moore, Robbie Bell, Ben Hodgson, Rob Howlett and Steve Mitchell)
RYA Safeguarding and Equality Manager Katie Loucaides
RYA OnBoard Operations Officer Hannah Cockle
You can also find out about the programmes designed to encourage people of all ages and backgrounds to get on the water. These include OnBoard which has introduced more than 900,000 youngsters to sailing and windsurfing and Discover Sailing the summer campaign' with clubs and centres across the UK running summer taster sessions.
For newcomers, the show is the perfect opportunity to discover the sport. Sign up for the Beginners Trail on the RYA stand and explore with an expert who'll show you everything you need to get out on the water from beginner boats to courses and kit.
On the racecourse (A30)
Meet the Racing Services Team for advice and information on club racing and race management, race officials, racing rules and class rules.
If you've wondered how to get into keelboat racing, find out more about the RYA's match racing programmes, how to apply for the British Keelboat Academy, sprint racing in the British Keelboat League and many other keelboat sailing opportunities.
For younger racers, find out about British Youth Sailing activity happening in your region and have a chat about youth and junior racing and what is involved in the Regional Training Groups, Youth Squads and beyond. 
RYA Para Sailing Hub (A40)
Visit RYA Sailability on the RYA Para Sailing Hub and pledge your support for sailing to be reinstated in the Paralympic Games by adding your message alongside some of the most accomplished sailors
The messages will be part of the official launch of the RYA Para Sailing Hub, a new support network for the para racing community aimed at increasing racing opportunities for disabled people in the UK, and ultimately for sailing to be reinstated in the Games. Come and meet the RYA Sailability team about how to get involved and for advice on sailing opportunities for disabled people.
Dinghy Cruising (RYA stand)
Cruising is a fantastic low-cost way of using your dinghy with family and friends and we've got plenty of advice on the stand to help you cast off. Enjoy a day of adventure afloat with the RYA Dinghy Trails which include local knowledge, distance and safety information, fun facts, wildlife spotting and even the best picnic spots.
Pick up and trail from the RYA stand and see some examples of dinghies on display which are perfect for adventures.
Publications (F14)
Check out the brand-new RYA National Sailing Scheme Instructor Handbook in all its formats – print, eBook and audiobook and for those looking to top up your knowledge over the winter months, pick up a copy of RYA Tactics, RYA Foiling or the RYA Racing Rules of Sailing.
Brand new audiobooks and ebooks are available to sample on the stand and if you're an RYA Member, take advantage of a special 20% off show discount on everything at the show! Those doing the treasure hunt- look out for eco-friendly seeded bookmarks.
RYA Membership (A10)
The RYA Membership Team will be available all weekend on stand A10 to help you to make the most of your membership. Any visitors who join at the show will receive a FREE overboard dry bag and if you refer a friend at the show, you both receive a bag.
RYA Training (At the Wing Hub)
Following the introduction of foiling courses in 2019, the RYA will be officially launching its new Wing training scheme at 11am, Saturday on the Watersports Stage. The four progressive courses are aimed at introducing complete beginners to wingsurfing and developing the skills needed to wingfoil with confidence.
RYA Training experts will be on hand all weekend with information and advice on windsurfing, winging and sailing courses for all ages and abilities.
The Green Blue (B5)
The Green Blue will be drawing boaters' attention to the life happening beneath the water's surface on stand B5. Experience the wonder of underwater habitats from a diver's perspective with the VR headset and witness first-hand the importance of seagrass to marine life such as pollock and seahorses.
Find out more information about the ground-breaking LIFE ReMEDIES Project aimed at restoring seagrass beds through re-seeding and education. You can also get hands-on and mimic the same re-seeding process mixing flower seeds, soil and clay to take away and re-plant at home to encourage biodiversity.
Get your tickets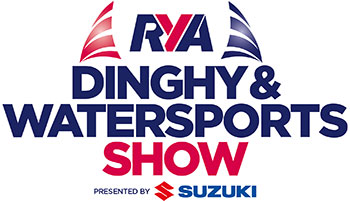 The RYA Dinghy and Watersports Show will host over 100 exhibitors including class associations, boat builders, holiday companies and some of the biggest names in marine retail. Exhibitors signed up include RS Sailing, Rooster, Musto, Harken and the RNLI.
There's also plenty to inspire and entertain all ages including simulators, model boat pool and plenty of competitions. Best of all kids go FREE all weekend!
---
For all the latest news and information visit www.dinghyshow.org.uk