The Our Isles and Oceans' group of inexperienced sailors witnessed upwards of 30 knot winds in the Sound of Mull today.
The Our Isles and Oceans 68-foot Clipper Round the World racing yacht set sail from Tobermory Harbour this morning, with gale winds and rain forecasted offshore. Conditions worsened as the complete beginners were met with strong winds. 
The sailing training programme takes groups of 18 to 35-year-olds from around the UK and the globe aboard the yacht. The programme's aim is to allow young people who experienced difficulties during lockdown and the pandemic, to learn new skills and make connections.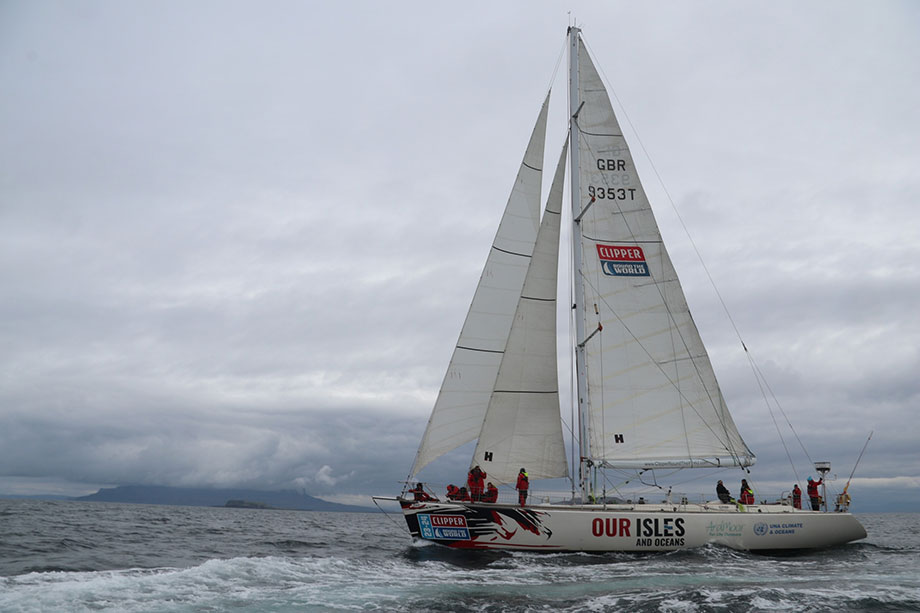 Currently in the Spring programme's third week, the sailors – Our Isles and Oceans' Ambassadors – started their first day sailing in extremely tough conditions, led by Clipper Race Skipper, Emily Caruso, and the million-pound yacht's Clipper Round the World crew.
Ambassador Alex McDonald, 34-years-old, a kitchen porter from Fife was amazed by his first experience on a yacht: "It has been a great day – I have been a bit nervous at times but very cool. I did not know the first thing about sailing, it was a friend of mine that recommended this to me and I am really glad she did."
The yacht is set to stay in Kerrera Marina tonight and to sail between Mull and Oban over the course of the week, finishing on Friday in Oban.
---
Our Isles and Oceans (OIAO) works with ocean yacht racing organisations to create a development and opportunity programme for young people affected by the pandemic and lockdown. Collaborating with multiple unique partners, OIAO creates life changing experience for young people primarily through the vehicle of sport. Since 2021, Our Isles and Oceans has helped young people aged 18 to 35-years old achieve professional and personal development goals.