The virtual RYA Dinghy Show presented by Suzuki (27-28 February) will host over 80 exhibitors including class associations, boat builders, holidays companies and some of the biggest names in marine retail.
As well as the expert talks, a free ticket to the show gives visitors access to two virtual exhibitor halls to browse dinghies, get information and advice and shop for clothing, courses, equipment, trailers, engines and more!
Visit Dinghy Show to register and join us at the FREE virtual show.

"We're delighted to have so many exhibitors signed up and we have chosen a platform which enables visitors to chat and interact with exhibitors, download brochures, watch videos and purchase products from virtual exhibitor booths" explains Show and Promotions Manager Celia Edgington.
"Many exhibitors are offering exclusive offers for the show weekend only so if you love picking up a Dinghy Show bargain, scroll through all the exhibitors in the halls and make sure you don't miss anything".
Here are just a few… 
Stop by RS Sailing to talk boats and opportunities within the class associations. "We're really excited to be part of the virtual Dinghy Show, which will give us a unique opportunity to talk to the existing RS community and new sailors entering our awesome sport, in such unprecedented times".
"The bright pink carpet may be missing but the lively RS Team will be on hand to answer all your boat sales, club fleet and parts questions alongside our amazing Class Associations who will be present to help get you involved in our amazing junior and racing classes within the RS community".
Also returning to the show to share opportunities to get involved are the UK Fireball Association.
"The 2021 RYA Dinghy Show represents a superb opportunity for the UK Fireball Association to showcase the class to a UK and Worldwide audience. Virtual interaction with visitors brings a new dimension to the show and is one the association views with excitement. We're really looking forward to the event!"
Dinghy Show regulars Rooster are also back for the virtual event. "The team at Rooster never miss a Dinghy Show and this year is no exception. The show is one of the highlights of our year, including some of our best offers yet. We're really excited to hit the virtual ground running."
Show sponsors Suzuki will be showcasing their range of four stroke outboards so drop by their booth and find out why they are popular for use on club safety boats, coaching/chase boats and of course leisure craft. Suzuki's experts will be on hand to talk about their greener Lean Burn Fuel Control System as well showcasing safety boat packages with key boat builders such as Rigiflex, Ribcraft, BRIG and Excel Boats.
Finally don't forget to visit Yachts & Yachting Magazine, our show media partner, for their special show offer of 6 issues for just £14.99 plus a free gift when subscribing at the show. You'll save 49% and free delivery.
Be in it to win it…
Just like the live event, this year there are a whole host of exhibitor competitions and fantastic prize giveaways to take part in. Here are just a few…
Ronstan will be promoting their new range of wet weather bags with prizes up for grabs through their competition and prize draw. Also don't miss their guest sailors Mike O'Donovan (virtual sailing) and Struan Wallace (A-class) who will be making live appearances on their booth.
Rockley will have some great offers and prizes on their stand throughout the weekend. They'll have spot discounts and special Dinghy Instructor and PB2 course offers. Visit their stand to find out more.
Sailing photographer Philippa Netscher (Pips Photos) is running a competition to win a beautiful sunset sailing print and has a Dinghy Show discount on her sport photoshoots all weekend.
There are also prizes to be won through the Dinghy Show Leaderboard! The more exhibitor stands, talks and areas of the show that you visit, the more points you win! Visitors with the highest number of points will win prizes and the top prize will be a Suzuki DF2.5 Outboard.
——————————————————————————————————————————–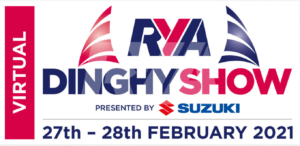 You can find the full list of exhibitors here and plan your visit to the show. To register and join us at the virtual RYA Dinghy Show on 27-28 February for FREE visit www.dinghyshow.org.uk
For all the latest news and information follow Facebook www.facebook.com/ryadinghyshow or Twitter @dinghyshow. Join in: #DinghyShow.