Plymouth-based Mountbatten Boathouse first opened whilst working out of half a workshop in 1998 and now occupies two floors over 3 buildings, offering something more than the ubiquitous chandlery chain.
The company motto says Supply Install Service Repair because that is what they do! Mountbatten Boathouse is a complete chandlery service, centred within Plymouth Yacht Haven marina.
They are a Lewmar Gold installer, and authorised dealers for Raymarine, Yanmar, Vetus, Mariner, Mercury, Webasto and Torqeedo, the electric motor specialist.

The shop is stocked with everything from stern glands to Gill gloves, and if you do come to see them, you'll be greeted by Gavin, Sally, Mervyn, Karen, Jon, Sam and Sarah with a smile – and a chat if you want one!
They also house Crews Navigation Ltd, run by Alice Crews, who provides paper and digital charts, updates, pilots, and guides for both leisure and commercial purposes.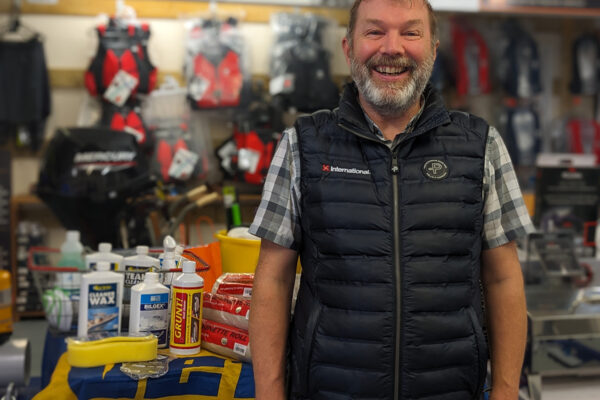 A Quarter Century of Experience
Mountbatten Boathouse has been operating as an independent and complete chandlery for 25 years. It all began in 1998 when Gavin Hearnden opened a workshop and small chandlery in a small unit attached to the old RAF site.
In the following years, Mountbatten Boathouse Ltd grew into a leading business in the marine trade and recently redeveloped the building to accommodate the chandlery over two floors, with the new workshop sited in the original unit. This involved a major refit of the first floor including new supports for the flooring to deal with the weight of all the anti-foul!
Founder and owner Gavin Hearnden began in boat delivery, spent time in boat manufacturing and then with Vetus and marine engineering so he knows his stuff. He has an encyclopaedic knowledge of Yanmar, Mercury, Mariner, Vetus, Raymarine, B & G, Lewmar, Webasto, International and other manufacturers and his help and advice is outstandingly helpful, for berth holders, visiting customers and online or telephone enquiries.
Mervyn the engineer has been working at Mountbatten Boathouse in mechanical and electrical installations and repairs for 23 years and is equally as knowledgeable as Gavin.
Both have many years' experience as certified Yanmar, Mercury, Mariner, Webasto and Raymarine installers and engineers.
The seven staff must be ready for anything. As a small business with a broad range of clients, they could be arranging the painting and servicing of the local Devon and Somerset Fire Service vessel or preparing a vessel for the Atlantic Rally for Cruisers.
And a Boatload of History
Mountbatten Boathouse is in the Eastern Hangar in Shaw Way, just off Lawrence Road, and those street names hold clues to some history of the location.
Between 1917 and 1945 Mountbatten peninsula was a base for both the Royal Air Force and the Royal Navy. The RAF operated search and rescue launches from the base and the Shorts Sunderland flying boats that saved the lives of airman and sailors flew from here.
T.E. Lawrence, famously remembered as Lawrence of Arabia, was even stationed there under the moniker Aircraftsman Shaw.
A legacy of this era is two impressive Grade II listed F-type aeroplane hangars dating from 1917 that now provide a base for local businesses such as Mountbatten Boathouse and others, providing services including stainless steel and GRP fabrication, complete refits, Flexiteek decking, yacht repair and yacht sales.
For more on the history of RAF Mount Batten, you can search for a copy of "Mount Batten: The Flying Boats of Plymouth" by Gerald Wasley.