Seaside 'staycations' are soaring with the summer sun as UK holidaymakers shy away from the COVID-induced stress and uncertainty of travelling abroad.
Travel experts believe staycationers now realise that most British coastal resorts have so much to offer in terms of quality as well as stress free travel compared with the Spanish Costas and Greek Islands; perfect for low stress breakaways, catering for an influx of new visitors seeking a relaxed seaside or 'café culture' holiday.
The British seaside offering was already on an upward trend before the impact of COVID and all the challenges that now go with holidaying abroad: is that country on the green list, must I quarantine on arrival, where can I book a COVID-19 test in Spain, what insurance will cover me?

Who needs such stress, when the whole idea of a holiday is relaxation and re-charging batteries, especially now that our country has fully re-opened for business?
And here are some top UK seaside getaways making the news: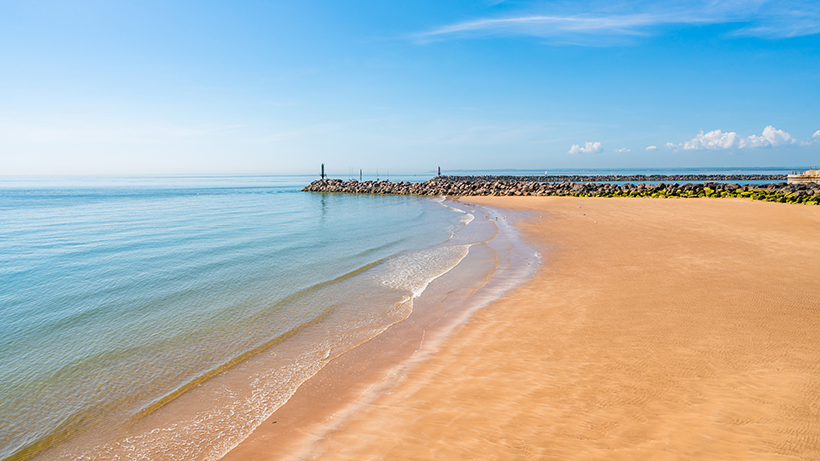 Ramsgate, Kent
Is currently celebrating the 200th anniversary of its status as the UK's only Royal harbour, enhancing a heritage including architecture designed or influenced by the great Victorian architect Pugin, who lived in the area and created the Houses of Parliament. It was also home to a young Queen Victoria.
Many of the town's boutique style Air B'n'Bs and hotels overlook the harbour and, on a clear day, France is visible across the Channel.
The beachfront is being redeveloped alongside the famous Royal Harbour, including the £50 million Royal Sands Ramsgate beachfront project, enhancing a café and dining out culture on the waterside and in the town highlighted by the Royal Harbour Brasserie, a seafood restaurant overlooking the historic harbour – the gathering point for 'The Little Ships' so pivotal to World War II's Dunkirk rescue mission.
Family-friendly award-winning beaches, the 32-mile 'Viking Coastal Trail', Pegwell Nature Reserve, and many top golf courses – including the nearby Royal St. George's in Sandwich, which hosted the 2021 Open – add to the town's bicentennial rebirth as a top resort.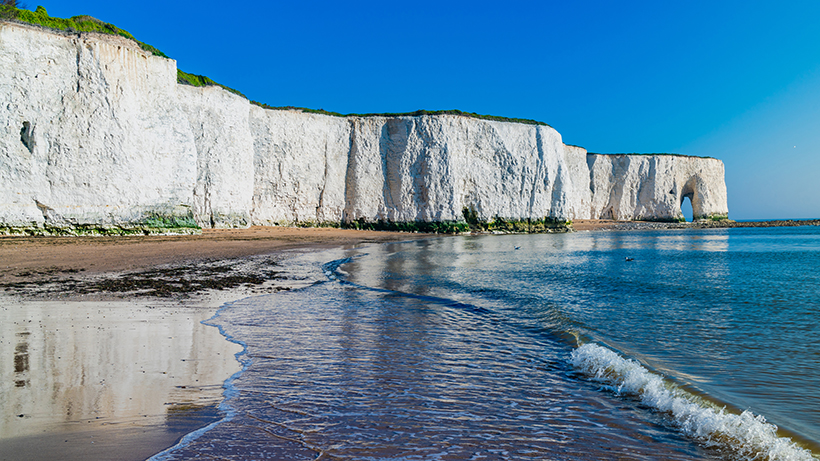 Broadstairs, Kent
While its Isle of Thanet neighbour Ramsgate is enjoying a bicentennial revival, Broadstairs never lost its appeal to many, largely due to links with Charles Dickens – the novelist. This Victorian town has a relaxed and Bohemian vibe plus an international reputation for its annual international folk festival, Dickens Week and the acclaimed Broadstairs Food Festival.
The harbour area has a Cornish feel now enhanced by a newly opened seafood restaurant at the pier end. The quaint town streets have many independent shops and restaurants, and some overlook the harbour and main sands.
The numerous beaches, many with blue flag status, are famous for spectacular sunrises – usually followed by scenic breakfasts – and several offer water sports equipment and lessons for surfing and paddleboarding. Broadstairs also offers the same walking, cycling, golfing and nature-watching activities as Ramsgate.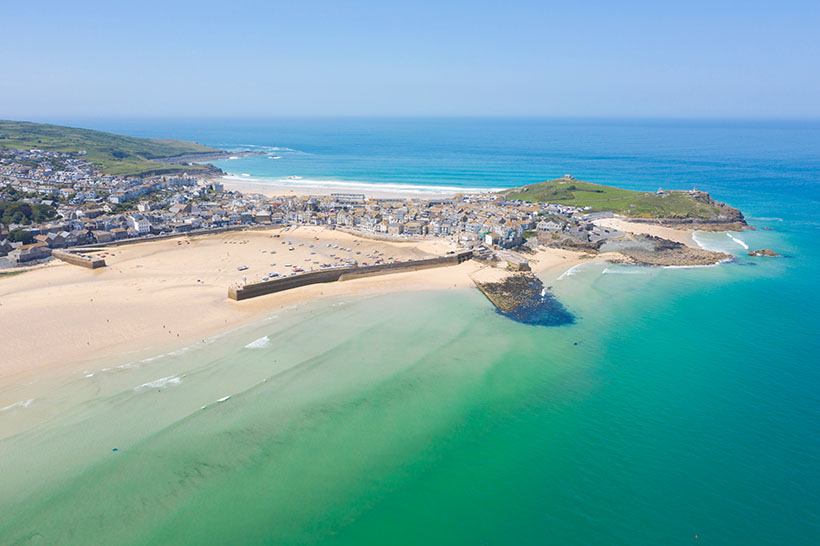 St. Ives, Cornwall
This beautiful town grew around its picturesque harbour and the quaint cobbled streets are lined with fishermen's cottages, but there is a rich artistic heritage, highlighted by the Tate St Ives gallery hosting many exhibitions and events.
Quieter than its 'party-time' neighbour further up the coast, Newquay, St Ives has four main beaches with Porthmeor the most popular, facing the Atlantic and backing onto the Tate. Surfing is popular and suitable for beginners – most beaches in the area offer hire equipment and lessons.
With freshly caught fish available on its doorstep, St Ives also has some famous eateries too, such as the award-winning Porthminster Beach Café.
Seasonal high points include the St Ives Food & Drink Festival (17-19 Sept this year).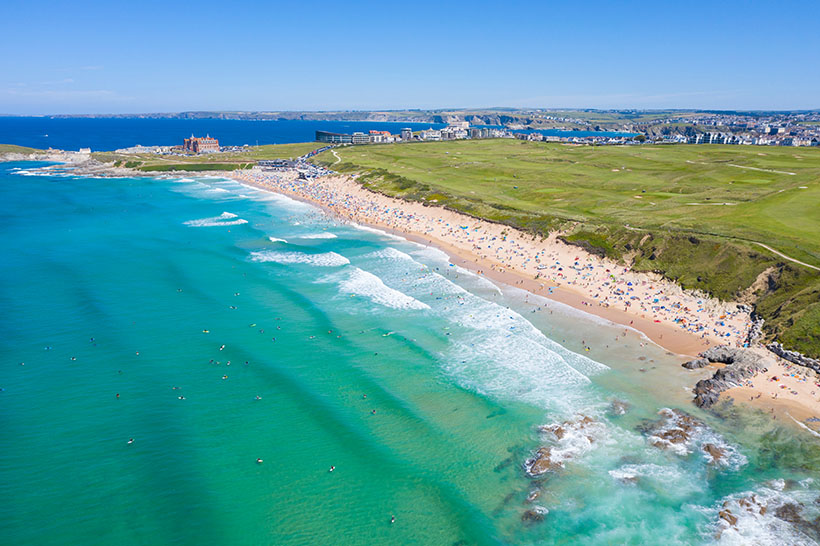 Newquay, Cornwall
Newquay can claim to be 'Britain's Surfing Capital' thanks to great Atlantic Ocean waves and four Aussies who put board to surf for the first time here in 1964.
The stunning beaches offer many other water sports and there are great coastal walks, golfing, and the new 'coasteering'  sport.
Town attractions include the Blue Reef Aquarium – with an underwater tunnel through a coral reef tank alive with pufferfish, sharks and rays – while Newquay Zoo and its tropical gardens are a short drive away.
Many of the eateries and restaurants offer splendid views and the town hosts several food and drink festivals, but it is best known for its many bars, making it a popular destination for stag and hen parties.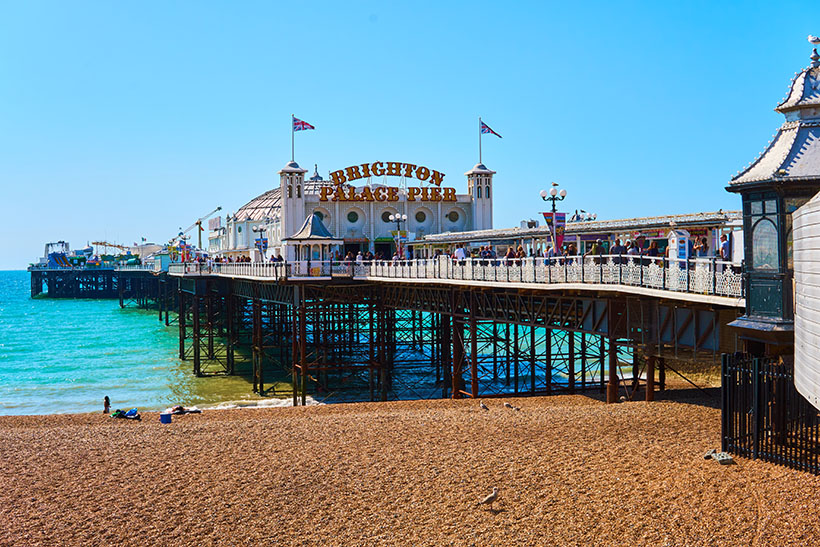 Brighton, East Sussex
Home to a pier that is the most visited tourist attraction outside London and once dubbed 'The Queen of Watering Places', Brighton is also famous for its long pebble beach, which can pick up big waves and attract surfers and windsurfers.
The booming art scene in Brighton adds to a vibrant community supporting a wide range of shops, restaurants, and cafes plus the boutiques and curio shops of 'The Lanes', yet the peace and scenic walks of the South Downs are not far away.
Brighton is also host to music events, the famous Brighton Pride gay festival, and the city's full and half marathons. Other major attractions include Sea Life Brighton – the world's oldest operating aquarium – the British Airways i360 162m observation tower on the long seafront, and the historic Brighton Pavilion.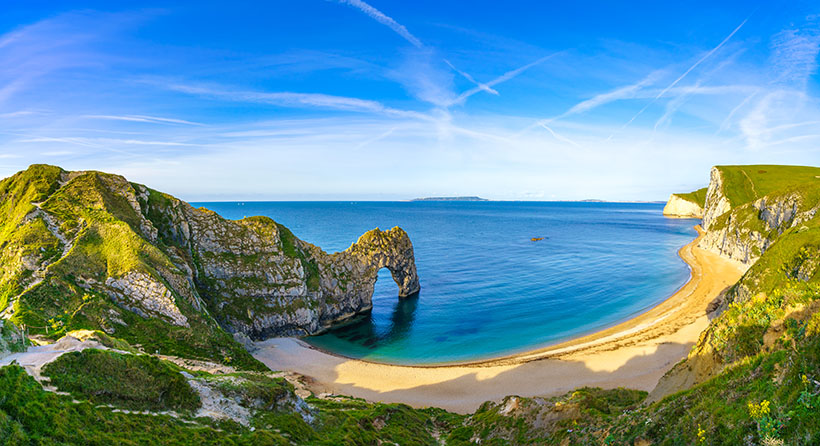 Durdle Door, Dorset
This 'Jurassic Coast' limestone arch landmark stands over pebbled beaches and crystal clear waters and can be part of scenic clifftop walks to popular neighbouring areas and potential holiday bases, such as secluded Lulworth Cove, Swanage, Lyme Regis, West Bay, and beyond via the South West Coast Path.
This path accesses yet more beaches, stunning countryside and other Jurassic Coast landmarks – ideal for walking, exploring, water sports, sunbathing, or swimming.
The Jurassic Coast was England's first natural UNESCO World Heritage Site, a dramatic 95-mile stretch of coastline with secret beaches, crumbling limestone cliffs and prehistoric remains.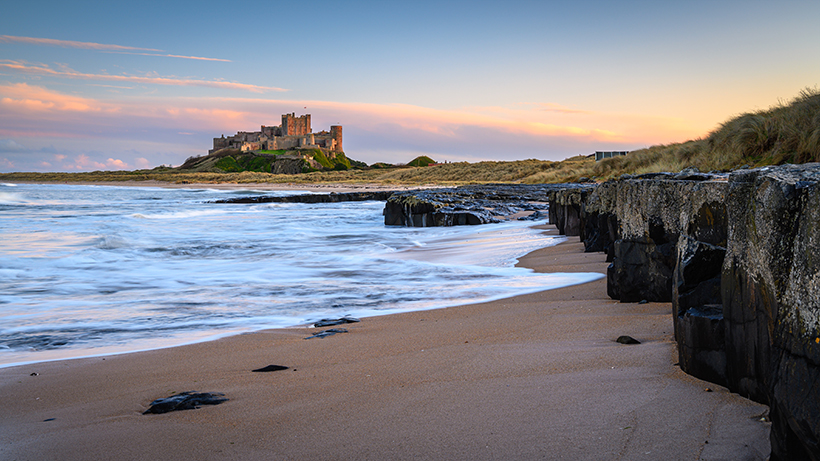 Bamburgh, Northumberland
A brooding clifftop castle puts this small Northumberland village – the 'Bebbanburg' of the popular Last Kingdom TV series and books – on the map.
It is flanked by golden sandy beaches, the most popular being to the north and backed by high dunes and with rock pools to attract young sealife explorers.
Though small, the village offers a good choice of fine dining and 'English tearooms' such as the acclaimed Copper Kettle Tearoom.
There is also accommodation to suit all pockets: hotels, a camping and caravan park, Air B'n'Bs, and self-catering.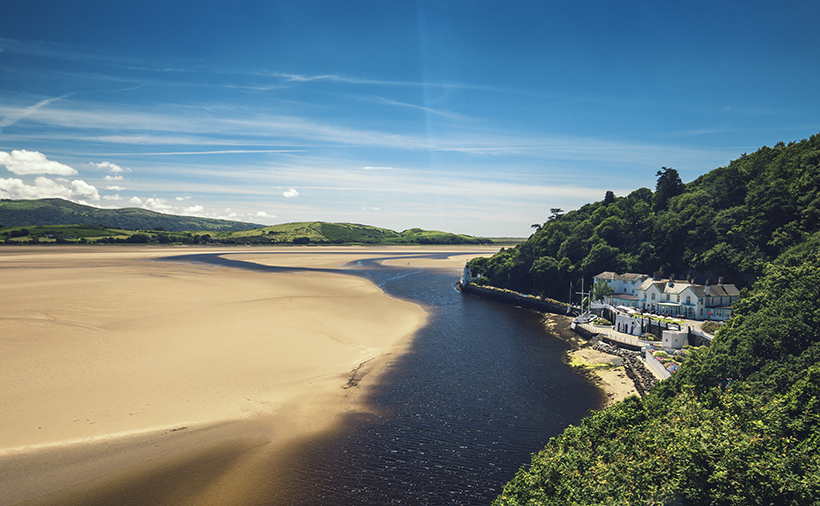 Portmeirion, Wales
Designed and built from 1925-75 by architect Sir Clough Williams-Ellis in the style of an Italian village, Portmeirion is an enchanting mix of pastel-coloured houses, cobbled streets and lush manicured gardens overlooking a small estuary, while the mountains of Wales rise mightily above the rooftops.
Nature lovers can explore 70 acres of exotic woodlands with 19 miles of pathways through forests, secret spaces and coastal coves. The subtropical forest, The Gwyllt (Wildwood in Welsh), features some of Britain's largest trees, plus secret gardens, a derelict castle and rare flowers.
There are also 16 miles of coastal paths accessing the white sandy beaches of the Dwyryd Estuary and its hidden caves, gullies and exotic plants, an Oriental Garden, and 'secret' sites such as the Dog Cemetery, Tangle Wood, Ghost Garden and Shelter Valley.
Portmeirion has also been a location for films and TV shows, famously as "The Village" in the 1960s television show 'The Prisoner' – many of the show's fans make regular pilgrimages.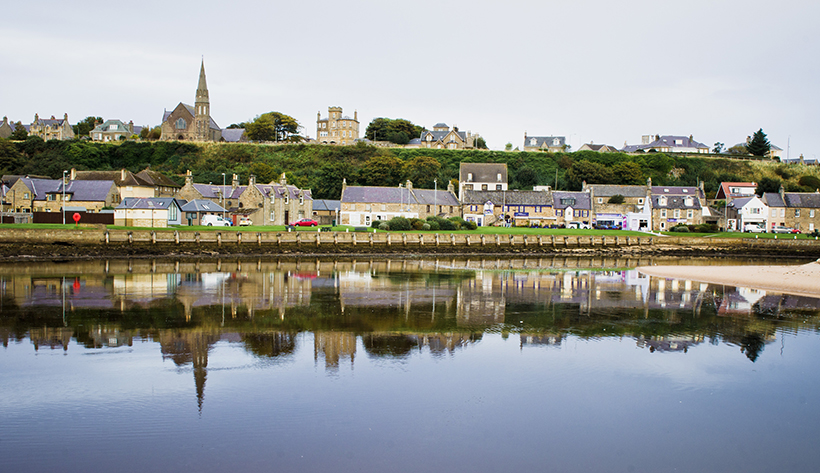 Lossiemouth, Scotland
Dubbed 'The Jewel of the Moray Firth', Lossiemouth is a golf-oriented resort on the Scottish northeast coast, blessed with two sandy beaches, dunes and beautiful countryside.
The beach east of the harbour is white sand and dunes, offering great walks, while that to the west includes Covesea Lighthouse, with great views of Moray Firth, and the neighbouring RAF base.
Apart from enjoying the abundant wildlife visitors can also surf and sail, or take a dolphin-spotting boat ride or fishing trip. The attractive harbour's Fisheries Museum includes a re-creation of the study of local-lad-made-good James Ramsey MacDonald, Britain's first Labour Prime Minister.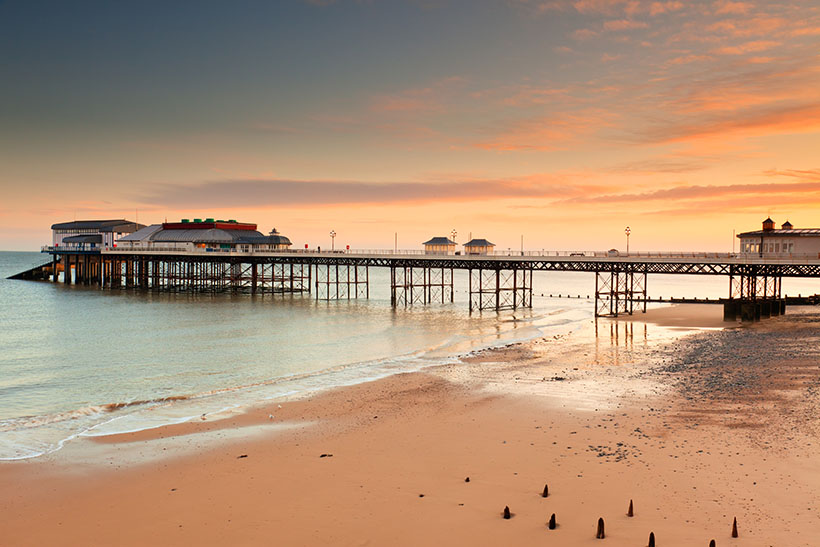 Cromer, Norfolk
Cromer is ideal for families hunting a more traditional seaside holiday, thanks to sandy beaches, museums, surfing, many other attractions and scenery along the Norfolk Coast Path.
The Victorian-style pier is home to a lifeboat station with a proud history, largely due to Henry Blogg – much decorated and perhaps the RNLI's greatest lifeboatman.
The pier's Pavilion Theatre is famous for staging, twice yearly, the UK's only remaining traditional 'end of the pier' variety show.
Families enjoy crabbing, surfing and paddleboarding off the beach and swimmers close to shore can explore the 20-mile Cromer Shoal Chalk Bed – remains from the Mesozoic Era, when dinosaurs roamed.
Cromer is famous for its crab, offered in many of the pubs, cafes and restaurants in the streets and alleys of this bustling town, which also celebrates its maritime heritage with the annual Cromer Carnival and Crab & Lobster Festival.
---
Words: Steve Philp