In a dramatic turn of events overnight, the Finnish yacht Spirit of Helsinki skippered by Jussi Paavoseppä grabbed the number one spot for the first time from the legendary Pen Duick VI. With just 450nm to Cape Town, the OGR finish is too close to call. With the four yachts, Spirit of Helsinki, Pen Duick VI, Translated 9 and Maiden all within one hundred miles of each other it's all to play for.
Skipper Marie Tabarly and her crew onboard the 73ft Bermudan Ketch have dominated line honours position since the race start on September 10th in Southampton, but have come under increasing pressure in recent days. The decision to turn east towards Cape Town earlier than the traditional route of heading south to 40 degrees and then approaching Cape Town from the south west, may prove a costly decision for the much-loved French yacht that raced in the 1973 Whitbread by Marie's father, Eric Tabarly.
Spirit of Helsinki, a Swan 651, competed in the 1986 Whitbread under the name Fazer Finlandfinishing third. Jussi kept pushing a little further south and that move is now paying off. She's now 100 nm to the windward of Pen Duick VI and better able to make Cape Town from the expected strong SE winds in the coming days.

"Oh what a perfect day, I'm glad I spent it with you (at sea again)", tweeted Ian Herbert-Jones, former GGR skipper sailing on Spirit of Helsinki – clearly sensing they've taken the lead!
But in reality, there are four yachts all vying for line honours – including Translated 9 and Maiden. Translated 9, formerly ADC Accutrac raced in the 1977 Whitbread and is leading in IRC with Spirit of Helsinki in second and Maiden third.
The crew of Maiden are clearly determined to reach Cape Town ahead of the pack, tweeting:
"New speed record – 19.3knts helmed by Vuyie! At this speed we will be in Cape Town in time to watch the Rugby final!"
The first yachts are predicted to arrive at the V&A Waterfront in Cape Town at around midday Friday 20th.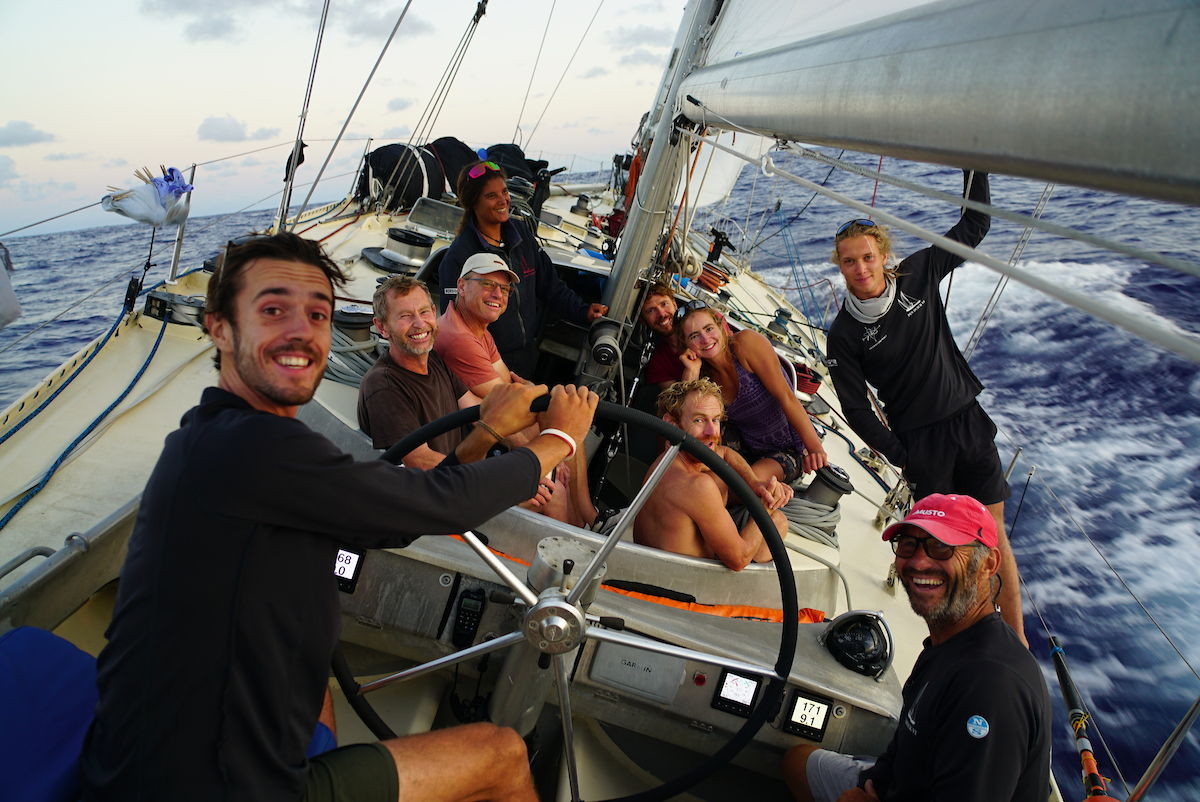 The middle pack continue to battle fickle winds. Outlaw AU (08) and Evrika FR (07) having opted for an easterly route down the middle of the South Atlantic are now facing days of light headwinds. This is actually exactly what they hoped for, as the alternative is strong or very strong head winds, which is the norm for this last run and the price you can pay for this route. While L'Esprit d'équipe FR (85), Neptune FR (56) and Triana FR (66) negotiated the easterlies hooking around from a new high pressure developing south of them, which could eventually produce some decent beam reach sailing.
The Swan 55, Galiana WithSecure FI (06) have been pushed into taking a southerly route and may well face stronger headwinds over the coming days before finding themselves in a good position to pull away from their immediate competition.
"We are celebrating the tenth day on port tack. The right feet of the team members have already grown 5cm longer than the left ones." tweeted Galiana WithSecure.
The South African team Sterna suffered their second rigging failure since race start – although they've managed to complete repairs and have reported their rig is not compromised, they are obviously wondering why and how this could happen. All rigging was replaced before leaving Cape Town to sail to the start of the OGR earlier this year. Are the remaining swages good for another three legs? They tweeted:
"Second swage failure. This time the top swage of the removable inner forestay. Tensioned staysail halyard."
They're now flying their spinnaker for the first time in two weeks and very, very eager to get home to Cape Town for some local food.
Earlier in the week Explorer reported water ingress resulting in major electrical failure. Skipper Mark Sinclair, AKA Captain Coconut, revealed that a flood over the main distribution fuses under a bunk resulted in blown fuses and destroyed inverter. They messaged OGR with the news…
"Water ingress on starboard side affected the master 12/24 fuse junction box. Systems down/not operating include Watt & Sea Hydro gen, desalinator, 24v fridge freezer, AIS, nav instruments, inverter. Proceeding to Cape Town… Sat phone unserviceable… END."
OGR activated their spare Iridium EXTREME sat phone as Explorer continued on sailing 'Dark Ship' to Cape Town. A combination of a leaking stern gland, water from the generator exhaust outlet and a burst 200ltr water tank were later identified as the main culprits. This all occurred while sailing hard to windward on port tack. Issues with the automatic and manual bilge pumps have complicated the situation.
They have since scavenged together redundant equipment on the boat and have most systems back up and running. They're rigged some emergency bilge pumps and working a rota system checking and emptying bilges. It's still questionable whether the Swan 57 will make it to Cape Town for the start of leg two with 2450 nm remaining.
"Ongoing electrical issues. Most now sorted but still no ice maker or espresso machine." tweeted skipper Mark.
Godspeed (USA) 01 continue their lonely slog south. They are another team likely to be left behind in Cape Town when the fleet leave for Auckland on November 5th. But it seems they still have enough time for a dip in the Atlantic.