From the exhibitor's Environmental Pledge to The Green Blue's Boating Pledge, the latest new products and sustainability practices and learning about exciting wildlife projects, the Southampton International Boat Show is at the forefront of environmental protection and sustainability.
If you're looking for the latest products to help protect the environment or want to discover how to enjoy watersports in the most sustainable way, then Southampton International Boat Show is the place to be.
Throughout the show there are plenty of companies showcasing sustainability and recycling. SETAG is a Plymouth-based organisation which recycles older boats, entirely refitting and updating them to modern standards, giving them a further lease of life and on show in the Marina at Berth M654.  Swallow Boats, Marina Berth M013-015, builds boats purely from sustainably sourced wood, and also helps the local environment by using its wood off-cuts to make bird boxes for local schools.  With new design boats such as the RS Pulse 63 electric RIB showing impressive speeds thanks to its sleek shape, there are lots of new electric engines on show including the TEMO 100 electric outboard from Marine Components (Ocean Hall J296) and RAD Propulsion J406 launching its new outboard drive fully electric engines, Sunsail and The Moorings on Stand J155 demonstrate their Ocean Promise on all their charter boats and holidays, and at J401 Wessex Resins talks about its 1% for the planet pledge and biobased epoxy systems.

The show is also the place to see the UK debut of the Candela C-8, berth M145, a 100% electric long-range hydro foiling powerboat. With a top speed of 27 knots, she travels silently above the water's surface, with no emissions and no sound pollution or disturbance of marine life.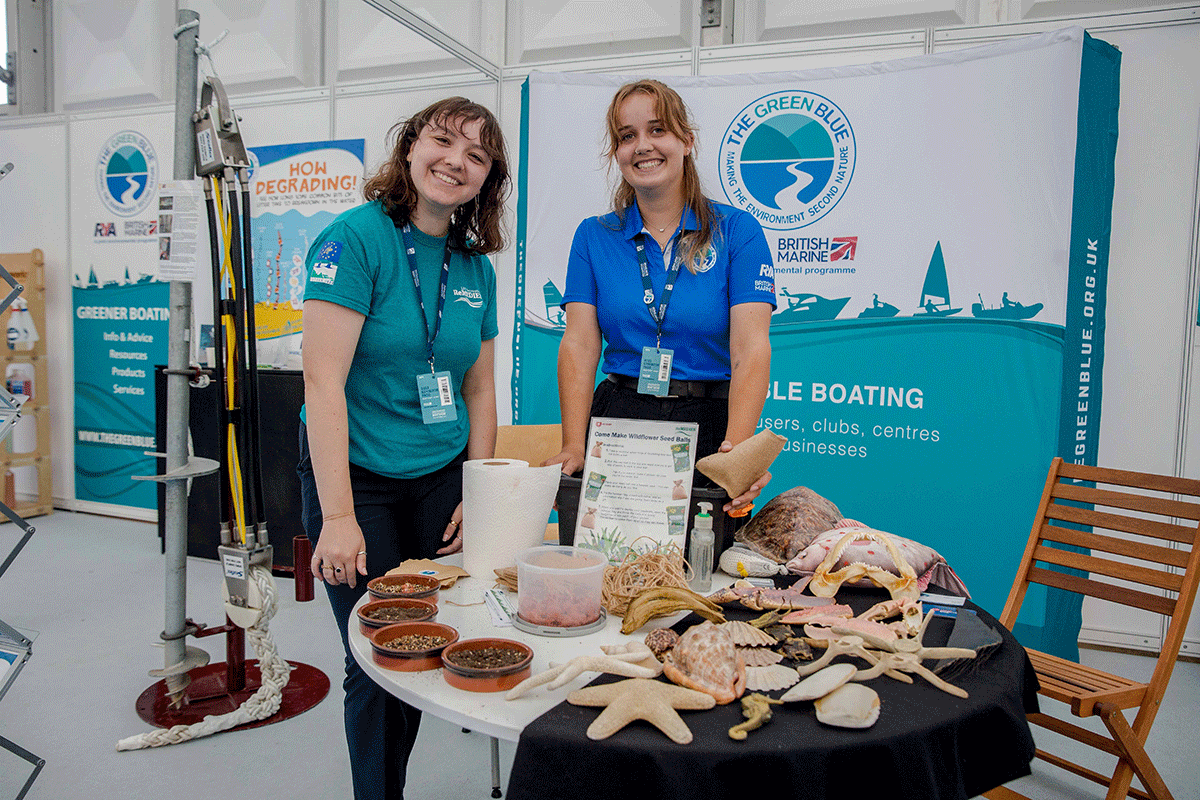 Head over to The Green Blue's stand in Ocean Hall (J119 and J150), the joint environmental programme between British Marine and the RYA, to learn all about sustainable boating for cleaner healthier waters.  Visitors can sign up to The Green Blue Boating Pledge and enter a prize draw to win a goodie bag of sustainable products.  The Green Blue's online business directory pinpoints the leading companies and organisations offering recycling, sustainable and environmentally friendly products and services.
With a 50% increase in entries this year, some of the most exciting and innovative examples of sustainability and environmental protection are found amongst the companies entered into the British Marine Exhibitor Environmental Innovation Awards.
Judged by a panel of experts including Dee Caffari MBE, first woman to sail single-handedly and non-stop around the world 'the wrong way', Dr Tim Ferrero, Senior Marine Biologist from the Hampshire and Isle of Wight Wildlife Trust – which this year is the show's chosen charity partner – and Councillor Eamonn Keogh, Southampton City Cabinet member for the environment and transport, this year's entries are as diverse as electric propulsion, pollution free cleaning products and clothing, bags and accessories made from recycled materials.    The 2023 Environmental Innovation Awards will be presented on Friday 15 September at 16.00 on the Foredeck Stage.
Protecting the natural environment is essential, and this year's show focusses on the importance of seagrass with the Hants and Isle of Wight Wildlife Trust's Solent Seagrass Restoration Project.  From getting hands on making wildflower seed bags to take away and plant at home, to sponsoring a seed pod, visitors can also learn more about this project with a talk on the Foredeck Stage at midday on Friday 15 September followed by a panel discussion. On Thursday 21 September, as part of Woman in Marine Industry Day, Emma Ward talks about her PhD project looking into blue carbon storage in seagrass.
The Foredeck Stage is the place to go to hear from the experts and learn more about sustainable boating, with boaters sharing their advice and experiences in a sustainable boating panel discussion led by The Green Blue, and a talk about discovering the Solent's hidden wildlife wonders.  The full programme with dates and times can be found here: https://www.southamptonboatshow.com/foredeck-stage/
As well as innovative products and services, the highest levels of sustainability and environmental protections are to be found throughout the show, says British Marine's Environment Executive James Brushwood.  "We look critically at every aspect of the show supporting our exhibitors and visitors to be as environmentally friendly as possible.  This ranges from our pledge to leave the show site in better condition than when we arrived, to using food and beverage vendors that are plastic-fee, supplying only responsibly sourced seafood, local and seasonal produce, and water-refill stations.  We encourage recycling stands and use of signage from previous years' shows and make it mandatory for all our exhibitors to meet our Environmental Pledge, which is now in its fifth year." 
Last year's show recycled 22 tons of wood, two tons of glass, one ton of cardboard and 160 tons of Dry Mixed Recycling (DMR) using multi-use bins, which are taken off-site and sorted.  All exhibitors must meet our mandatory environmental standards which include using public transport or car sharing to and from the event, no single-use plastic water bottles or straws, and reducing paper use and printed materials.  This year additional optional requirements include organising a local waterside clean-up and to offset the impact of hotel accommodation and travel.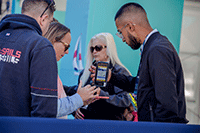 So, keep your ticket handy on your phone to save printing it out, and take time before travelling to the show to pair up with friends and neighbours for a car share, or hop onto public transport, and enjoy being at the forefront of sustainability, recycling, pollution-free and environmentally friendly water sports activities.
---
Get your ticket
Tickets for the Boat Show can be purchased online at www.southamptonboatshow.com/visitor-information/tickets/
Upgrade your visit with the new and exclusive Quayside Club VIP package at www.southamptonboatshow.com/vip/
The show is open from 10am – 6pm daily except the final Sunday when the show will close at 5pm.