The 98 year-old Solent Sunbeam Class has announced the launch of the latest Sunbeam, V71 Tiffany.
This is the second new boat to be launched in 2021 and joins the ever-growing Solent Sunbeam Class, which are based at Itchenor Sailing Club.
This historic fleet now number 33 boats, regularly competing in competitive and sociable weekend regattas, Thursday evening harbour racing and a number of week-long racing events at both Itchenor and Cowes, from April through to September.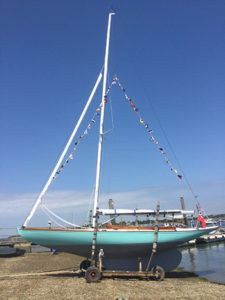 Tiffany's owners, David Grylls and Alexandra Rock, have recently moved to Bosham and are very excited to be joining this competitive and social class which, as it approaches its centenary, continues to evolve and innovate whilst ensuring that 98 year old wooden boats race on a level basis with new GRP boats.
Tiffany is the 11th GRP Solent Sunbeam to be built and meticulous care was taken in her design and construction to make sure that the GRP boats sail exactly the same as the original wooden boats ensuring competitive racing across the 98 year age range of the fleet. Tiffany was finished by Haines Boatyard at Itchenor, which specialises in the restoration and maintenance of keelboats.
The Solent Sunbeam fleet has a history of class development and recently high-tech carbon fibre masts have been permitted following trials during the 2020 season. Innovation, advanced technologies and high-tech materials are being keenly embraced by the fleet to enable the class to evolve, keep active and attract high quality sailors. The move will also reduce mast maintenance, improve quality and consistency and reduce the manufacturing carbon footprint.
---
The class is welcoming and sociable with very supportive owners who have a common passion for the design, heritage and sportsmanship of the fleet. For more information on sailing and owning a Solent Sunbeam as well as information on all the forthcoming events please contact the Class Association via the website at www.solentsunbeam.co.uk