There is a special celebration of Queen Elizabeth II's Platinum Jubilee at the Nothe Fort in Weymouth.
Nothe Fort worked with two local artists, Ian Cox and Keith Holdaway, to create a fitting celebration for the Platinum Jubilee.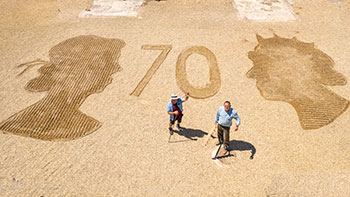 Using a technique similar to that of a Zen Garden, this artwork had been created in the Parade Ground of the Nothe Fort in Weymouth and will available to view over the weekend of 4 and 5 June. The artwork is configured of two silhouettes of Queen Elizabeth II, as seen on stamps, looking towards one another with the number '70' in between. The concept is that the silhouette on the left-hand side is the Queen at her Coronation looking toward her future, and the silhouette on the right-hand side is the Queen reflecting upon the past 70 years.

Our Nothe Fort Chairman, James Farquharson, said: "We wanted to create a piece of artwork to celebrate the Jubilee, which will put a smile on people's faces. Weymouth is so lucky to have such fantastic local artists."
---
Nothe Fort is located at the entrance to Weymouth Harbour, the Fort offers excellent 360-degree views across Dorset's Jurassic Coast. Discover the maze of underground passages, a museum of the Fort's history, parade ground, impressive guns positioned high on the ramparts, and fun trails to keep the children busy.