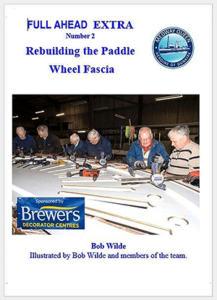 The "Full Ahead Extra" series are booklets in the same format as the MQPS members' magazine, "Full Ahead", but with more pages and dealing with a single subject in detail.
The first was published two years ago and was titled "Life on Board". It contained first-hand accounts of life on board the ship when she was used on excursion service. Unlike the regular quarterly magazine, the "Extra" booklets are available for sale to members and non-members alike at the very modest charge of £3 per copy.
This second "Full Ahead Extra" publication presents a detailed account of the construction and installation of the starboard paddle box fascia. Written by Bob Wilde, who headed the team, and illustrated with photographs taken by Bob and other workshop team members. It gives a very detailed account of this sub-project in the restoration of Medway Queen. The booklets are in the same style and format as a regular Full Ahead, but have 28 pages instead of the usual 20. Full Ahead Extras 1 and 2 are mainly illustrated with photos that they have not published before.

---
This new publication is available from the Medway Queen Visitor Centre when it is open on Saturdays, or by post via the online shop at www.medwayqueen.co.uk. If you are not online and want a copy of the booklet, send a cheque for £3 payable to "Medway Queen Preservation Society" to Pam Bathurst at 37 Kent Road, Margate. CT9 3SW, together with an A5 stamped addressed envelope for dispatch of the book. If you want more than one booklet, send a large letter stamp.