The invaluable contributions of volunteers across sailing and boating communities have been celebrated by Her Royal Highness The Princess Royal, President of the RYA, and guests at an awards ceremony in central London.
The 2023 RYA Volunteer Awards were held on 10 November at the Grade II listed 'One Great George Street', with 81 accolades given this year in recognition of the outstanding dedication and commitment made by volunteers of all ages and from all corners of the UK.
The awards were divided into five categories, highlighting the many and varied ways volunteers support participation and activity across the sailing and boating sector.  The categories this year were: RYA Community Awards; Francis Elkin Award; Honor Preston Award; RYA Awards; and Honorary Life Membership.

Community champions
The RYA Community Awards recognise the exceptional commitments made by individuals at the grassroots level of the sports and activities the RYA represents.
Some 46 Lifetime Commitment Awards were celebrated at the ceremony and a further 25 recipients were honoured with Outstanding Contribution Awards. These contributions ranged from club establishment and maintenance to race officiating, training, coaching, fundraising, inspiring disadvantaged groups through sailing, and much more.
Six individuals, each receiving a Young Volunteer Award, showed that it's never too soon to start supporting others in the sport. Jack Kennedy was one of the Young Volunteer Award recipients, who started his volunteering at the age of 14 at Strangford Lough Yacht Club in Northern Ireland. He progressed through various Instructor roles and became the youngest member of the Commodore's committee at the age of 22.
"No one volunteers necessarily to then get an award at the end of it, that's not what we do it for, but it's nice to be recognised," Jack explained. "You need to give back to the sport that has given so much to you, which is why it's so important to get involved.
"Sailing in particular is a sport that relies so heavily on volunteers compared to other sports, so we need to make sure we're facilitating the next generation of sailors coming through and enabling them to come up through the ranks and then they can get involved in volunteering."
RYA Director of Sport Development Rob Clark paid tribute to the enormous impact that volunteers have in sailing and boating communities.
"It's always so inspiring to hear of the amazing work that is happening every day, up and down the country, by volunteers right at the heart of our sport," Rob explained.
"Whether it's encouraging newcomers to give it a try, looking after facilities so people can get afloat safely, running weekend racing, or fundraising for equipment so more people can be introduced to the joys of being on the water – there really is a rewarding role for everyone in our communities, from teenager to octogenarian!"
The Francis Elkin Award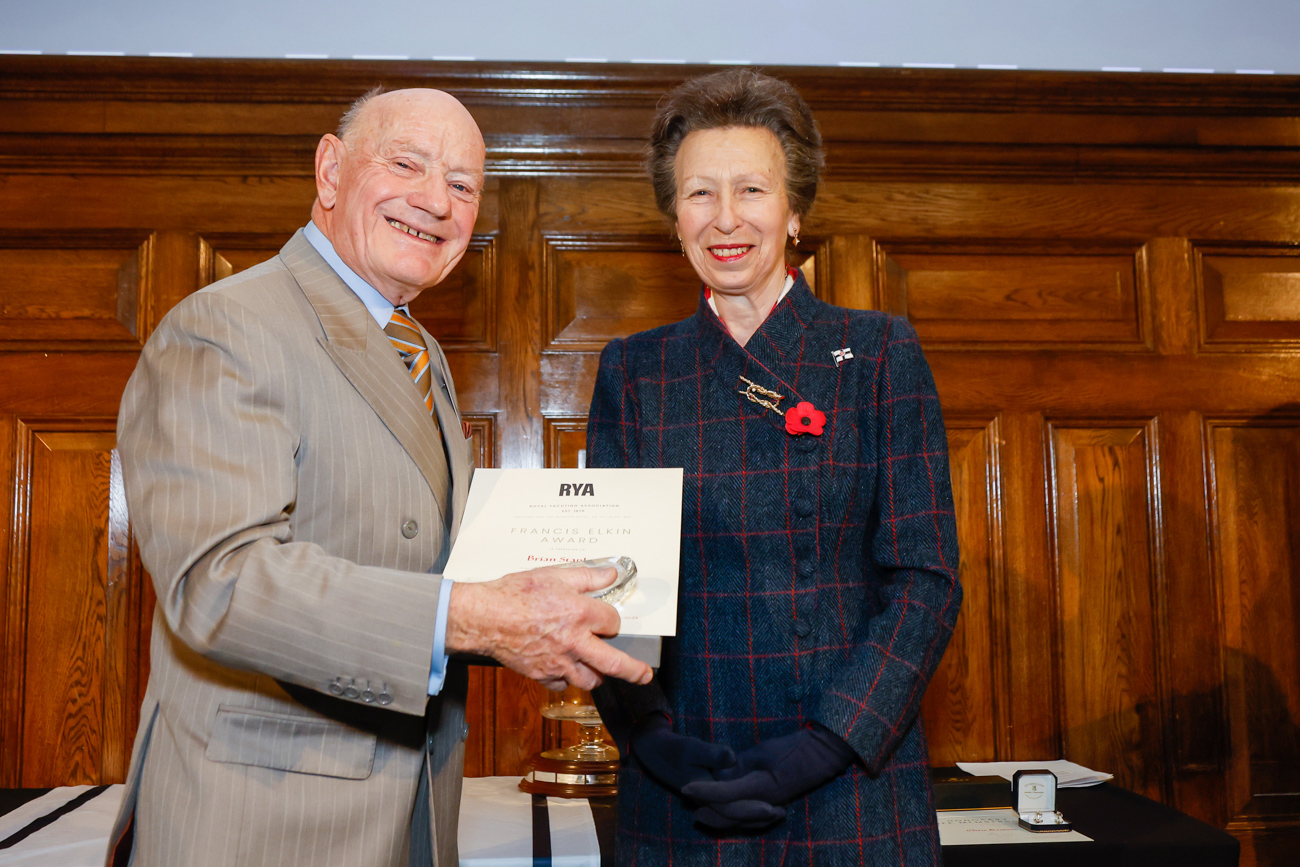 The Francis Elkin Award, dedicated to the memory of a former RYA Council Chair and Sailability Trustee, recognises exceptional individuals who have made significant efforts to enable people with disabilities to become involved in sailing. This year, the award went to Brian Stanley who founded Wealden Sailability in 2008, making it one of the largest Sailability organisations in the UK. Brian's commitment and leadership have been the backbone of Wealden Sailability's success, providing sailing opportunities to people with disabilities and positively impacting their wellbeing.
"There were a lot of clubs there [today], many of them I've never heard of before," said Brian. "Lots of people who are giving so much time to so many other people, and normally they don't get recognised.  I think it's absolutely terrific that they can go up there and be presented to The Princess Royal to get their award."
Regional Award
The RYA Regional Award recipient, Peter Hadfield of the RYA North West Region, was recognised for his exceptional commitment and contributions to boating at a regional level. Peter's leadership in organising the RYA NW Youth & Junior Traveller Series, establishment of the English Regional Forum (ERF), and work with the Working Group highlight his dedication to promoting best practices and collaboration among Regional Chairs.
The Honor Preston Award
The Honor Preston Award, established in 2020, celebrates individuals who significantly increase the inclusivity of boating. This year's recipient, Joanna Gardiner, has been a passionate sailor since childhood. Joanna (Burghfield Sailing Club and Andrew Simpson Centre, Reading, (ASC) has dedicated herself to promoting sailing among the deaf community, helping set up the Deaf Sailing Club (later Deaf Sailing UK) and leading efforts to provide sailing opportunities for people with disabilities. Being deaf herself, she has been instrumental in teaching British Sign Language to staff at ASC, enhancing communication during taster days. Her commitment to inclusivity has created a unique deaf-focused programme, making sailing more accessible.
"It's my passion to be a volunteer," Joanna explained. "My heart is with the deaf community, and I don't want to see them isolated because I know that can be really bad, I've been in that position myself.  We're like a big family, the deaf community, so that's why I've volunteered over the years."
RYA Honorary Life Membership
Honorary Life Membership stands as the highest honour, acknowledging individuals who have made an extraordinary and unique contribution to the RYA and the sport of boating. It was awarded this year to Chris Preston, who chaired the RYA from July 2018 and concluded his tenure at the AGM which preceded the awards.
He guided the organisation through the Covid-19 pandemic, helping ensure it emerged in a strong and robust position. Under his leadership, the RYA maintained high standards and fostered greater connectivity among Home Countries and English regions. Chris was instrumental in reinforcing the RYA's commitment to safeguarding, equality, diversity, inclusion, and sustainability, ensuring accessible and safe boating without unnecessary regulations.
Humbling achievements
"Our sport relies so much on the goodwill and skills of volunteers at every level, without whom the opportunities to get involved in boating would be greatly reduced," said RYA CEO Sara Sutcliffe MBE.
"They are very often the first point of contact for new participants across the nations and regions, and can help to motivate a lifetime's interest, or inspire others to train for fulfilling careers across the marine industry. 
"It's so humbling to hear of the many examples of selfless commitment our award recipients have shown – in many cases spanning decades – and they represent many thousands more who give their time to support boating in whatever way, great or small. Our grateful thanks go to them all."
---
Start your volunteering journey
Volunteers form the core of RYA and club initiatives, offering rewarding opportunities and assisting others to experience the water's numerous benefits. With various volunteering options available, dedicating even a small amount of your time can create a significant impact. Join us and make a difference today.