The first ever London Luxury Afloat boat show drew to a close on 24 April and has been heralded a great success by organisers, exhibitors, sponsors and visitors alike.
The boutique style show saw some of the finest luxury sail, motor and super yachts come together at the historic St. Katharine Docks, London for the four-day event providing discerning boat buyers with a unique opportunity to view a line-up of exquisite luxury yachts right in the heart of the city.
"We are absolutely delighted with how well the debut London Luxury Afloat has gone," said Lesley Robinson, CEO, British Marine.  "We have been working closely with the luxury sail and motor yacht market to develop an event tailored to their respective buyers and to see it all come to fruition has been fantastic.
"We are also extremely pleased to have a partnership in place with St. Katharine Docks for London Luxury Afloat, from which we can develop and grow this fantastic event and be able to provide the luxury yacht market with a platform to showcase their brands to prospective buyers."
To officially get the show underway Chris Head, group sales director for Sunseeker London and Rebecca Bridgen, deputy CEO, Oyster Yachts, joined British Marine president-elect, Paul Gullett and St. Katharine Docks Marina general manager Paul Tetlow in the glorious sunshine to cut the red ribbon and mark the show open.
With St. Katharine Docks providing the perfect backdrop for the show, with its many boutique bars and restaurants, visitors and guests were privy to a spectacular line-up of luxury craft from leading yachting brands including Sunseeker, Oyster, Fairline, Hallberg-Rassy, Pearl Yachts, Azimut, Falcon, and Ryck, plus Float8's eco-conscious luxurious floating home.
While shoreside, to complement the impressive line-up of yachts, were a number of selective displays featuring smaller craft, products and services including Helm Yachting Holidays, Raymarine, Ultimate Stream, Waterlodge UK and Fliteboard, the perfect 'accessory' for any superyacht.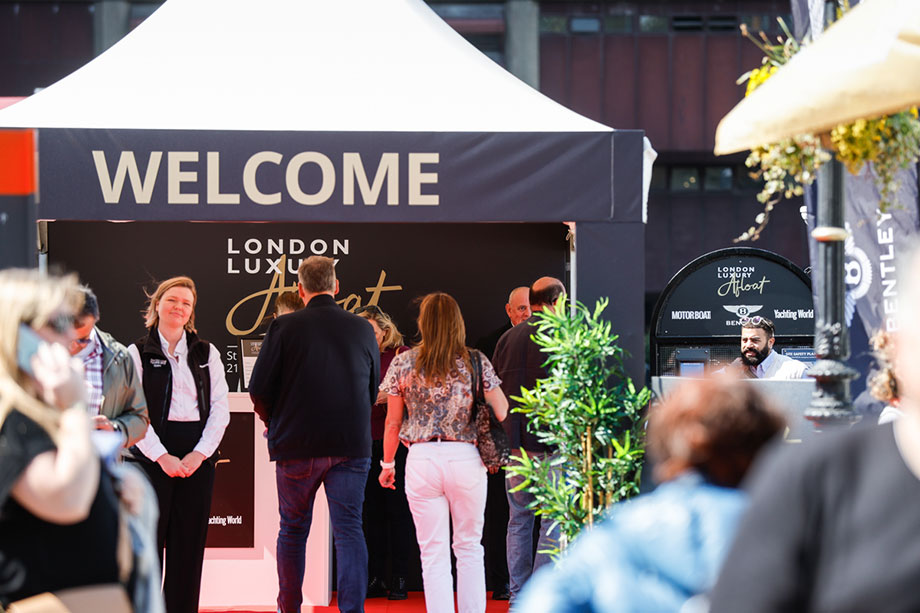 Bentley Motors, the exclusive Luxury Automotive Partner for the event, also showcased three stunning models from the Bentley range: the Continental GTC Speed, Continental GT Mulliner and the Bentayga Hybrid, which proved very popular with the show visitors and passers-by.
With the weather gods acting favourably and providing four days of sunshine, visitors were able to sit back and relax with a glass of champagne and enjoy fantastic street in the exclusive London Luxury Afloat floating VIP area while contemplating which yacht they'd like to buy!
The show also played host to the official launch of the new Oyster 495, attended by F1 legend Eddie Jordan and double Olympic gold medallist Shirley Robinson, before departing on the first leg of its World Premiere tour.
"We were delighted to host the inaugural London Luxury Afloat and it certainly surpassed our expectations. The stunning selection of high-quality motor and sailing yachts, coupled with the picturesque, historic scenery made for an impressive display. St. Katharine Docks was the perfect venue for such an event, and we look forward hosting future editions," said Paul Tetlow, marina general manager, St. Katharine Docks.
"What a fabulous four days, the weather was amazing and the yachts were stunning.  I would like to extend my thanks to all our visitors, exhibitors and dealers, our wonderful show sponsors, Bentley Motors, Motorboat & Yachting and Yachting World and of course our spectacular venue hosts, St. Katharine Docks for helping make the inaugural London Luxury Afloat a success," British Marine CEO Lesley Robinson concluded.
---
What the exhibitors said:
"We've had great weather; we've done business and we hope the show gets bigger and bigger. We need a London on-water show and St Katharine Docks could be a great venue." – Chris Head, Group Sales Director, Sunseeker London
"It's been a fantastic four days at London Luxury Afloat, it's just fantastic to feel the buzz in a post-COVID world and for lots of people interested in yachting to come down and see the Oysters here on display at St. Katharine Docks." – Paul, Oyster
"The people who have come on board have shown, once again, a lot of interest in floating homes." – Kev Draper, Float 8
"The show has gone really well! Lots of customers and got a couple of deposits on boats so really good." – Russell Pyke, RYCK
"We had some good clients, a couple of interesting leads, quite promising ones and we had some people visit us that we've seen before, from Cannes Show because of the location." – Richard Cottrell, Managing Director, Global Yacht Sales Ltd
"It's really been a very pleasant environment to be in and to have a boat show in." – Jeremy, Transworld Yachts / Hallberg-Rassy
"As long serving British Marine members we've always been big supporters of all the boat shows right back to the 80s and what we've come to learn and appreciate is the smaller boutique type shows are really important to us, it gives a better access to new customers. This St. Katharine's show is completely different, it has a completely different vibe, in a completely different environment. It is great being in a marina like this, perfect for the boats on show here and brings in a new wealth of customers." – Richard, Bates Wharf.