A bronze monument celebrating the naval and military heritage of HMS VERNON and honouring all those involved in naval mine warfare, service diving as well as bomb and mine disposal, was officially dedicated at a ceremony at Gunwharf Quays on 15 July.
Held at the former site of HMS VERNON, guest of honour Rear Admiral Paddy McAlpine CBE joined the service which paid tribute to the heritage of the establishment as well as those who have been and will continue to be involved in the works there – past, present, and future.
The ceremony amassed an array of visitors who enjoyed music from the HMS Nelson Royal Naval Volunteer Band, a variety of displays and stalls, plus a visit from the Lord and Lady Mayoress. Following the ceremony, a reception was held for all guests at The Old Customs House.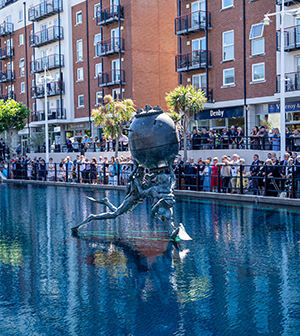 The bronze statue – which depicts a contact sea mine and two divers – was originally unveiled at Gunwharf Quays on 17 March 2020 after over £250,000 was raised by a team of volunteers to fund the one-and-a-quarter life size monument, created by sculptor Mark Richards FRSS.
The monument stands proud in Pool B in Gunwharf Quays where its reflection enhances its appearance to the annual footfall of 8 million visitors and can be seen illuminated at night.
Rear Admiral Paddy McAlpine, although no longer actively serving, remains the Royal Navy's most senior mine warfare and clearance diving specialist. He commented: "It was a huge honour to be back on the site of HMS VERNON today and support the dedication of the Vernon Mine Warfare and Diving Monument."
HMS VERNON began life in 1876 as a training establishment accommodated on board ships afloat in Portsmouth Harbour. In 1923, it moved ashore to the site that is now Gunwharf Quays and became a centre for training and trials of many forms of undersea warfare including mine warfare and diving.  It closed in 1986 and the monument of a contact sea mine and two divers commemorates that part of naval history.
During both world wars, Britain's Armed Forces were heavily involved in locating the enemy's mines, unexploded bombs and other explosive ordnance which, for the Royal Navy, involved dangerous operations both under the sea and on land.  Throughout the Second World War the use of sea mines increased dramatically, and scores of ships and submarines were sunk or damaged by them.  Converted trawlers were pressed into service as minesweepers but many of the clearance tasks fell to personnel from HMS VERNON.
In the hours before and during D-Day, Allied minesweepers operated off the coast of occupied France.  In addition, 120 Royal Navy divers, including Reservists and Royal Marines, cleared 2,500 mines and other obstructions from the approaches to the Normandy beaches.  This dangerous work, which was carried out under fire, significantly reduced the risks to Allied soldiers and sailors and was continued later to make the harbours of Europe safe.
The important work of Royal Navy mine warfare and diving units has continued to this day in both peace and during the conflicts in the Falklands, Middle East, Afghanistan and Libya.  Much closer to home, whilst preparing Portsmouth Harbour for use by the aircraft carriers HMS QUEEN ELIZABETH and HMS PRINCE OF WALES, these Royal Navy specialists removed some 46 tonnes of explosive ordnance from the seabed within sight of Gunwharf Quays and this monument.