The Great Britain SailGP Team finished in third place with Chicago delivering stunning racing for the second leg of SailGP Season 3.
After securing three podium finishes in the opening day in Chicago the British Team, skippered by Ben Ainslie, again sailed a very consistent series to qualify for the top three winner-takes-all podium final with a race to spare.
Australia meanwhile had to finish in the top two of the final fleet race, with New Zealand at the back of the fleet to make it in to the final. Australia won and New Zealand finished 8th meaning it was a repeat of the season opener in Bermuda, with the final top three qualifying for the Podium race: Canada, Great Britain and Australia.
With the sea breeze finally kicking in, GBR positioned themselves for their favoured inside end of the line. AUS was fighting for the same space, but were blocked and decided to go for speed instead, nailing the start. GBR were just a second late and trailed the CAN and AUS at the first mark.
GBR opted for an early gybe, but ended up with two manoeuvres to their competitors' one. There was no way back on the tight light breeze track, Tom Slingsby went on to take the Podium Final win and make it two from two so far this season.
Canada skippered by NZL's Phil Robertson secured the runners up spot meaning GBR and CAN are tied second on 17 points on the Season 3 overall leaderboard, with AUS 3 points ahead on the top spot.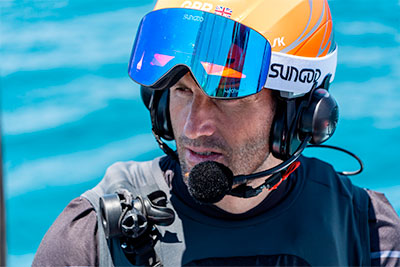 Driver and CEO of the Great Britain SailGP Team Ben Ainslie said: "Good and bad day for the team, great to get into the podium final which is goal number one, but we did not quite get it right at the start. It was tight with the Aussies they pipped us at the start and we also ended up behind Canada, and in these conditions it was always going to be hard to make gains.
"Overall, happy with the performance of the team and next up home waters in Plymouth where we look forward to putting on a show for our home crowd."
---
Next up, SailGP Season 3 resumes in the British team's home event, the Great Britain Sail Grand Prix in Plymouth, on 30 – 31 July with the British team hoping to secure their first Grand Prix event win of the season in front of home fans.