Great adventures start with a dream. But the crews of the 14 yachts arriving in Southampton for the start of the McIntyre Ocean Globe around the world know dreaming is not enough. Determination, grit, passion, patience, a sense of humour, a fat wallet, calloused hands, and luck bring those dreams to life.
It's a retro race like no other, and those involved dreamed big and are now reaping the rewards as they dock alongside fellow entrants for the first time in preparation for the McIntyre OGR. It's a homecoming, a gathering of like-minded kin, ready to take on the oceans and it feels great!
From 29 August to September 10, the international fleet of 14 yachts and 160 crew will be in MDL Ocean Village, Southampton preparing for the race of their lives. Former Whitbread yachts Maiden UK (03), Pen Duick VI FR (14), Esprit d'Équipe FR (85), Neptune FR (56) and Translated ITL (9) formerly ADC Accutrac are among the household names of famous yachts on view. The crews will be frantically completing last-minute maintenance and provisioning before setting off around the world. And you are welcome to come share this momentous time and feel the anticipation of an epic adventure about to happen. None can predict the outcome.

The McIntyre OGR, a fully crewed retro race in the spirit of the 1973 Whitbread Round the World Race, marks the 50th anniversary of the original event. At 13:00 hr, 10th September, the yachts will set sail from the Royal Yacht Squadron start line, Cowes, UK, to circumnavigate the globe, using no computers, satellites, GPS, or high-tech materials for navigational aids. For eight months, they'll take on the world's toughest oceans – all in the name of adventure, sailing like it's 1973!
South African entrant Sterna SA (42) was the first to arrive in MDL's Ocean Village Marina. Being ahead of the fleet is a trend the team intend repeating throughout the race.
"It's great to be in Southampton and, of course, all the effort was worth it to get here, but there are still a million things to do. The effort continues. The rest of the crew arrive this week so soon we'll be a full house. There's a lot of emotion. It's all crests and troughs, a bit like the Southern Ocean." says first mate, Melissa Du Toit.
Mark Sinclair and his Explorer crew were the second boat to arrive after completing a three-day sail from Les Sables d'Olonne.
"The delivery voyage included an exciting fog-bound transit through the Passage du Fromveur, navigating by magnetic compass and echo sounder, followed by a thrilling spinnaker run up the English Channel to beat the turn of tide at the Needles. Now in Southampton, we're tackling the final work list. Our brand-new sails are here and are being hoisted for the first time. Exciting times." said skipper Mark Sinclair, AKA Captain Coconut.
Godspeed USA (01) made their presence felt in the marina by arriving at Guns 'n' Roses' "Paradise City" blaring. Skipper, navy veteran Taylor Grieger, and his Skeleton Crew sail with the mission of providing adventure therapy for military service members suffering from PTSD. They are proof of the determination required to get to the start line.
"We've completely rebuilt the shell of a neglected boat from the ground up, assembled a team of veterans, and trained together for the last four months. We've dedicated every waking hour, of every day, to making sure our boat and crew survive this race. To say we're ecstatic to make it to the start would be an injustice to the true feelings we all share. We've been living this life consistently on board, working on the boat, and sailing since January. Relief is the best word to describe how our team feels about race start." explained Taylor Grieger the project leader.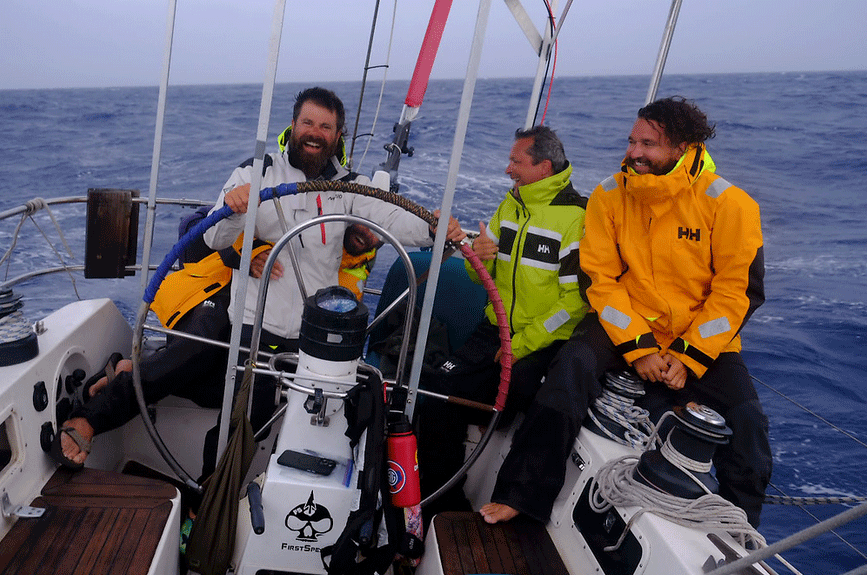 Tim Mayer, sales and Marketing Director at MDL Marinas has been working alongside the OGR team in preparation for the yacht's arrival.
 
"We're delighted to welcome the Ocean Globe Race fleet to the Race Village in our flagship Ocean Village Marina, where so many ocean races have started from over the years. Everything is set so that the crews have everything they need to make their final preparations, as well as enjoy their time with us as the festivities in the Race Village get underway from the 29th August. From workshops on celestial navigation and talks on single-handed sailing adventures to black-tie dinners and film screenings, there's something for everyone. Tickets to the Race Village are free, so no one has to miss out on all the fun and celebrations."  
View a full list of events here by clicking HERE
To book your free tickets for race village HERE
"It was a great day of sailing and a wonderful day when the entire 1977 team came to meet us on the 2023 version of the Neptune. Some of the boat's owners were also present. They've put their trust in us, and we're very proud of that as sailors heading off to these hostile horizons. Thank you for being with us in spirit, through the good times and the bad." said skipper Tan Raffray.
Four Golden Globe Race sailors will be utilising their navigational skills in the OGR. Finnish skipper of Galina WithSecure Tapio Lehtinen, who also sailed in the 81/82 Whitbread onboard Skopbank of Finland. Australian Mark Sinclair on Explorer, French sailor Philippe Péché on Pen Duick VI and British sailor Simon Curwen, on Italian entrant Translated 9 who took line honours in the 2022 GGR.
"The OGR will be a massive change for me. It's very exciting to be part of a young, enthusiastic and highly motivated team on a well-prepared boat. The GGR was a personal challenge with little external pressure to deliver, but the OGR brings the additional challenge and responsibility to deliver for the Translated 9 team. I love sailing these boats with so much history, and the challenge of sailing with minimal technology. It's particularly special to be sailing Translated 9 the rejuvenated ADC Accutrac of Clare Francis from Whitbread 1977." said Simon Curwen.
Race Village schedule of public events includes:
 Daily 10.30 hrs LIVE entrants interviews / WEBTV – Race Village
 Daily celestial navigation demonstrations – Race Village
 Tuesday 29th August, 11:00 hrs – Official Ribbon Cutting
  Friday 1st September, 13:30 hrs – A Welcome from the City of Southampton
  Thursday 7th September, 10 hrs  – OGR Press Conference
  Saturday 9th September, 14:00 hrs –ALL OGR Teams' Public Farewell onstage presentation!
  Sunday 10th September, 09:00 hrs – Full Teams parade of honour from MDL Race Village to their yachts
13:00 hrs – RACE START – Royal Yacht Squadron start line, Cowes, UK.
Viewing of the start line can be seen off the beaches in Gurnard, Isle of Wight or Lepe Beach in the New Forest.
MDL Race Village, Ocean Village, Southampton
You're welcome to visit the MDL Race Village from Tuesday, August 29th. Daily events will include OGR WebTV, Astro Navigation demonstrations and the chance to mingle with the OGR crews and see the 14 yachts preparing to sail around the world. There are also a bar and food stalls available.
Ocean Globe Race 2023 PUBLIC Pontoon Access
Pick a time slot for one-hour access to the pontoons at Ocean Village Marina in Southampton to see the yachts up close and personal. To book a time click HERE