The Emirates Great Britain SailGP Team has won the France Sail Grand Prix in an intense final race against Australia and Spain. Sir Ben Ainslie's crew overtook race leaders Australia on the penultimate leg of the final to seal the deal in spectacular style as crowds lined the Saint-Tropez sea wall.
Just nine boats lined up for the start of Race Day 2 on the Côte d'Azur waters as New Zealand was unable to race after their F50 wing collapsed after Saturday's racing. Emirates GBR had a brilliant start to the fourth fleet race of the event, which in SailGP is crucial to securing a good race. Throughout Race 4, Emirates GBR was flip-flopping with Canada between first and second position, but Sir Ben Ainslie's crew managed to minimise their maneuvers and stay in the breeze to take the win.
In Race 5, Emirates GBR crossed the start line later than most of the fleet and began the race in sixth position. The crew worked hard to climb up the rankings and finished the race in third place, securing their place in the event final. Emirates GBR was up against three-time Season Champions, Australia, and the winners of the last event in Los Angeles, Diego Botin's Spain.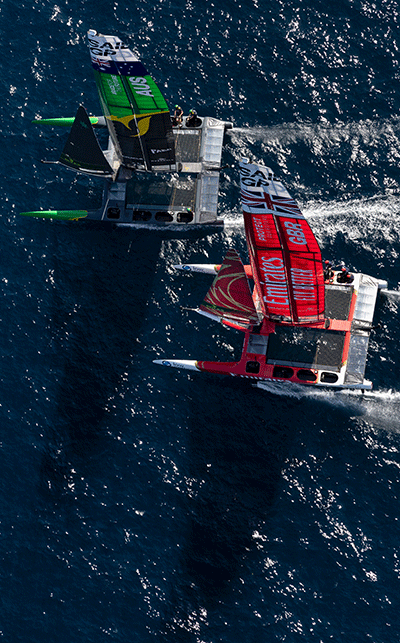 The event final saw a showdown between Emirates GBR and Australia, with Tom Slingsby's Flying Roos leading most of the race. But at the final gate, Emirates GBR saw an opportunity to split and pulled it off with spectacular flair, overtaking the Aussies when it mattered most. They flew across the finish line after reaching speeds of 60km/h on a lighter day. Emirates GBR celebrated in style with a champagne spray on-board their F50.
Emirates GBR Driver and CEO Sir Ben Ainslie said: "That was awesome, a really cool final race. It was a great battle with the Aussies and as always the Team did a brilliant job. The big guys maxed it out to get the maneuvers we wanted and Hannah did a great job calling the breeze and getting the right spot so it was a massive Team effort to get round the Aussies like that."
Asked about how Emirates GBR will be celebrating, Ainslie said: "Well they've already sprayed the champagne but I'm sure we will be celebrating into the night."
The winning line-up of the Emirates GBR Sail Grand Prix Team was Driver and CEO Sir Ben Ainslie, Strategist Hannah Mills OBE, Grinders Matt Gotrel OBE, Nick Hutton and Neil Hunter, Flight Controller Luke Parkinson, Wing Timmer Iain Jensen and reserve sailor Hannah Diamond.
---
Emirates GBR will be hoping to take their success into the next SailGP in Taranto, Italy, on 23 and 24 September. UK viewers can watch all the highlights from the Saint-Tropez event on ITV1 at 00:30 BST on Saturday 16 September and again on ITV4 on Sunday 17 September at 10:30 BST.
SAILGP SEASON 4 CHAMPIONSHIP STANDINGS (after three events) //
1 // Australia // 26 points
2 // Spain // 24 points
3 // ROCKWOOL Denmark // 23 points
4 // Emirates GBR // 19 points
5 // New Zealand // 17 points
6 // United States // 14 points
7 // France // 13 points
8 // Canada // 12 points*
9 // Switzerland // 7 points
10// Germany // 4 points*